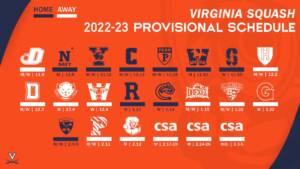 The Virginia men's and women's squash teams will kick off their 2022-23 season with a road trip to Pennsylvania, where both the Virginia men and women will take on Mid-Atlantic Squash Conference (MASC) opponent, Dickinson.
After starting the season on the road, the Cavaliers will return to Charlottesville for their home openers. The men will take on Navy on Tuesday, November 8, before the men and women host three consecutive battles with Ivy League foes beginning with Yale (Nov. 12), followed by Columbia (Nov. 13) and Penn (Nov. 18) whose men's squad reached the national championship final in 2021-22.
The Hoos will travel to New England for a matchup with the men's and women's national champions, Harvard (Dec. 2) followed by a match with Dartmouth (Dec. 3) before the mid-season break. The Cavaliers will re-open competition in 2023 with matches against the Rochester men (Jan. 13) and the Chatham women (Jan. 14). In just their second match following the break, the Cavaliers go head-to-head with their MASC rivals, Drexel (Jan. 15). In 2021-22 the Virginia men took down the Dragons in a thrilling 5-4 match to claim its third-consecutive MASC title while the women fell to the Dragons who went on to earn a place in the national championship final.
Virginia will host the men's and women's MASC Championships at the McArthur Squash Center. The competition will begin on Friday, February 3, and run through Sunday, February 5.
The Cavalier men and women will take on Princeton (Feb. 11) and the men square off with Cornell (Feb. 12) before the CSA Championships begin. The varsity women's team championships (Feb. 17-19) Will be hosted by Penn in Philadelphia Pa. while the varsity men's team championships (Feb. 24-26) will be hosted by Trinity and Wesleyan in Connecticut.
The CSA individuals and doubles championships (March 3-5) will be hosted at the Specter Center in Philadelphia, Pa.