By Jeff White (jwhite@virginia.edu)
VirginiaSports.com
CHARLOTTESVILLE, Va. — His final season as the head men's basketball coach at Notre Dame has been a trying one for Mike Brey, and the Virginia Cavaliers added to his woes Saturday. As always, though, Brey was gracious in defeat at John Paul Jones Arena, and he spoke about UVA point guard Kihei Clark with warmth and respect.
Clark, who's playing in his fifth season as a Cavalier, became the program's all-time leader in assists Saturday, passing John Crotty, who was in the crowd of 14,230 at JPJ.
"That's awesome," Brey said. "He is a winning dude, and that's exactly what I told him."
Four days after losing 68-64 to Duke at Cameron Indoor Stadium, Notre Dame had another chance to upset a high-profile opponent. With six minutes to play at JPJ, No. 7 Virginia led by eight, but the Fighting Irish rallied and cut their deficit to a single point with 24.1 seconds remaining.
With the shot clock off, Notre Dame was forced to foul, and Clark hit both ends of a one-and-one to stretch Virginia's lead to 57-54 with 22.6 seconds left. Dane Goodwin, one of the ACC's top perimeter shooters, then misfired from 3-point range, and UVA forward Jayden Gardner was fouled with 9.3 seconds left.
Gardner missed the front end of his one-and-one, though, and Notre Dame rebounded. Virginia chose to foul Irish guard Trey Wertz, and he went to the line for a one-and-one with 3.9 seconds to play. Wertz made his first foul shot and then, after a Brey timeout, intentionally missed his second.
"It was the perfect miss," UVA head coach Tony Bennett said.
The ball bounced off the rim and high into the air. Wertz came down with the rebound and quickly passed to Goodwin, who was wide open on the left wing. Goodwin's  potential game-winner missed the mark, and Virginia escaped with a 57-55 victory.
"It's in the air and I'm thinking, 'Don't we kind of deserve this one?' " said Brey, whose record at JPJ fell to 0-7.
He smiled. "I guess not. I'll take it Wednesday [against North Carolina]."
For the second straight game, Virginia (21-4, 13-3) struggled to put away a team that's near the bottom of the ACC standings. Still, as the Wahoos had Wednesday night against Louisville at the KFC Yum! Center, they managed to hold off Notre Dame (10-17, 2-14). Pitt's loss at Virginia Tech on Saturday night left UVA as the ACC's first-place team.
"You gotta give credit to Virginia," said Brey, who's stepping down at the end of this season, his 23rd at Notre Dame. "They've got a confidence about them to go ahead and finish, and Clark. I told Clark hopefully it's the last time I'll see him. I really don't want to see him any more. He's the ultimate winner, man."
The 5-foot-10 Clark was a freshman on the UVA team that won the NCAA title in 2018-19. He set two program records Saturday. He made his 133rd career start, breaking a tie with London Perrantes, and his four assists give him 685 for his career. Crotty had 683 in his four seasons at UVA.
"It means a lot," Clark said of the assist record. "But it's a team award. The guys make a lot of shots and I give the credit to them."
After his postgame media availability, Clark headed off to talk with Crotty, who played in the NBA after leaving UVA. Crotty is now on the Miami Heat's broadcast team.
"John was a heck of a player," Bennett said, "and he was tough-minded, and I've got some good stories of … [playing] against him in the NBA, but to pass a player of that caliber is very impressive. And again, I know it's in five years, but still, Kihei, he's been so important for our program. He's a competitor of the highest level and he's made a difference ever since he set foot on campus from his first year with that group … So the fact that John was here and he did that was real special."
Bennett opened his postgame press conference by saluting the impact Brey, who's won 482 games at Notre Dame, has had on college basketball.
"He's a great spokesman for our game, and the success he's had at Notre Dame over the years is remarkable," said Bennett, who's in his 14th season at UVA. "Any man that can last in this profession is faithful to the right stuff and deserves to be acknowledged and recognized, and we wanted to recognize him before the game. He said no, so we got him a good bottle of, I think it was Irish whiskey … I really appreciate Coach Brey and all he's done for the game and whatever his future holds, he's a good man. And so I want to acknowledge that, because it's hard to last in this game. It is, and he's done that."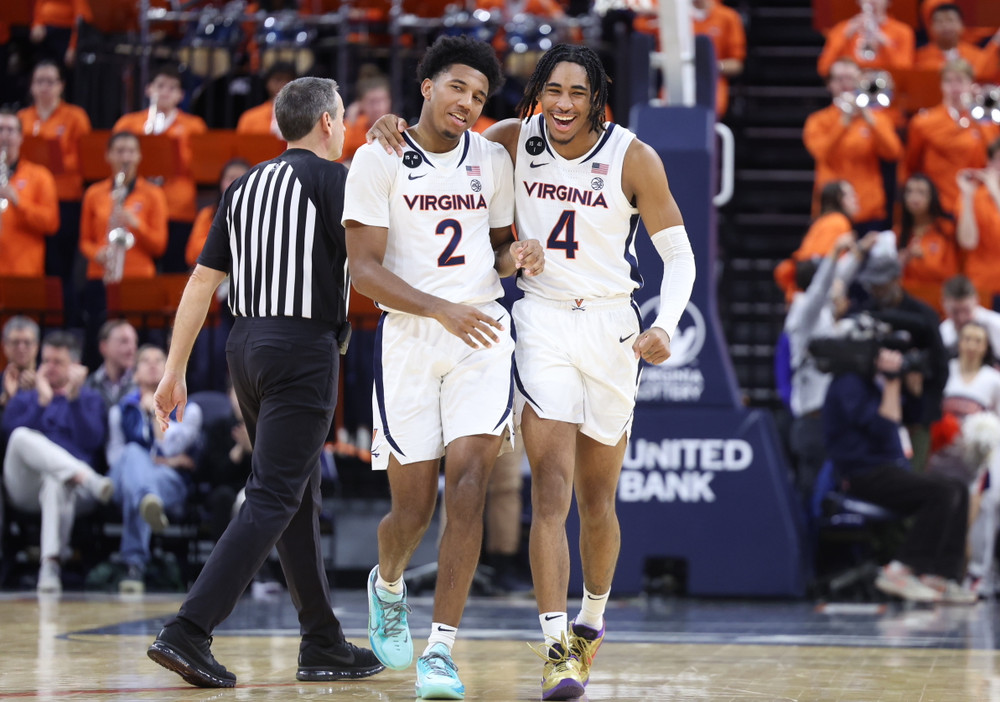 Three Cavaliers scored in double figures—guards Clark (15 points), Armaan Franklin (12) and Reece Beekman (11)—and two others, forwards Ben Vander Plas and Gardner, added eight points apiece. This will not rank, however, among the Hoos' best offensive performances. They shot 29.2 percent from 3-point range and 36.5 percent overall.
"We made a timely shot here or there," Bennett said. "But not enough, and our defense, I think it helped us in stretches, but I'll look at the film, because I thought [the Irish] also got a lot of open looks."
UVA has won four straight games since losing Feb. 4 to Virginia Tech in Blacksburg. The Hoos' past two victories, though, have been less than convincing, and the postseason is approaching.
"I think the saying is always right on: Don't accept in victory what you wouldn't in defeat, and I think that's so true," Bennett said. "And I think you have to look at the film and say, 'OK, we got the win, we're thankful for that. But what areas did we unplug and where were we unsound or what do we have to do on both ends?' And then you attack those areas and you just keep [working]."
ROAD TESTS: The Cavaliers don't play at JPJ again until Feb. 28, when Clemson visits for a 7 p.m. game to air on ACC Network.
UVA visits Boston College (13-15, 7-10) on Wednesday night and then plays at North Carolina (16-10, 8-7) next Saturday night. Both teams lost at JPJ last month.
The Hoos defeated the Tar Heels 65-58 on Jan. 10 and dispatched the Eagles 76-57 on Jan. 28.
Virginia has won 10 of its past 11 meetings with Boston College and leads the series 19-8.
BC won 75-69 at Florida State on Saturday afternoon. North Carolina plays Sunday afternoon at NC State.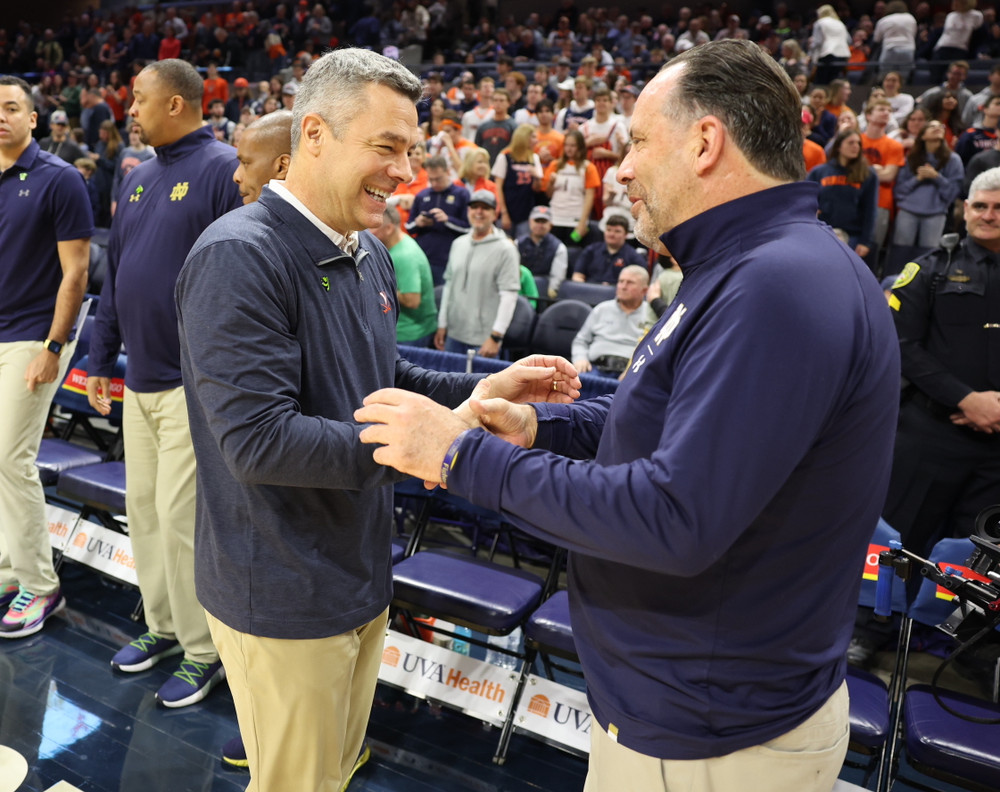 SOUND BITES: In front of a crowd that included one of the best guards in program history, J.R. Reynolds, Virginia improved to 17-3 all-time against Notre Dame. Among the postgame comments:
* Clark on Goodwin's final shot: "I was just thinking last year he was shooting like 50 percent, so I thought it was green, I thought it was going in. But we got lucky, and it just feels good to get a win, especially this late in the season. You appreciate those."
* Brey on UVA: "Tony and his program are the model for college basketball. They are the model. Obviously, like a lot of people in this league, we haven't had much luck against them. But just how he does it, how he carries himself, how they win, they're the model, and I'll always pull for Tony."
* Bennett: "So many of our games we've won close, which is a credit to the young men, but you've got to come ready and be as right as you can, and your defense has to hold you in there when your offense is struggling a little bit."
* Bennett on Gardner, who had two assists and a season-high 12 rebounds along with his eight points: "He was really working hard defensively, and I love it when I see double-digit rebounds from any of our guys. That's a good stat line for him."
* Brey on UVA's guards: "They really are strong and old and gifted at getting to the basket. I thought we did a good enough job stopping the bleeding enough to have a chance, but sometimes Clark's just gonna get there and draw fouls."
* Beekman on the ability of UVA's guards to penetrate: "I just feel like with the offense we run, when we get to the paint, it creates a lot for others. So the coaching staff, they've telling us to stay aggressive, get downhill and just create for others."
* Brey on the Irish whiskey he received from the Cavaliers' staff: "I'm going to try it tonight, I can tell you that much. I'll be home in time to try it."
* Clark on his postgame conversation with Brey: "I know we have a lot of highly touted coaches in this league. So any love I get from them, I really appreciate it."
To receive Jeff White's articles by email, click the appropriate box in this link to subscribe.