By Jeff White (jwhite@virginia.edu)
VirginiaSports.com
CHARLOTTESVILLE, Va. — The Virginia Cavaliers are headed to the NCAA men's basketball tournament for the ninth time in Tony Bennett's tenure as their head coach. As has almost always been the case, UVA will have a better seed than its first-round opponent.
In 2012, the Wahoos were seeded No. 10 in the West Regional and faced No. 7 seed Florida in the first round. Since then, Virginia has been seeded No. 1 in a regional four times, No. 2 once, No. 4 twice and No. 5 once.
A No. 4 seed this year, UVA (25-7) meets No. 13 seed Furman (27-7) in a South Region first-round game Thursday at 12:40 p.m. at the Amway Center in Orlando, Fla. Bennett has learned that seeds matter little once the tournament begins.
"Anyone can beat anyone," Bennett said Monday afternoon at John Paul Jones Arena.
He knows that from experience. In 2018, No. 16 seed UMBC upset Virginia. In 2021, the fourth-seeded Hoos fell to No. 13 seed Ohio, whose standouts included 6-foot-8 forward Ben Vander Plas.
Vander Plas, of course, is now a Cavalier, but he'll miss his final NCAA tournament. He suffered a season-ending hand injury in practice last week at JPJ. That knocked him out of the ACC tournament in Greensboro, where Virginia defeated North Carolina and Clemson before losing to Duke in the championship game Saturday night.
Without Vander Plas, the Hoos aren't as versatile offensively, and Bennett is understandably wary of the Paladins, who won the Southern Conference tournament.
In the NCAAs, "there's so much parity and everyone's good," Bennett said. "You look at that board and you see it, and every year it seems like the seedings and the numbers aren't as significant. But who's playing well, who's healthy, all that stuff comes into play. So you just get excited to play, and you're gonna have to play well to advance."
The transfer portal has made it easier for teams to upgrade or rebuild their rosters, Bennett noted. Moreover, the COVID-19 pandemic resulted in extra eligibility for many players, and fifth-year seniors are not uncommon in college basketball. Virginia, for example, has three players who took advantage of the COVID year: Vander Plas, Kihei Clark and Jayden Gardner.
At Furman, fifth-year seniors Mike Bothwell and Jalen Slawson made the All-Southern Conference first team, and Slawson was named the SoCon Player of the Year. Since Bothwell and Slawson enrolled at the Greenville, S.C., school, Furman has won 115 games. The Paladins are in their sixth season under head coach Bob Richey, whose record is 138-53.
"There's a reason why they've been so good for so many years," Bennett said. "That program has been established and they really play the right way … They're a veteran team, and they've played well and you can see it."
Slawson, a 6-foot-7, 215-pound forward, averages 15.7 points and 7.1 rebounds per game, and he leads Furman in blocked shots (52) and steals (54). He's shooting 39.4 percent from 3-point range.
"He's just good," Bennett said. "He's mature. He's a complete offensive player and very competitive … [With] his versatility I can see why he was a player of the year in the league, and they use him in unique ways with how they stretch the floor. He's almost like a point forward or point guard-forward type."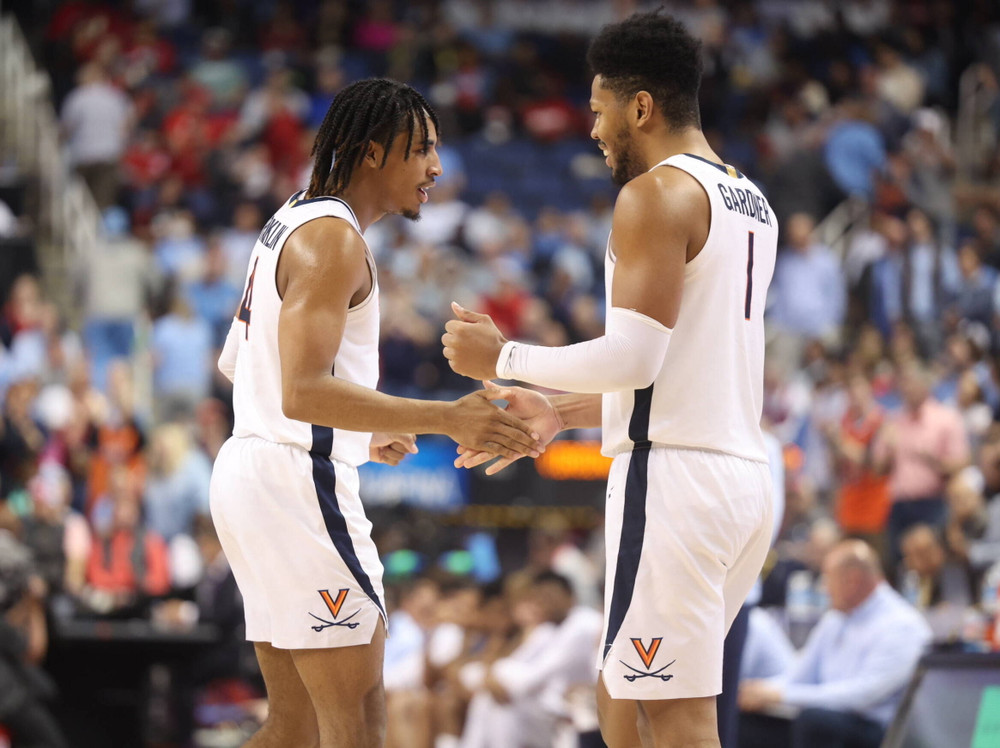 Without Vander Plas, who had surgery on his hand Monday, UVA has fewer frontcourt options, and its offense isn't as adept at spreading the floor.
"He was so versatile and could stretch the defense, pull things out of the lane," Bennett said. "He had a skill and a steadiness … he was a smart, sound player, strong, so there's things that he did that we got used to. You missed those [in the ACC tournament]."
UVA centers Francisco Caffaro and Kadrin Shedrick, who stand 7-foot-1 and 6-foot-11, respectively, played more than in Greensboro than they had late in the regular season, and 6-foot-5 Taine Murray, a seldom-used sophomore, came off the bench against Clemson and Duke at the ACC tournament. The 6-foot-6 Gardner and 6-foot-8 Ryan Dunn continue to play major roles for the Cavaliers.
"We've got nine able guys right now, counting the scholarship guys, and they all gotta be ready to go," Bennett said. "It will be a collective effort, because [the Paladins are] gonna make you guard with cuts and movement and clever stuff."
The UVA-Furman winner will meet No. 5 seed San Diego State (27-6) or No. 12 seed Charleston (31-3) in the second round Saturday.
"It's such a great opportunity to be in this tournament," Bennett said. "I told our guys after [the selection show Sunday night], 'Remember last year.' "
In 2021-22, the Hoos missed the NCAA tournament for the first time since 2012-13. They advanced to the National Invitation Tournament quarterfinals last year—as they had in 2013, too—and enjoyed that experience, but it wasn't the same as competing in the NCAAs.
"You never take that for granted," said Bennett, who as a sweet-shooting guard in 1991 helped Green Bay advance to the NCAA tournament for the first time.
In 2019, Bennett guided Virginia to the NCAA title. A year later, the pandemic forced the cancellation of the NCAA tournament. The Cavaliers returned to that stage in 2021, but their stay was brief.
From the UVA team that lost to Ohio that season, only Clark, Caffaro, Shedrick, and guards Reece Beekman and Chase Coleman are still in the program. The Cavaliers' top two scorers this season, guard Armaan Franklin (12.5 ppg) and Gardner (12.1 ppg), were at Indiana and East Carolina, respectively, in 2020-21.
Neither Franklin and Gardner had played in the NCAA tournament before transferring to UVA in the spring of 2021. They chose Virginia "to have that chance to compete in our conference and hopefully be successful and then get the opportunity in the NCAAs," Bennett said.
When he addressed the team after the selection show Sunday night, Bennett said, he "kind of looked at those two and said, 'Remember last year,' and they kind of nodded and said, 'Yes, for sure.' So I think it is important for them, and I'm glad that they get to have this opportunity where they did not have it before."
Furman has not been a fixture in the NCAA tournament. The most recent of the Paladins' previous six trips to the NCAAs was in 1980. Even so, Bennett said, "I go back to my Green Bay days, and we always say good basketball knows no divisions or limits. It's just good basketball. And again, when you have veterans and quality coaching and just enough depth, that's what makes the tournament so captivating."
To receive Jeff White's articles by email, click the appropriate box in this link to subscribe.