By Jeff White (jwhite@virginia.edu)
VirginiaSports.com
CHARLOTTESVILLE, Va. — The University of Virginia men's tennis program experienced more than its share of season-ending heartbreak in pursuit of its first NCAA team title.
Under head coach Brian Boland, the Cavaliers lost in the NCAA semifinals in 2007, 2008 and 2010. UVA fell in the NCAA final in 2011 and again in 2012, each time to its nemesis, Southern California.
In 2013, the Wahoos finally broke through. In Urbana, Ill., UVA capped an unbeaten season by rallying to defeat UCLA 4-3 at the University of Illinois' Kahn Outdoor Tennis Complex.
"It was definitely a burden lifted for all of us, because we had been knocking on the door of a national championship for so many years," said current UVA head coach Andres Pedroso, who from 2010-14 was one of Boland's assistants.
On Friday evening, members of the 2013 team gathered at the Virginia Tennis Facility, one of the jewels of the Boar's Head Resort, to celebrate the 10th anniversary of the program's first NCAA title.
Not all of the 14 players on the team could make it back to Charlottesville for the reunion, but in attendance were Dino Dell'Oro, Alex Domijan, Brian Fang, brothers Justin and Ryan Shane, Alex Scheinman and Mac Styslinger, as well as student-manager Justin Wilson.
Two other players—Mitchell Frank and Ian Uriguen— and Boland were expected to arrive later Friday, Domijan said. Jonathan Cornish, Jarmere Jenkins, Julen Uriguen (Ian's brother), Mitchell Polnet and Harrison Richmond were unable to attend.
Back in 2013, the Hoos' outdoor home was the Snyder Tennis Courts, next to Memorial Gymnasium. The former players marveled at the Virginia Tennis Facility, where the team now plays its outdoor matches.
"I'm a little jealous," said Ryan Shane, who as a junior in 2015 won the NCAA singles title. "This is beautiful. I would have given just about anything to play a match here. Great memories of Snyder, those courts were iconic and I really enjoyed my time there, but I think one season here, I would have been pretty happy as well. A stadium like this, a scoreboard like that."
The 2013 team wasn't the only attraction Friday. The current UVA team, which is ranked No. 7 nationally, hosted Clemson in an ACC dual match. Virginia won 4-1 to improve to 20-4 overall and 11-0 in the ACC.
Between the doubles and singles matches, a highlight video of the 2013 team played on the Dockter Family Scoreboard, after which the returning players were introduced to the crowd.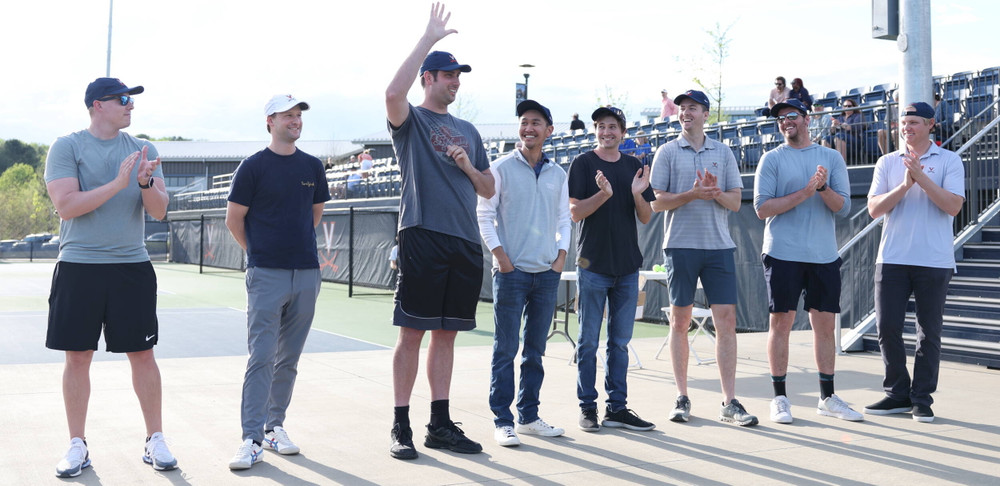 Since securing the title in 2013, the Cavaliers have been crowned NCAA champions four more times: in 2015, 2016, 2017 and 2022. Nothing, though, has rivaled the 2013 championship for drama.
The Cavaliers, whose captains that season were Jenkins and Julen Uriguen, both seniors, came into the final with a 29-0 record. Victories at No. 1 doubles (Jenkins and Styslinger) and No. 3 doubles (Justin Shane and Julen Uriguen) put the Hoos up 1-0 on UCLA, and Jenkins and Justin Shane won in the singles, too. But the Bruins collected three singles victories to tie the match at 3-3.
It all came down to No. 3 singles, where Frank dropped the first set to Adrian Puget, 6-0. Frank, a sophomore renowned for his work ethic, rallied to win the second set, 6-4, but trailed 5-3 in the third and, with Puget serving at 40-30, faced match point.
"We all have memories of that year, just traveling together," Ryan Shane said, "but one point will always stick out to all of us."
That point initially appeared to go Puget's way, which would have clinched the championship for the Bruins. But the chair umpire ruled Puget had touched the net with his foot, and the point went to Frank.
"You can see us on the sideline go from thinking it's over to just an absolute roar of energy," Ryan Shane said.
Scott Brown, now UVA's associate head coach, was a volunteer assistant on the 2013 team, and he and Pedroso were on one side of the court when Frank hit a lob that went wide and appeared to seal UCLA's victory.
"Scott and I kind of looked at each other with this look, saying, 'I cannot believe we're going to lose in an another NCAA final,' " Pedroso said.
The umpire's call gave Frank a reprieve, however, and he won the game to cut Puget's lead to 5-4. During the changeover that followed, Pedroso said, Boland asked him to talk to Frank.
"I hadn't been on Mitchell's court the entire match, so as I'm walking over to him I'm like, 'What am I going to say to this kid at 5-4 in the third when I haven't been on his court at all?,' " Pedroso said. "So I went over there and I just talked about the many nights that he was out on the Snyder courts, training with the lights on, and all the hours and everything that he had put into preparing for a moment like this. The idea was just to give him confidence. There's very few players who could have gotten us out of that moment, and Mitchell is definitely one that had put in the work in order to do it."
Of such moments are legends made. Frank won the next three games to capture the set, 7-5, and clinch the championship for the Cavaliers.
"He was the perfect person to be in that position," Ryan Shane said.
To win in such a fashion "definitely made it sweeter at the end," said Justin Shane, who was a junior in 2013. "Losing a third year in a row in the finals, that would have been a lot. But kudos to Mitchell. It just shows what a tough competitor he is."
When the match finally ended, Pedroso said, he remembers thinking of Boland. "He had been part of so many teams that came so close, so for him it was just kind of this monkey off the back, a weight lifted off his shoulders. I think after that he got comfortable in those moments in terms of being like, 'OK, we've done it and we can do it again. And here's how we do it at UVA.'
"Other programs have their way of doing it, but I think that was validation for him, that we did it and we did it our way, the UVA way. It kind of gave him confidence and it obviously opened the floodgates after that."
Later that month in Urbana, Jenkins advanced to the NCAA singles final before losing, and he and Styslinger, who was a freshman, teamed up to win the NCAA doubles championship.
"It was just an incredible group of guys," said Justin Shane, who earned an MBA from UVA's Darden School of Business last year and, like his brother, lives in Northern Virginia. "I enjoyed every one of my four years, obviously, but that was definitely my favorite year."
The 2013 team will reconvene Saturday morning for "a very casual hit-around on our outdoor courts," Pedroso said. "Then we'll have a 1 o'clock practice and introduce the guys to the current guys on the team, and then we'll have a dinner on Saturday night with the 2013 team."
Domijan, who was a junior in 2013, served in the U.S. Navy for six years after graduating from UVA. He's now living and working in Charleston, S.C., where he rarely picks up a tennis racket.
"I play probably once a year, but I know we're playing tomorrow, so I'm excited for that," Domijan said, smiling.
Like his teammates, he's been delighted to see the program's continued success under Pedroso and Brown.
"It's absolutely fantastic," Domijan said. "We were all on the team when Scott and Andres were [assistant] coaches. It's cliché to say it, but it is a family. It's great to see these players continue to do well, and not only do well, but represent the University well too, from what I understand."
To receive Jeff White's articles by email, click the appropriate box in this link to subscribe.