By Jeff White (jwhite@virginia.edu)
VirginiaSports.com
Near the end of the press conference that followed his program's latest attempt to break through in the NCAA men's tennis tournament, Ohio State's longtime head coach, Ty Tucker, mentioned his counterpart from the University of Virginia.
"Maybe we need to hire Andres to come in and show me what I need to do the last 10 days," Tucker said at the USTA National Campus in Orlando, Fla., after the Buckeyes finished as NCAA runners-up for the first time.
Tucker made the comment partly in jest, no doubt, but his words speak to the incredible run Andres Pedroso is on at UVA. In 2022, Virginia entered the NCAA tournament as the No. 7 seed and exited with the title. The Cavaliers came into this year's tournament seeded No. 5, and once again they were the last team standing.
After winning three matches at the Boar's Head Resort in Charlottesville, the Wahoos flew to Orlando, where they knocked off No. 4 seed Kentucky in the quarterfinals, No. 1 seed Texas in the semifinals and, on Sunday, No. 3 seed Ohio State in the NCAA final.
"Winning it twice is just amazing," junior Chris Rodesch said.
The Buckeyes had beaten the Hoos convincingly twice during the regular season, both times indoors, but that didn't matter Sunday. Virginia (30-4) dominated doubles and then overwhelmed Ohio State (34-3) in singles. The match lasted less than two-and-a-half hours.
"It happened so fast," Rodesch said.
Junior Inaki Montes clinched the victory for UVA with a straight-set win at No. 2 singles. With the finish line in sight, Virginia supporters raised a familiar chant: 'Let's go, Wahoos! Let's go, Wahoos!' "
"I think fans, all the UVA community, that they came to support us made a difference today," Montes said. "There are no words to describe the energy. The atmosphere today was amazing. So thank you for all the fans that came out. And we did it."
The NCAA title is the Cavaliers' sixth overall and second under Pedroso, a former assistant on the staff of his predecessor as head coach, Brian Boland.
"It's a bit surreal, like it was when we won it last year," said Pedroso, who's in his sixth year as head coach. "I give all the credit to the guys, to the staff, the coaches. This is such a team effort. So many people have put so much time into a process like this."
During the regular season, Ohio State defeated UVA 4-1 in Charlottesville and 4-0 at the ITA National Indoor Team Championships. But the Cavaliers seized momentum from the start Sunday, getting wins from Montes and senior William Woodall at No. 1 doubles and Rodesch and junior Jeffrey von der Schulenberg at No. 2 doubles to take a 1-0 lead.
"We came out firing," Rodesch said. "We just had amazing body language all through doubles, and also singles."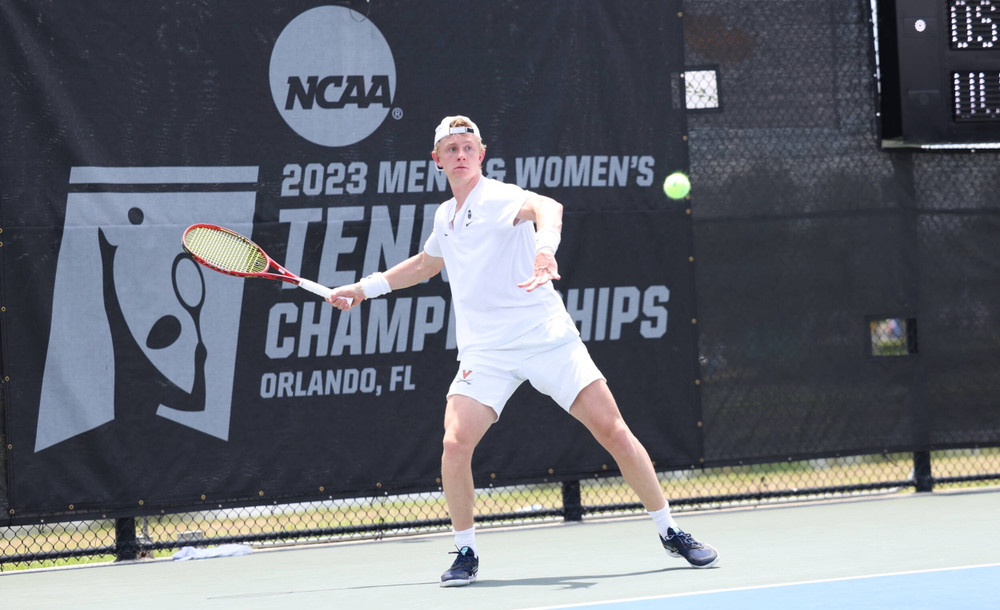 In UVA's semifinal win over Texas, von der Schulenburg lost in straight sets, winning only three games in that match. Against Ohio State, he returned to form, defeating JJ Tracy 6-2, 6-1.
That performance inspired the other Cavaliers, Pedroso said, "because Jeffrey had a tough day [Saturday]. He had one of those days where he just didn't play well, didn't feel comfortable, and today he was awesome … What a way to step up for Jeffrey von der Schulenburg in an NCAA final. He'll never forget that. He'll be known for that forever."
About 10 minutes after von der Schulenberg closed out his match, Rodesch won at No. 1 singles to put Virginia up 3-0. The Hoos did not let up. Montes, who had won his first set 6-4, blew past Cannon Kingsley in the second, winning the final three points in the eighth game to secure the NCAA crown for Virginia.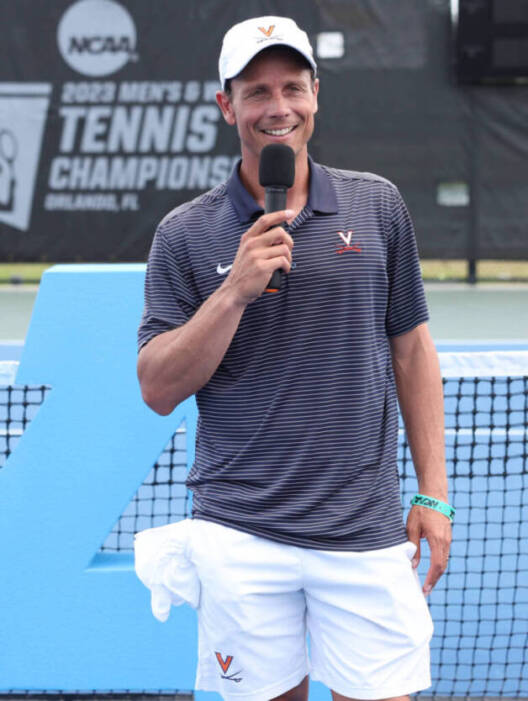 In 2022, after struggling during the indoor portion of the season, the Cavaliers won their final 23 matches. They closed this season on a 22-match winning streak, again bouncing back from a rough start indoors.
"We learned a lot from indoors and [knew] that we needed to be better, we needed to be closer, we needed to be humble and keep working," Montes said. "And then in the outdoors … everyone was working super hard. I think we picked the right moments, and everyone came out firing in May."
As they prepared to face Ohio State for the third time this season, Rodesch said, the Hoos "just focused on doing our own things, taking care of all little details, keeping our composure and recognizing that we've been in the situation before and just using that to our advantage."
Pedroso said: "I didn't really talk too much about the matchups. We've been saying it for months: It's not about the tennis when it comes to tournaments like this. It's about body language, self-talk, how close the team is, how you compete, how you deal with the ups and downs. And if you do that, whatever tennis you have that day is going to be enough in most cases. Sometimes you're just going to get beat even if you do those things. But if you do those things, you're going to give yourself the best chance."
Four of the players in Virginia's singles lineup—Rodesch, Montes, von der Schulenburg and graduate student Ryan Goetz—were mainstays last season, too, and their collective experience proved invaluable in Orlando.
"I think as a team we handled the pressure really well," said Rodesch, who was named tournament MVP. "Coach said it multiple times: We were here last year, and we know how to win it … and I think that gave us kind of an edge. We were just really calm in all these pressure situations."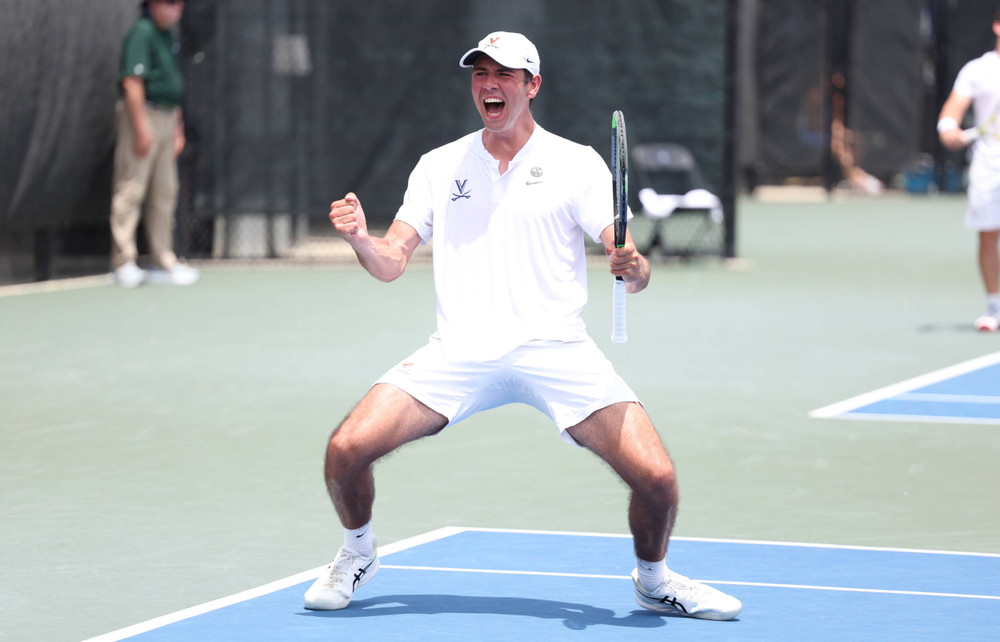 The similarities between the 2022 and 2023 championship teams are striking, starting with the closeness of each group, Pedroso said.
"They're not afraid to be honest with each other and tell each other the truth," he said. "I think the difference between this year and last year might be that certain guys really stepped up. Really stepped up.
"Alex Kiefer and Måns Dahlberg really stepped up for this team. William Woodall really stepped up for this team. We had our stalwarts in the top four, and those guys are always there for us. We just lean on those guys every single match, but those three guys really stepped up for us. And even the guys on the sidelines: Doug Yaffa, Ty Switzer, Jacob Haley, our student-manager who's just a blessing. The guy's just a difference maker. And so guys stepped up this year big time, and they needed to and that's probably what makes this year maybe a little bit more special."
Neither Yaffa nor Switzer played in Orlando, but their vocal support was impossible to miss.
"I'm sure Chris could hear them all the way from Court 1," Goetz said. "Those guys were animals on the sideline, absolute animals."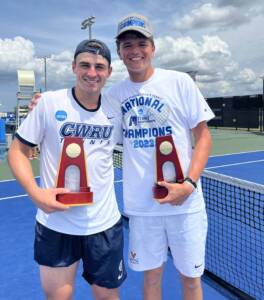 Of the players in the Cavaliers' singles lineup, only Goetz is out of eligibility. Among the players who'll join the program in 2023-24 is James Hopper, a graduate transfer from Case Western Reserve, which won a second straight Division III national title in Orlando last week.
And so the Hoos are likely to contend for another NCAA title next year. But with the NCAA singles and doubles tournaments this week in Orlando, Pedroso isn't ready to turn the page on this season. The program's latest national title is one to savor.
"The players are really special," Pedroso said. "It was a tough semester. We went through a lot and they just hung in there and they trusted us, and it's a credit to the way they were brought up by their families, to their character, to their values, to what they prioritize in life. And I'm just so lucky to have these guys, because they're just such a pleasure to coach."
To receive Jeff White's articles by email, click the appropriate box in this link to subscribe.