By Jeff White (jwhite@virginia.edu)
VirginiaSports.com
CHARLOTTESVILLE, Va. — Team captains come in all varieties. Some are loquacious and love to give pep talks. Others are more like University of Virginia graduate student Talia Staude, who speaks softly and chooses her words carefully.
"She's a very quiet person," said Steve Swanson, Staude's head coach on the UVA women's soccer team. "It doesn't mean she plays that way, but she's her own person in a lot of ways. She's one of those kids who thinks before she says things. She thinks things through. It's a pleasant change from what you normally get. Sometimes you get a lot of people who say things before they think."
The Cavaliers' captains this season are Staude, Cayla White and Emma Dawson. Each is in her fifth year in the program after taking advantage of the extra season of eligibility Division I student-athletes received as a result of the COVID-19 pandemic. Staude, who's from Atlanta, is a five-year starter on defense.
"I think naturally I'm a lead-by-example type of person," said Staude, who usually lines up at left center back. "But given the position that I play on the field, I kind of don't have a choice except to do both: lead by example, but also lead by my voice. I'm not the most talkative person, but on the field I kind of quite frankly have to be the most talkative person. It's kind of contradicts itself, but I've definitely grown into that role of being more vocal."
To have been selected as a captain means a lot to her, Staude said, "because we have so many great players that could fill that role, I'm just honored that my teammates voted me for this position and I hope that I'm doing them justice."
Strong leadership is valuable at all times, but never more so than when adversity arises, and the Wahoos have already faced a significant amount this year. Since the calendar flipped to 2023, the Hoos have lost three of their top returning players to season-ending injuries: Dawson in the spring, Lia Godfrey in the summer and Laney Rouse last Thursday night.
"Obviously, it's really unfortunate about those injuries, but it's a team sport," Staude said Tuesday, "and I'm really proud of how the younger kids have stepped up and filled those roles. Given that Laney happened less than a week ago, we're still trying to figure out who can fill that role. But the people that have stepped up have been unreal, and they've just been eager to learn and they've given their all on the field all the time. You can't really ask for anything better than that."
Short-handed or not, the Cavaliers have no interest in making excuses, Swanson said. "We feel we have the ability to play really good soccer and to get results. We're just going to have to play very intelligently, we're going to have to play together, and I think playing together is an understatement.
"We're going to have to really work hard as a team to overcome some of the injuries that we've taken, but I think the players and the team have embraced that. I don't think we would do right by the players who are injured if we didn't fight for them. This is a good opportunity for our team to see what we're made of. I think it's a good opportunity for younger players and players who may not have gotten the minutes earlier with these players in the mix, but now they're going to."
In the second game of a Klöckner Stadium doubleheader, fifth-ranked Virginia (2-0) hosts Michigan (0-1-1) at approximately 8:15 p.m. Thursday. In the first game, the No. 15 UVA men open the season against Iona at 6 p.m.
The UVA women opened the season with a 5-0 win over Nevada last Thursday—Rouse suffered her injury in that game—and then defeated Radford by the same score three nights later.
"From what I've seen so far, I think the players and the team have responded incredibly well," Swanson said. "So those are all good signs, but I wouldn't expect anything other than that from our culture and team. Players like Talia, players like Cayla, players like Emma, they're going to be very important, and our leadership is going to be very important. We've got a real challenging schedule and we know we're not going to have some of the players that have made a difference for us in the past. We're going to have to be that much more together and we're going to have to have that much more resolve to see this through and get results."
The 5-foot-7 Staude collected an assist against Nevada, but she rarely figures prominently in the Hoos' box scores. She finished with two assists as a freshman, a goal and an assist as a sophomore, one goal as a junior, and one goal and two assists last season, when Virginia advanced to the NCAA quarterfinals.
"She's just been such a valuable piece to our team over the years," Swanson said. "Certainly in my opinion she hasn't gotten as much credit as she deserves for the success of our program when she's been here. She's really been a big factor in our successes over the years.
"She's one of the best passers I've ever coached. She can play balls with the right or left foot, she can play really firm passes when she needs to, she can get the ball where it needs to be in a hurry, and she's very smart about her decision-making. A lot of those things aren't going to show up on any statistical charts, but nevertheless they make a huge difference to our team. She's super talented and she's a cerebral player. She reads the game really well and thinks the game really well."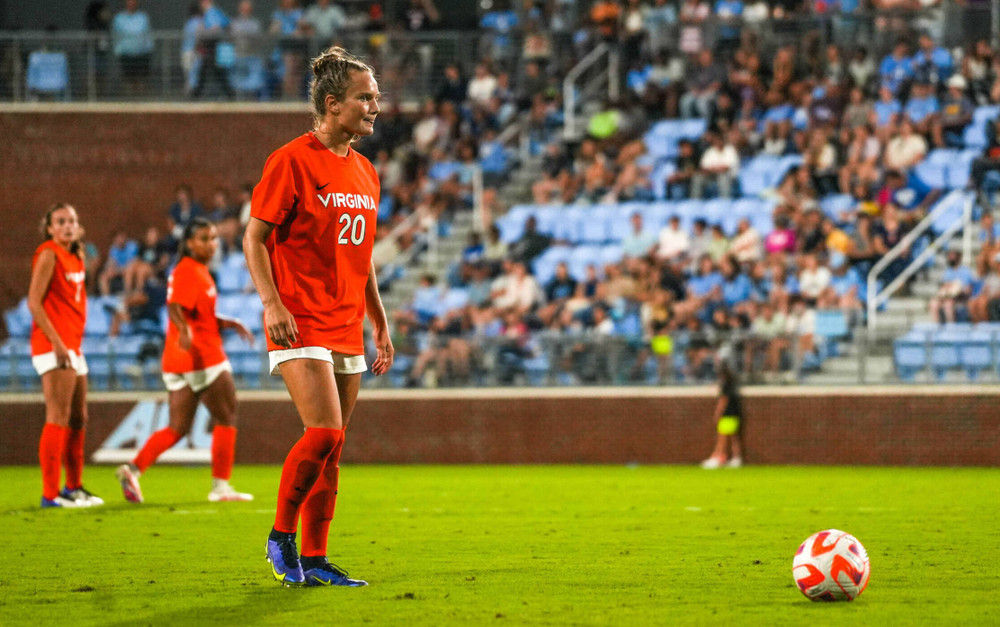 Staude, who was born in Grand Rapids, Mich., moved to Atlanta with her family when she was still an infant. She attended The Westminster Schools—as did two of her current teammates, Allie Ross and Helen Symbas—and became friends in Atlanta with several other current and former UVA student-athletes, including Jared Rayman, Nick Jackson and John Izlar.
As a sophomore at Westminster, Staude committed to Virginia. She was looking for a school with a stellar academic reputation and a perennially successful women's soccer program. Style of play also was important to Staude.
"I'm someone that likes to play like 'pretty soccer,' " she said. "I like to pass the ball and move the ball around, keep the ball a lot."
UVA checked all of those boxes, Staude said, and she meshed well with the coaches and players in the program. Moreover, she said, "it's not too far away from home, so my parents can come."
Staude graduated in May with a bachelor's degree in media studies, and she's now in the prestigious M.S. in Commerce program in the McIntire School of Commerce. White, who plays goalkeeper, is also in that program, and she and Staude had an eventful preseason.
In early August every year, the Cavaliers hold a training camp in Michigan. Staude and White bused to the camp with their teammates early this month, but they flew back to Virginia after an Aug. 8 exhibition with Notre Dame in Maple City, Mich., to start M.S. in Commerce orientation on Grounds.
After three days of classes, Staude and White flew to Columbus, Ohio, where they rejoined the rest of the Cavaliers for an exhibition against Ohio State. Then they bused back to Charlottesville with the team and were in class again the next day.
That's a lot of traveling in a short time, but Staude said she's enjoying her master's program.
"It's definitely a lot of reading," she said, laughing, "but honestly, I like the material that we're doing, It's a lot more project-based rather than just kind of studying and getting tested, which I really like, because obviously working in a team, we do that every day. So that comes a lot more naturally to me than some other students."
Eventually she'd like to work in sports management and marketing, but Staude hopes to continue playing soccer for many years to come. She's come up through U.S. Soccer's youth system, competing with the U14, U15, U17, U20 and U23 national teams.
"She's gone up the ladder," Swanson said, "and that says so much about her and the caliber of player that she is."
Staude hopes to begin her National Women's Soccer League career next year, and one day she'd like to add her name to the list of Wahoos who have represented the United States on its senior national team.
At the recent FIFA Women's World Cup, of course, the U.S., which was seeking a third straight championship, bowed out in the round of 16 after losing a penalty shootout to Sweden. That didn't keep Staude from watching the rest of the tournament.
"Honestly, it's great to see all these other programs develop and get the funding that they need and be able to compete and win a World Cup," Staude said. "Previously, everyone was like, 'Oh, the U.S., they're gonna win.' We had the development and we had the facilities to do that. And so it's nice to have the competition level raised to where you go into a match and you're going to give it your all, but the other team is also going to be able to compete at the same level that you are."
To receive Jeff White's articles by email, click the appropriate box in this link to subscribe.