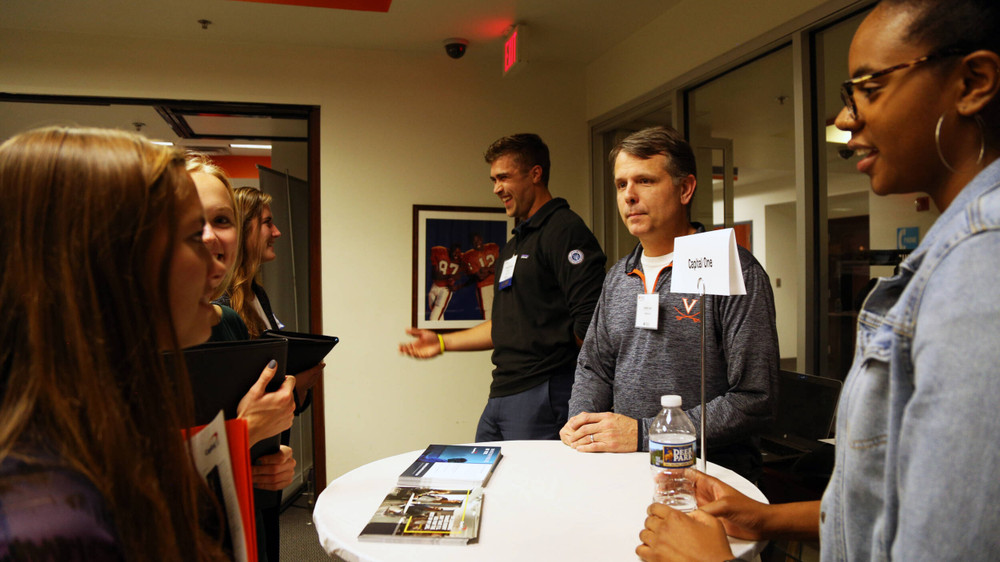 Prior to the pandemic, student-athlete networking events were held in person. 
Pathways: Networking Event Benefits Student-Athletes
In February, Virginia athletics hosted its sixth annual student-athlete networking event as part of its Pathways program.
Kelly Kennedy, director of career readiness for UVA Athletics, said the event aims to introduce student-athletes to a wide range of industries and to potential employers who are interested in engaging with them.
This multifaceted event was an opportunity for student-athletes to not just meet future employers, but also have the "opportunity to practice articulating their skills and interests," Kennedy said.
With the COVID-19 pandemic ongoing, the event looked a little different this year. Thanks to Handshake technology, the event was completely virtual. While the platform changed, the mission stayed the same.
During the two-hour event, student-athletes made 72 connections with more than a dozen employers.
"In one 30-minute session, I feel like I got two hours worth of information," said Hayden Mitchell, a wide receiver on the UVA football team. "They really highlighted the benefits of being a student-athlete in the workplace. Being able to talk with people in the fields I'm interested in gave me a great insight into where I might be in the next year or so."
Among those representing employers were former UVA student-athletes, including Chesdin Harrington, who now works for Capital One."I loved my experience at UVA," said Harrington, a former pitcher on the baseball team. "I had an up-and-down career across the board but developed in so many ways I didn't envision before. I had support while I was in school, and I want to lend back the support and guidance I was fortunate to have."
Harrington said he's especially interested in helping student-athletes whose athletic obligations prevent them from holding traditional internships.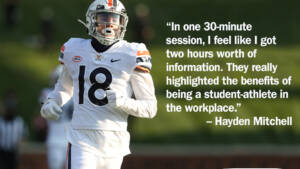 "You can come from any type of background, and so long as you have a strong work ethic and bring curiosity to your role, you will find a place [at Capital One]," he said.
Rosie Johanson, a standout on the Virginia women's tennis team, was one of the student-athletes who participated in the event.
"It was really fun!" Johanson said. "It was a great opportunity to speak with people from such profound and recognized companies, and for them to take the time to talk to us was amazing. They tailored much of their information towards athletes, which made it very easy to connect with."
Many students start gaining experience in the workforce by interning later in their college careers. Student-athletes start developing real-life skills in their respective sports the moment they step on campus. In a world where we are told that "it's never too late," in some cases "it's never too early" to build a foundation.
UVA first-year Niklas Becker, who's on the track & field team, said it "was good to start thinking about internships and potential career options."
Through opportunities like this, student-athletes are reminded that being an athlete not only can prepare them for careers for professional sports, but also for positions in the workforce. They are not just building stats in their sports, but clout in their lives.
Johanson said the networking event "was a great environment for student-athletes to learn from each other and learn how to communicate and the best questions to ask potential employers. I also learned that there are many other student-athletes in my position, which is encouraging, because sometimes it can feel draining looking for jobs and not getting very far."