Virginia Cavaliers Official Athletic Site
CJ Baldini
West Hartford, Conn.
Hometown
Avon Old Farms School
High School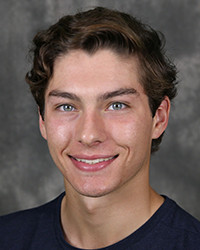 2022-23
Picked up a four-game victory against Lucan White at the sixth position in UVA's 8-1 win over No. 10 Dartmouth
Defeated Emilio Carrillo in straight games in UVA's win over No. 12 Rochester
Won his sixth spot match against Noel Heaton in straight games to help lead UVA to an 8-1 victory over No. 7 Drexel
Went 2-0 at MASC Championships, with wins over MIT's Mitav Nayak and Drexel's Filip Krueger to help lead UVA to its fourth MASC Championship
Fell to Yale's Arav Bhagwati in the CSA Team Championships
2021-22
Won his first collegiate match, a three-game victory against Gus Prager of Navy at the seventh position
Picked up a three-game victory against Shreemann Reghavan at the sixth position in UVA's 5-4 win against Cornell
Won nine-consecutive matches from Nov. 21 through Jan. 30 with four victories against top-15 opponents
Recorded a victory against Collin Wen of MIT playing at the No. 5 position at the MASC Championships
Fell in five games to Trinity's Will Curtis in the CSA Team Championships
Background
Two-time MVP at Avon Old Farms School, moving up to No. 1 on the ladder his senior season after only losing two matches his junior season playing at No. 2
Top-10 ranked squash player in every age group in US Squash and is the No. 1 U19 junior in Connecticut
Member of the 2018 US Junior National Team that competed at the British Junior Open and trained at the US Squash National Camp at Trinity College in 2019
Earned the US Squash sportsmanship award for the U17 age group, an award given to the best competitor on the court and the most respected sportsman for that age group
Also played two years of lacrosse at Northwest Catholic before transferring to Old Avon Farms his junior year. Was a starting midfielder both years, earning an all-conference honors as a sophomore
Personal
Son of Matthew and Laura Baldini
Has an older brother, Michael, and a younger brother, Thomas
Mother, Laura, played tennis at Yale
Father, Matthew, played basketball at Pace
Brother Michael is a swimmer at Georgetown
Honor roll student all four years of high school 2017-2021l. Multiple time headmasters list honoree at Avon Old farms school (highest academic honor). National merit semifinalist for scoring 98th percentile on the PSAT 2020/21
Winner of the Trinity College book award given to an outstanding student in the English field for writing and reading 2020/21.