Virginia Cavaliers Official Athletic Site
Khyasia Caldwell
Pocono Summit, Pa.
Hometown
Pocono Mountain East High School
High School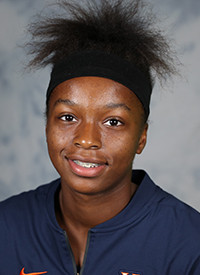 All-America 
2021 Outdoor: Long Jump (HM)
2020 Indoor: Long Jump
All-ACC
2021 Outdoor: Triple Jump (2nd Team)
2021 Indoor: Long Jump (1st Team), Triple Jump (2nd Team)
2020 Indoor: Long Jump
2018 Outdoor: Long Jump
NCAA East Preliminary
2021: Long Jump
2019: Long Jump
2018: Long Jump
TFRRS Profile (for PRs and full results)
2021 Outdoor
• Finished 23rd at NCAA Championships in long jump (5.88m / 19′ 3.5″)
• Qualified for long jump at NCAA Championships after 11th-place finish at NCAA East Preliminary Round
• Recorded a jump of 6.26m (20′ 6.5″) on her first attempt that allowed her to place 11th
• Helped UVA to second-place finish and school school record in 4×100 (43.90) at ACC Championships
• Also qualified for triple jump where she was 28th
• Was sixth in triple jump and seventh in long jump at ACCs
• Finished first in long jump (6.23m / 20′ 5.25″) at Virginia Grand Prix
• That equaled her personal best jump which ranks No. 9 all-time at UVA
• Set PB in triple jump (13.33m / 43′ 9″) at Virginia Challenge to finish second
• Her mark at Virginia Challenge ranks No. 2 on UVA all-time performance list
• Also had PB in 100m dash (11.80) at The Challenge
• Helped UVA win 4×100 relay at Challenge (45.02)
• Won the long jump at Raleigh Relays and UVA Opener
• Posted a then-PB in 100-meter dash (11.89) at Raleigh Relays
• Took first place in triple jump at UVA Opener and ran a leg on UVA's winning 4×100 relay team
• Named to 2021 ACC Academic Honor Roll
2021 Indoor
• Earned All-ACC honors in long jump and triple jump
• Placed second in long jump and fourth in triple jump at ACCs
• Set PB with 13.05 (42′ 9.75″) mark at ACCs that ranks third on UVA all-time list.
2020 Outdoor
• Season cancelled due to COVID-19 pandemic
2019-20 Indoor 
• Earned All-America honors for advancing to the NCAA Championships in the event
• Held the 16th-best jump in the NCAA
• Placed second in the long jump at the ACC Championships
• Recorded the fifth best all-time jump in UVA history in the long jump
• Won the long jump at the Hokie Invitational
2019 Outdoor 
• Advanced to the NCAA East Preliminary Rounds in the long jump, finishing 40th in the event
• Captured a seventh-place finish in the long jump at the ACC Championships
• Recorded a wind-assisted long jump mark of 6.28m (20'7.25″) at the Virginia Challenge
• Captured a career-best jump of 6.15m (20'2.25″) at the ACC Championships, ninth best-jump in school history
2019 Indoor
• Did not compete
2018 Outdoor 
• Competed at the NCAA East Preliminary Rounds in the long jump, finishing 36th in the event
• Was the ACC runner-up in the long jump, capturing a mark of 6.10m (20'0.25″) for second place
• Posted a career-best jump of 6.12m (20'1″) at the Virginia Quad meet
• Ranks 10th in school history in the long jump
2018 Indoor 
• Did not compete
Background 
• Four-year varsity letter winner in basketball at Pocono Mountain East High School
• Earned Second Team All-Conference honors her freshman season, tying her school record for single-game rebounding with 23 in one contest
• First Team All-Conference her sophomore and senior seasons
• Junior season was named the Pocono Record Girl's Basketball Player of the Year
• Reached the 1,000 career point mark her senior year while averaging 14 points, 7.4 assists and 9 rebounds per game
• Also competed in track: Three-time PIAA State Champion in the long jump
• Holds school records in four events: the 100 (12.14), 200 (24.54), 400 (57.94) and long jump (20-5), and owns the long jump record in both the Eastern Pennsylvania Conference and District 11
PERSONAL
• Majoring in sociology
• Daughter of Veronica Caldwell
• Has three brothers: Khyree, Khylil and Khyon