Virginia Cavaliers Official Athletic Site
Tomas Woldetensae
Indian Hills Community College
High School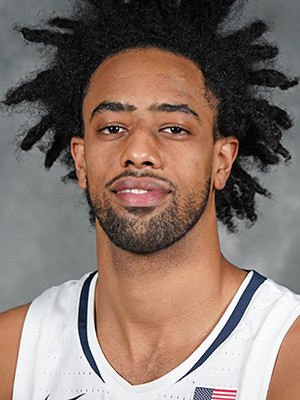 2020-21
• Played 22 games, starting five
• All-ACC Academic Team
• Averaged 4.4 ppg and 1.3 rpg
• Shot 41 percent from the field, 41.8 percent from 3-point range and 90.9 percent free throws
• Was perfect from the field (2-for-2) vs. San Francisco (11/27/20)
• Scored eight points with career-high four assists vs. Saint Francis (12/1/20)
• Had season-high two steals vs. Kent State (12/4/20)
• Scored six points and had a steal vs. Gonzaga (12/26/20)
• Hit four 3-pointers, scoring a season-high 14 points with five rebounds and two steals at Clemson (1/16/21)
• Matched season-high with 14 points, going 4-for-5 from 3-point range, and added two assists vs. Pitt (2/6/21)
• Scored 12 points, going 3-for-4 from 3-point range, at Florida State (2/15/21)
• Hit a three and matched season-high with two steals vs. Miami (3/1/21)
• Scored eight points vs. Syracuse in ACC quarterfinals (3/11/21)
• Lettered
2019-20
• Started 22 of 29 games
• Averaged 6.6 points and 2.2 rebounds
• Shot 34.8 percent from the field, 36.1 percent from 3-point range and 88.9 percent from the free throw line
• Led team with 52 3-pointers and ranked 15th in the ACC in 3-pointers (1.8)
• Became the third Virginia player in the last 20 seasons to have multiple games with at least seven made 3-pointers, joining Curtis Staples (8 such games) and Kyle Guy (3)
• Scored team-high 18 points (6 of 10 3-pointers) and drilled game-winning 3-pointer at North Carolina (2/15/20)
• Went 10-for-13 from the field with seven 3-pointers for a career-high 27 points at then-No. 5 Louisville (2/8/20)
• Hit seven 3-pointers en route to team-high 21 points at Wake Forest (1/26/20)
• Scored 14 points, going 4 of 8 beyond the arc, vs. Boston College (2/19/20)
• Scored 11 points with three 3-pointers against then-No. 7 North Carolina (12/8/19)
• Recorded nine points, going 3 of 4 beyond the arc, and had season-high three assists at then-No. 9 Florida State (1/15/20)
• Scored nine points on a trio 3-pointers and had three steals at Georgia Tech (1/18/20)
• Recorded career-high four steals vs. Louisville (3/7/20)
• Tallied five points and six rebounds against Columbia (11/16/19)
• Made UVA debut at Syracuse (11/6/19)
• Missed JMU (11/10/19) contest with an injury
• Named to the ACC Scholar-Athlete team
• Named to the ACC Honor Roll
• Named to the NABC Honors Court for achieving a cumulative GPA of 3.2 or higher
• Lettered
JUNIOR COLLEGE
• Played two seasons from 2017-19 at Indian Hills Community College in Ottumwa, Iowa.
• Earned National Junior College Athletic Association (NJCAA) first-team All-America honors after averaging 17.3 points, 2.8 rebounds and 2.5 assists in 2018-19.
• Shot 47 percent from the field, 47.6 percent from 3-point range and 88.5 percent from the charity strip for Indian Hills, which advanced to the second round of the NJCAA National Tournament.
• Named to the National Association of Basketball Coaches NJCAA All-America team
• Earned Iowa Community College Athletic Conference (ICCAC) Player of the Year honors was a member of the ICCAC all-league team
• Drilled 103 3-pointers to rank third on Indian Hills' single-season list
• Averaged 8.8 points, 2.5 rebounds and 3.1 assists during his freshman season at Indian Hills in 2017-18
• Shot 39.4 percent from 3-point range and 89.3 percent from the free throw line
• Ranked third on the team with 40 steals
• Ranks third on Indian Hills' single-season free throw percentage list at 89.3 percent in 2017-18
• Holds the Indian Hills school record in career free throw percentage (88.8%) and is third with 154 career 3-pointers
• Helped guide Indian Hills to a 60-8 record with a pair of regular-season conference titles and one postseason tournament title.
• Played in the NJCAA National Tournament in each both seasons at Indian Hills
• Played two seasons of high school basketball from 2016-17 at Victory Rock Prep in Bradenton, Fla.
PERSONAL
• 2020-21 William Jackey and Rose Mare Bravo Endowed Men's Basketball Scholarship recipient
• Andriu Tomas Woldetensae
• Born in Bologna, Italy
• Son of Zaid Woldetensae
• Interested in art
• Chose Virginia because it demands excellence from its players
• Career objectives are to play professional basketball and become a designer/architect
• Studio art major