Virginia Cavaliers Official Athletic Site
Steve Lemke
Assistant Coach - Throws
Position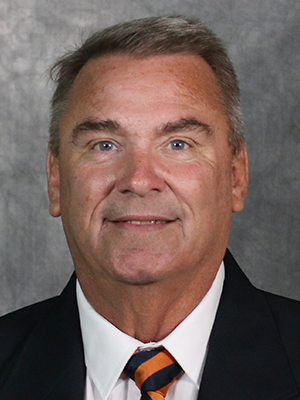 Lemke spent his last 15 seasons in coaching at Florida as the associate head coach for throws. During his time in Gainesville, Lemke led the Gator throwers to the top of not only the SEC, but to the upper tier of NCAA Division I.
Over the course of his tenure at Florida, which began in 2006, the Gator women won seven individual NCAA Indoor and Outdoor Championships in throwing events – the third most by any Division I program in that span. Florida's five indoor and outdoor national shot put titles were tied for the national lead during his tenure with the team as well.
Lemke's track record at national meets speaks for itself. Aside from just developing national champions, his athletes at Florida consistently scored at national meets helping the program to nine national titles on the men's side and numerous top-five finishes on the women's side. In all, Lemke coached a total of 50 Florida men and women to score at the NCAA Championships, a number that ranks second among Division I coaches in that span. Under his tutelage, a total of 70 Gators earned USTFCCCA All-America honors in throwing events.
At the conference level, Lemke led his men and women to 35 indoor and outdoor SEC titles in the throwing events – five more than any other SEC program over that period.
In addition to his time at Florida (2006-2021), he has also coached at Arizona State (1994-96), UTEP (1990-93), Yale (1987-89) and served as a graduate assistant coach at Southeast Missouri State (1985-86).
Lemke also has experience at the international level as he served as the head coach and National Throws Coordinator at the Queensland Academy of Sport in Australia (2002-04), the head coach and National Throws Coordinator at the Western Australia Institute of Sport (1998-99, 2001-02) and the National Senior and Junior Throws coach for Norway (1996-98).
Lemke by the Numbers
11 seasons as Florida's Associate Head Coach
9-time NCAA Division I National Champion
11-time SEC Champion
13 Individual Men's and Women's National Championships
35 Individual Men's and Women's SEC Championships
50 Men's and Women's NCAA Championships Scorers at Florida
70 Men's and Women's USTFCCCA All-America Honors at Florida
7 University of Florida School Records Broken
15 Olympics Appearances
2 IAAF World Championships Medalists
2000 Olympic gold medalist (Nick Hysong, Arizona State)
Coaching History
Florida – Associate Men's and Women's Head Coach – Throws (2010-Present)
Florida  – Assistant Men's and Women's Coach – Throws (2008-2009)
Florida – Assistant Women's Coach – Throws (2006-07)
Queensland (Australia) Academy of Sport – Head Coach; National Throws Coordinator (2002-04)
Western Australia Institute of Sport – Head Coach; National Throws Coordinator (1998-99, 2001-02)
Norway – National Senior and Junior Throws Coach (1996-98)
Arizona State University – Field Events Coach (1994-96)
University of Texas El Paso – Field Events Coach (1990-93)
Yale University – Field Events Coach (1987-89)
Southeast Missouri State – Graduate Assistant Coach (1985-86)
Washburn (Mo.) High School – Head Boys and Girls Coach (1983-85)