Virginia Cavaliers Official Athletic Site
Anna Cho
Director of Operations
Position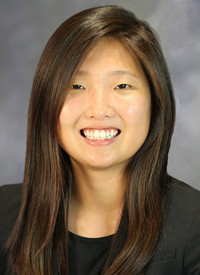 Anna Cho was named the Director of Operations for the Virginia Women's Basketball program in May 2018. She oversees all operational and administrative aspects of the program, including, but not limited to, building and managing the annual budget, supervising office personnel and student-managers, coordinating team travel and practice schedules, managing the Nike apparel budget, serving as the liaison between the head coach and all aspects of UVA athletic administration, and collaborating with various departments within the University, athletics, and conference office.
Cho first began working with the Cavaliers in 2014 as a student-manager for the Virginia Women's Basketball program and was elevated to Head Manager and Assistant to the Video Coordinator during her undergraduate tenure. After graduating from the University of Virginia with a Bachelor's degree in both Media Studies and Foreign Affairs in 2017, she served as a Graduate Assistant for the program while pursuing her Master's degree in Education, focusing on Social Foundations.
Cho was the recipient of the 2017 Bob Goodman Award, presented annually to the student manager of the year as voted by the UVA head coaches. During her time as a student-manager, she spent two summers in Liberia working in youth development through Managers on a Mission (MOAM), a Christian non-profit committed to developing future leaders in sports. Currently, Cho serves as a Board Member of MOAM overseeing communications and multimedia efforts.
Prior to this role, Cho also worked at the UVA Alumni Association, U.S. Department of State, and the White House Initiative on Asian Americans and Pacific Islanders. She currently serves on the Post Grad Trustees for UVA's Class of 2017.