Virginia Cavaliers Official Athletic Site
Billy Gentry
Assistant Athletic Trainer (Football & Spirit Squads)
Position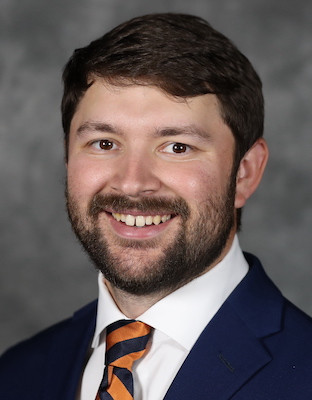 Billy Gentry has been an assistant athletic trainer at Virginia since 2022, where he works with the football teams and spirit squads. Gentry is responsible for the overall daily health care of UVA student-athletes, including prevention, evaluation, treatment and rehabilitation for injuries and illnesses.
Prior to coming to UVA, Gentry spent one year with the San Francisco 49ers as a seasonal intern athletic trainer. Before working with the 49ers, he worked for one year as a resident athletic trainer with football at Virginia Tech.
Prior to his residency, Gentry completed his master's degree at Virginia Tech where he worked with the men's and women's tennis teams for one year and the football team for one year. He received his undergraduate degree from the University of North Carolina at Chapel Hill where he received a bachelor of arts in exercise and sports science with a focus in athletic training and a bachelor of arts in chemistry. While studying at UNC, Gentry also completed an athletic training summer internship with the Arizona Cardinals.
Gentry lives in Charlottesville with his wife Miranda.