Virginia Cavaliers Official Athletic Site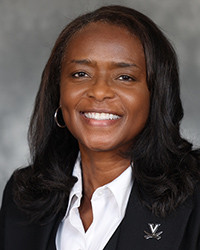 With her background as a student-athlete, coach and administrator, Carla Williams has a forward-thinking approach to leading Virginia Athletics. Her focus is on providing opportunities for student-athletes to maximize their college experience while establishing a culture and support system for the sport programs to compete for championships.
Above all, her commitment to academic excellence is unwavering.
Williams' hope is for student-athletes at UVA to grow and prepare themselves for their futures away from athletic competitions. To ensure that approach becomes a reality, she announced The Master Plan project that will set the course for generations of future Hoos.
The Master Plan addresses the immediate needs to upgrade facilities for the Cavalier football program and UVA Olympic Sports. Administrative offices, sport performance centers and new playing surfaces will be the most visible phases of the project.
The Master Plan started with the demolition of University Hall, the construction of two new grass practice fields for the Cavalier football program and the establishment of the Training Grounds to house the majority of UVA's Olympic Sport student-athlete until the completion of the project.
In May of 2022, the second phase of The Master Plan kicked in with the groundbreaking for the Virginia Football program's Operations Center. The $80 million, 90,000-square foot facility will be completed in the spring of 2024.
The services and support areas encompassed as part of the Master Plan project will have meaningful and lasting impacts on student-athletes in the form of leadership, ethics, service, wellness, career development and academic achievement. Included in the final phase will be a permanent location for UVA's "Center for Citizen Leaders and Sports Ethics" where student-athletes benefit from new learning opportunities that focus on leadership, career and personal development and community engagement.
UVA launched its groundbreaking Pathways program to assist in those ventures. Pathways uses University, community and alumni resources to connect student-athletes with areas of interest to help jump-start their career goals, identify valuable skills and accelerate their leadership abilities.
Williams' approach is aggressive in scope, but she believes that's necessary to ensure UVA's place among the nation's leading athletics departments. Her goal is to provide student-athletes an unsurpassed experience in terms of personal development.
All of this hits home for Williams. When telling her personal story, she is quick to point out she would not have been able to attend college if it were not for her basketball skills. She used the opportunity to have a successful career on the hardwood, launch a coaching career and become one of the nation's top athletics administrators. She knows first-hand what college athletics can offer and wants the student-athletes at Virginia to enjoy the same success story she has.
During her five-year tenure as UVA's athletics director, Williams has witnessed many history-making moments for the Cavaliers including multiple national championships.
The Virginia men's basketball team won the program's first NCAA Championship in 2019, finishing the tournament with a run of three dramatic come-from-behind victories to cap an epic storyline.
The Cavalier men's lacrosse team captured its ninth overall and second consecutive national title in 2021 while the UVA women's swimming and diving team won consecutive national championships in 2021, 2022 and 2023. Men's tennis captured its sixth overall NCAA team title in 2023 as the Cavaliers registered an fourth-place finish in the Directors' Cup all-sports standings for the 2022-23 academic year..
In 2019, the football program won the Coastal Division, played in the ACC Championship game and the Orange Bowl.
UVA has won 17 total ACC Championships during Williams' tenure at Virginia.
In the classroom, UVA student-athletes have set record numbers for placement on the ACC Honor Roll, achieved the highest-grade point average totals in program history, and been recognized by the NCAA for outstanding achievement on academic progress reports. In all, 12 UVA student-athletes have been named ACC Scholar-Athlete of the Year in their respective sports in since 2020.
Williams' appointment at Virginia in October of 2017 made her the first female African-American athletics director at a Power Five conference institution. At the time, she was the fifth active female athletics director at that level.
She has been involved in several key initiatives that have helped to shape the future of ACC and NCAA athletics.
Williams was selected to work on the NCAA's NIL Legislation Solutions Group to examine student-athlete name, image and likeness rights and is a member of the NCAA Federal and State Legislation Working Group. She was named to the executive committee of the recently formed Black AD Alliance, which was established to promote the growth, development and elevation of Black athletics administrators at the Division I level.
In 2021, ACC commissioner Jim Phillips appointed Williams to the newly formed ACC Football Subcommittee that allows league's head football coaches to be involved in the development and growth of the sport within the conference.
The success of UVA under Williams and her involvement in some of college athletics' top issues have not gone unnoticed. She was named the Women Leaders in College Sports 2019 Administrator of the Year for all NCAA Division I FBS athletics programs. In 2021, the Sports Business Journal named her one of its finalists for Division I athletics director of the year.
Prior to coming to Virginia, Williams served as an athletics administrator at the University of Georgia for 13 years and was named deputy director of athletics in 2015. During Williams' tenure as an administrator at Georgia, its athletics teams won 16 NCAA team championships and 37 Southeastern Conference titles.
Williams has a unique background, having competed, coached and administered at the highest levels of intercollegiate athletics. She was an All-SEC guard on the basketball court, then helped recruit and coach some of the greatest teams in Georgia's history before moving on to become one of the highest-ranking female administrators in Division I athletics.
Williams began her administrative career at Georgia in 2004. In Athens, she served as associate athletic director (2004-2008), senior associate athletic director (2008-2011) and executive associate athletic director (2011-2015) before being promoted to deputy director of athletics.
Prior to joining the Bulldogs' staff, Williams was an assistant director of athletics (2000-03) and an associate director of athletics (2003-04) at Vanderbilt. She oversaw 11 men's and women's sports as well as the Commodores' CHAMPS/Life Skills program. From 1997-1998, Williams was coordinator for student-athlete development and life skills at Florida State. While completing her Ph.D. in sport administration, Williams was also a graduate assistant for athletic academic support from 1998-2000.
A native of LaGrange, Ga., Williams was a three-year starter for the Lady Bulldogs from 1987-89. She finished her career with 1,115 points, 425 assists and 285 steals. Those tallies ranked No. 10, No. 2 and No. 3 among Georgia's career leaders at the completion of her career.
Williams was then an assistant coach on Hall of Fame coach Andy Landers' staff from 1991-96, including teams that reached the 1995 and 1996 Final Fours, with an NCAA runner-up finish in 1996, and won the 1991 and 1996 SEC Championships. Following the 1995-96 season, Williams moved into administration. She served as UGA's assistant director of compliance from 1996-97 before continuing her ascent up the administrative ranks at Florida State, Vanderbilt and Georgia.
Williams was an active member in her community, local schools and church and was on the board of directors for the Athens Area Community Foundation and LLL Community Group. She has served as a committee member for Oconee County School System projects and been involved in the Athens Clarke County Mentor Program.
In May 2015, Williams was recognized by the Girl Scouts of Historic Georgia as the Athens Woman of Distinction. That same year she was named one of the top-10 senior woman administrators in the NCAA by the website CollegeAD.org.
The Southeastern Conference named Williams as one of its SEC Trailblazers in February of 2022 as part of its celebration of the 50th anniversary of Title IX. Those individuals were recognized for contributing to the advancement of women and the growth of women's athletics at their universities and within the SEC.
In 2023 the Women in Sports and Events (WISE) organization recognized her as one of the four recipients of its Woman of the Year Awards for 2022 based on accomplishments and significant contributions to the business of sports.
Williams and her husband, Brian, who holds the title of associate professor of public policy at UVA's Frank Batten School of Leadership and Public Policy, have three children: two daughters, Carmen and Camryn, and a son, Joshua.