Virginia Cavaliers Official Athletic Site
Erich Bacher
Assistant Athletics Director for Public Relations (MBB, ROW)
Position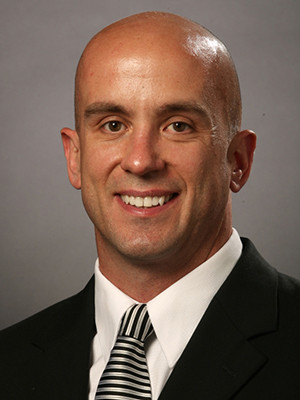 Erich Bacher was named Virginia's assistant athletics director for public relations in October of 2012. He previously served as the director of media relations at the University of Denver from 2005 to 2012.At Virginia, Bacher manages and coordinates all departmental public relations activities. He serves as the Department of Athletics' public relations liaison with the University, local and regional communities and news media, and serves on UVa's external relations committee. Bacher is the primary media relations contact for the Cavaliers' men's basketball and women's rowing programs.
At Denver, Bacher managed the overall media relations operations for the Pioneers' 17-sport Division-I program. He was the primary media contact for the men's ice hockey team and the men's and women's tennis programs. The Denver ice hockey team won NCAA titles in 2004 and 2005 while he was with the school. Bacher managed the publicity campaign for 2006 Hobey Baker Memorial Award winner Matt Carle.
Bacher has worked at the NCAA Frozen Four as a press operations volunteer and press conference moderator since 2006. He was the media coordinator for the 2007 NCAA Ice Hockey West Regional and the 2008 NCAA Frozen Four. He worked for the National Hockey League as a press officer for the 2004 World Cup of Hockey in Finland and Germany.
Prior to working at Denver, where he was an associate media relations director from 2002 to 2005, Bacher was a venue press services supervisor for the Salt Lake Organizing Committee for the 2002 Olympic Winter Games. He managed and designed all press facilities and services for five ice venues hosting ice hockey, figure skating and short and long track speed skating. He recruited, trained and scheduled more than 250 volunteers for those areas. He served as the Venue Press Chief for Olympic Ice Hockey at the E Center.
Bacher served as an assistant to the associate director of athletics at the University of Illinois from 1999 to 2000 after serving as an assistant sports information director at Illinois from 1997 to 1999. He was an intern in the University of Minnesota media relations office from 1996 to 1997. Bacher served as a press officer at the 1996 Atlanta Paralympic Games and was also a public relations intern that same year for the United States Association of Blind Athletes in Colorado Springs, Colo.
A native of Stevens Point, Wis., Bacher graduated from Wisconsin-Stevens Point in 1992 with a degree in organizational communication. He earned his master's degree in sport management from St. Cloud State (Minn.) in 1996.
Bacher and his wife, Carley, and sons, E.J. and Christian, reside in Charlottesville.