Virginia Cavaliers Official Athletic Site
Jacob Coltrane
Director of Scouting and Video Services
Position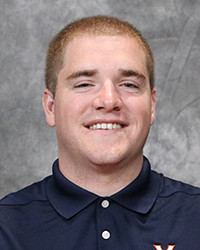 Jacob Coltrane joined the Virginia women's basketball staff in July 2021 as the Director of Scouting and Video Services.
Coltrane was a graduate assistant at South Carolina on Dawn Staley's staff from 2018-20, assisting the coaches with daily practice drills, developing scouting reports and game plans and coordinating travel plans. Coltrane also assisted with assembling the 2019 top-ranked recruiting class.
Along with being a graduate assistant under Coach Staley, Coltrane had the opportunity to work with USA Basketball during two World Cup training camps hosted in Columbia, SC.
Coltrane has also coached high school basketball as an assistant coach for the boys' team at AC Flora High School and most recently as the head girls' coach at Chapin High School, both of which are located in South Carolina.
Coltrane received a B.A. from the College of Hospitality, Retail and Sport Management at South Carolina in 2018 and his Master's of Health Information Technology from the university's College of Engineering and Computing in 2020.