Virginia Cavaliers Official Athletic Site
Justin Speros
Director of Recruiting/Professional Football Liaison
Position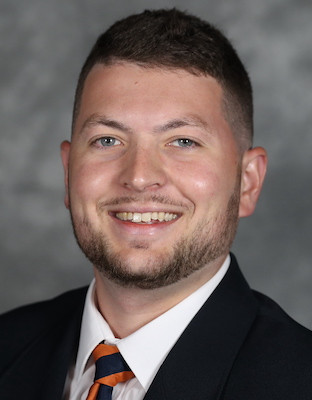 Justin Speros joined the Virginia football program as the director of scouting in January of 2022. In the fall of that year he was named the director of recruiting. He oversees the evaluation process for high school student-athletes and prospective players in the transfer portal while working with the staff's senior and regional scouts. Speros coordinates the tracking of each recruiting class for the full-time coaching staff.
Speros joined the Cavalier staff after serving as the director of scouting at South Florida for two years. He oversaw the Bulls management and coordination of their recruiting process including the NCAA transfer portal. He also coordinated the recruiting travel for the football staff and managed a team of eight students and interns who assisted in the recruiting process.
In 2019, Speros was the director of scouting and quality control at Western Carolina where he supervised the recruiting department while also serving as the team's video coordinator and professional football liaison.
A native of McLean, Va., Speros attended Langley High School and earned his bachelor's degree from Clemson in December of 2017. At Clemson, he worked as a student assistant for current UVA head coach Tony Elliott.
Following his graduation from Clemson, he worked for the Tigers' football program as a recruiting assistant for 13 months, primarily assisting the offensive coaching staff with its recruiting needs. From February to May in 2019, he worked as a coaching intern for the Cleveland Browns, assisting the team's quality control staff and special assistant to the head coach.
He has deep roots in the sport of football.  His grandfather, Leo, was a running back at Maryland in the 1950s while his brother, Jimmy, played collegiately at Richmond. His father, Jim – also a Clemson alumnus – was an assistant coach in the NFL with the Washington Redskins, serving on the staff of the 1982 championship squad under NFL and NASCAR Hall of Famer Joe Gibbs, and also the Buffalo Bills. A highly successful businessman, Jim went on to own a Canadian Football League team in Baltimore, Md., the Baltimore CFL Colts – later known as the Baltimore Stallions – as well as expansion into the United Football League.