Virginia Cavaliers Official Athletic Site
Katie Giusto
Director of On-Grounds Recruiting & Assistant Director of Football Operations
Position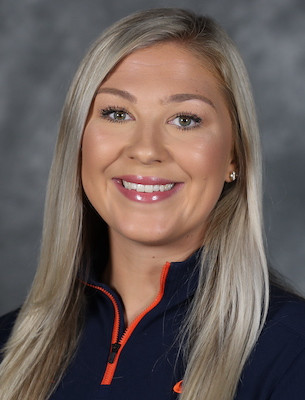 Katie Giusto joined the Virginia football program in January of 2022 as the director of on-Grounds recruiting. He later assumed the duties of assistant director if football operations.
A former student-assistant in the Cavalier football program, she spent the previous three season at West Virginia. She joined the Mountaineer football staff as the on-campus recruiting coordinator in April 2019,  added the additional responsibility of assistant director of football operations in March 2020 and become associate director in July 2021.
At WVU she helped coordinate in-person recruiting visits, assisted in the maintenance of scholarship offers, recruiting targets and commitments and updated the staff on recruiting matters, eligibility and admission status of prospective student-athletes.
She served as a liaison with the University admissions office and the athletics compliance office and managed planning for on-campus official and unofficial recruiting visits by prospective student-athletes. She assisted with the organization and assemblage of coaching recruiting checklists, calendars, Internet research, recruiting boards, prospects and coaches telephone directories and updated databases and prospective student-athlete video libraries.
Prior to West Virginia, Giusto spent a year as the events assistant with the Chick-fil-A Peach Bowl. She managed volunteer sign-up and assisted with the recruitment, training and organization of 250 volunteers for the Kickoff Game prior to the season and 600 volunteers for the Peach Bowl.
Giusto served as the primary contact for event sponsors and vendors for activation logistics, coordinated board of director meeting logistics and travel schedules and worked with the title sponsor to organize sponsor fulfillment for the Kickoff Game. She also organized sponsor fulfillment for the Chick-fil-A Peach Bowl.
She planned activities and organized volunteers for the Children's Holiday Party, and organized team hospital visits, arranging volunteers and coordinated with the hospital staff for each hospital visit. She also assisted in the organization of the assistant coaches' dinner and the Chick-fil-A Peach Bowl Parade.
As a graduate intern at Virginia, she assisted with the supervision of summer camps, team travel and staff tickets. She also assisted with event planning and added administrative support for UVA's NFL Pro Day, managed the Alumni and Military Flag Bearer game day program and helped coordinate the alumni mentoring program.
Giusto served as a student worker in the football recruiting office at Virginia for two years, assisting with day-to-day operations. She helped with on-campus official and unofficial visits and assisted with creating prospect recruiting files, organizing the video library and managing the social media accounts for the recruiting office.
She earned two degrees from Virginia, a bachelor's degree in media studies and American studies in 2017 and a master's degree in higher education with a concentration in intercollegiate athletics administration in 2018.