Virginia Cavaliers Official Athletic Site
Kim Hinton
Assistant Athletic Trainer (Men's Soccer, Camps)
Position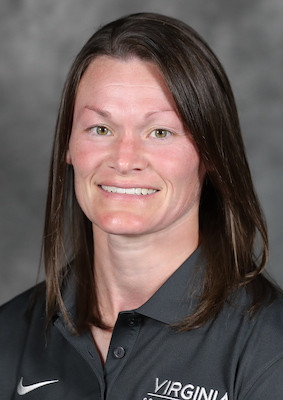 Kim has been as assistant athletic trainer at Virginia since 2021 and works primarily with men's soccer. She is responsible for the overall daily health care of UVA student-athletes, including prevention, evaluation, treatment, and rehabilitation for injuries and illnesses.
Prior to coming to UVA, Kim spent a year at William & Mary, working primarily with women's volleyball and women's lacrosse. Before her move to Virginia and the ACC she spent seven years in the Southeastern Conference. She spent four years at the Arkansas, working primarily with women's gymnastics and three years at Vanderbilt, working primarily with men's and women's cross country and track and field. She spent a year at High Point and was primarily responsible for women's soccer and women's lacrosse.
Hinton has also worked seasonally with USA Ultimate since 2016. She has travelled with the U20 national team to Poland (2016) and Canada (2018), the World Games team to Alabama (2022), and the U24 national team to the United Kingdom (2023). She has also worked with USA Water Polo, covering youth national team tryouts, and traveling with the cadet national team to Serbia (2012).
Hinton received her master's degree in athletic training from California Baptist and her bachelor's degree from Virginia Tech in human nutrition foods and exercises with a psychology minor. While studying at Virginia Tech as an undergraduate, she was a track and field student-athlete representing VT in the Big East and ACC Conference Championships in the pole vault.