Virginia Cavaliers Official Athletic Site
Kyle Murray
Assistant Athletic Trainer (Football, Women's Lacrosse, Spirit Squad)
Position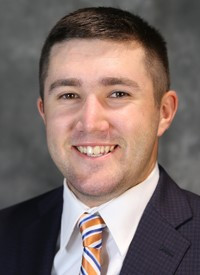 Kyle Murray has been an assistant athletic trainer at Virginia since 2018, where he works with the football team,  women's lacrosse program and spirit squads. Murray is responsible for the overall daily health care of UVA student-athletes, including prevention, evaluation, treatment, and rehabilitation for injuries and illnesses.
Murray previously spent time at Virginia, completing his graduate work in athletic training in 2016. While at Virginia previously, he worked with the football team and spirit squad.
Prior to returning to Virginia, spent two years at Hampden-Sydney as an assistant athletic trainer. While at Hampden-Sydney, he worked with the football, lacrosse, cross country, swimming, and golf teams.
Murray received his bachelors degree in athletic training from UConn in 2015. While at UConn, he worked with a variety of teams and schools, including the Huskies football men's ice hockey teams, Trinity College, and East Hartford HS.
Murray, a member of NATA, spent a semester in 2018 as an adjunct professor at Longwood.