Virginia Cavaliers Official Athletic Site
Kyle Rae
Associate Athletics Director for Business Operations
Position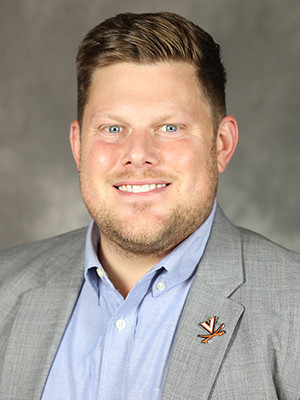 Kyle Rae joined the Virginia athletics department in February of 2023 as an associate athletics director.
Rae comes to UVA, after spending over three and a half years working in the Towson University athletics department as the associate athletics director for financial management/CFO where he started in July 2019. While at Towson, Rae oversaw the day-to-day operations of the business office and equipment room. He also managed the partnership with Van Wagner for all Sponsorship deals and Fan Summit for ticket sales and operations. Rae served as the IT liaison for Athletics with central campus, coordinated athletics' licensing efforts with campus and managed concessions logistics with on campus food service provider at athletics' events.  He administered all financial reporting and budgeting, oversaw all procurement and travel logistics planning for all 19 men's and women's sports and the overall department. He facilitated NCAA audit and EADA reporting and created financial budgets for NCAA Championship bids. He assisted in scheduling for key revenue generating sports. He also managed the Under Armour apparel contract for the Athletic Department. Rae served as the sport administrator for women's gymnastics at Towson.
Rae brings a strong background in finance with him, including the completion of his MBA from Loyola University Maryland in May 2019. Rae earned his master's degree in accounting at North Carolina State University in May 2011 after earning a Bachelor of Arts degree in accounting from Furman University in 2010.
Prior to his arrival at Towson, Rae worked at Under Armour's headquarters in Baltimore, serving as a manager after starting in June of 2016. He was promoted to a manager position after consistent high performance and leadership within the team. Duties included creating and maintaining short- and long-term revenue models to assist in weekly, monthly and quarterly financial updates. He led an annual budget process and five-year plan process for a $500 million business unit. Rae was responsible for driving efficiencies in processes through standardization and automation dashboards, reports and templates, as well as calendar alignment around key dates and deadlines. Rae led ad-hoc analysis and projects including investment/resources allocations and return on investment analysis. He partnered with the E-Commerce/Retail teams and other FP&A teams to understand key drivers of variances and opportunities and risk to financial plans and forecasts.
From 2015-16, Rae spent the year at the University of Texas at Austin, serving as the intercollegiate athletics accountant, a full-time financial analysis position within the Longhorns' athletic department. He assisted in reconciling the department general ledger, developed departmental budgets and oversaw accounts receivable for the athletic department. He handled daily revenue reconciliation, for all ticket office events and performed revenue projections and forecasts using data analysis. Rae authorized purchasing, monthly budget reports and deposits for volleyball, the ticket office, cheer and pom squads and the Longhorn Band, including procurement card transactions. Additionally, he managed daily revenue vouchers for the ticket office, general athletics budget and camps/clinics.
Rae broke into intercollegiate finance at The College of William & Mary as an athletics business manager from 2013-15. Rae assisted in managing the department budget for the Tribe, including authorization of procurement of athletics goods for all 23 teams and administrative areas. Rae compiled, reviewed and distributed detailed monthly operating budgets for teams, administration and provided financial analysis and reviewed expenditures to ensure accuracy and accountability. In addition to managing the day-to-day operations of the business office with the assistance of the assistant athletics director, business affairs, Rae was an administrative liaison with the Student-Athlete Advisory Council (SAAC).
Prior to his time in athletics, Rae worked in the private sector as an audit associate at Johnson Lambert LLP in Atlanta from 2011-13 and was an accounting/finance intern at Piedmont Natural Gas in Charlotte, North Carolina for the summer of 2009.
During his time at Furman University, Rae was a member of the Paladins' football team and was on the Furman Athletic Service Board. Rae attended the NCAA Career in Sports Forum in 2010 and the NCAA National Student-Athlete Leadership Conference in 2009. He was a member of the Southern Conference Academic Honor Roll during all four years in Greenville, South Carolina.
Rae is a member of the College Athletic Business Management Association (CABMA) and the National Association of Collegiate Directors of Athletics (NACDA). He is also a proud graduate of the Sports Management Institute in January of 2023 which is a program is tailored to meet the needs of athletic administrators in mid-to top-level management positions who are — or aspire to be — athletic directors, executive directors or general managers in collegiate, amateur or professional sports.
Rae and his wife, Amanda, have one daughter, Mila, and one son, Kirby.