Virginia Cavaliers Official Athletic Site
Rebecca Vozzo
Associate Athletic Trainer (Men's Lacrosse)
Position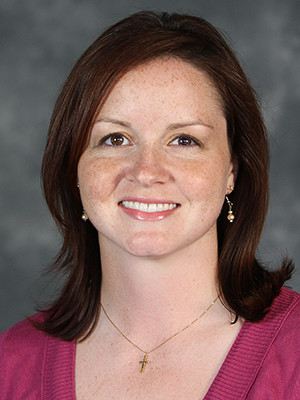 Rebecca Vozzo is an Associate Athletic Trainer at Virginia and works with the men's lacrosse program. Vozzo is also in charge of coordinating drug testing of all university student-athletes and oversees the certified intern athletic trainers working in Sports Medicine. In addition, Vozzo is a Preceptor in Virginia's master's program in Athletic Training. She has been at UVA since the summer of 2009.
Hitting the ground running at Virginia, Vozzo teamed up with Ken Clausen and the rest of the Virginia men's lacrosse program to found "Lacrosse Mustache Madness," a November-based initiative to create awareness for prostate cancer. The inaugural event raised nearly $32,000 and received much support from a nation-wide lacrosse community in 2009. Since its creation, "Lacrosse Mustache Madness" has combined to raise over one million dollars for the HEADstrong Foundation, which helps those affected by blood cancer.
A Certified Athletic Trainer since 2002, Vozzo was also certified as Strength & Conditioning Specialist through the National Strength & Conditioning Association in 2003. She is also a certified Corrective Exercise Specialist and is trained in Graston Technique, Kinesiotape application, and Mental Health First Aid.
She is a 2002 graduate of James Madison with a bachelor of science degree in health sciences with a concentration in athletic training. As a student athletic trainer, Vozzo worked with the Dukes' baseball, football, women's soccer and men's & women's gymnastics squads. Vozzo came to UVA from Quinnipiac where she spent three years as an assistant athletic trainer with the men's lacrosse program, while overseeing the graduate assistant who covered women's soccer and men's and women's tennis. She also taught in the university's undergraduate Athletic Training Education Program and acted as an Approved Clinical Instructor. Upon graduation from James Madison, Vozzo served two years as an assistant athletic trainer at Hampden-Sydney, working primarily with men's lacrosse. She also assisted with football, men's basketball and baseball. Vozzo graduated with a master's degree in adult & community college education with a specialization in health professions education from NC State in 2006 when she worked as a graduate assistant athletic trainer with the football program.
Vozzo currently resides in Charlottesville.