Virginia Cavaliers Official Athletic Site
Steve Pritzker
Deputy Athletics Director/CFO
Position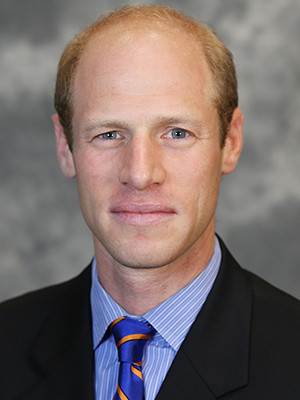 In 2021 Steve Pritzker was promoted to deputy athletics director/CFO. He oversees business operations, facilities, new construction, game operations, John Paul Jones Arena for athletics, information technology and  administrative services/human resources while also serving as the chief financial officer. In 2019 Pritzker was named executive associate athletics director after serving as a  senior associate athletics director from 2015 to 2019. Pritzker was the associate athletics director for business operations from 2013-15. He is the sport administrator for rowing, wrestling, women's lacrosse and men's soccer.
Pritzker returned to Virginia in 2013 after serving as the head rowing coach at Iowa. He spent the previous nine years as a member of Virginia's coaching staff, from 2004 to 2012. After volunteering with the rowing team during the 2004 season, while earning his master's degree in business administration, Pritzker assumed full-time coaching responsibilities in the fall of 2005. In 2007 he was promoted to associate head coach.
While at Virginia, Pritzker helped guide the Cavaliers to NCAA team championships in 2010 and 2012, along with runner-up finishes in 2005 and 2007. He also coached the Varsity 4 to four individual National Championships, as well as three National runner-up finishes. Virginia won eight ACC titles in his nine seasons.While working with the Cavaliers' rowing program, Pritzker supported the Athletic Department on finance and budgeting matters, including forecasting and achieving financial efficiencies. He worked directly with different units within the athletics department on budget management. Pritzker's business background includes a two-year stint with Credit Suisse First Boston in New York City as a research sales analyst, and two years with Kingdon Capital Management.
A native of Alexandria, Va., Pritzker graduated from Yale and received his master's degree from UVA's Darden Graduate School of Business in 2005. He was selected as a Schwartz Research Fellow at Yale, while earning four varsity letters as a coxswain on the rowing team.While a graduate student, Pritzker was selected as a resident for the Range in the historical Academical Village at UVA on the basis of his academic achievement and service to the University.