Virginia Cavaliers Official Athletic Site
Tyler Jones
Deputy Athletics Director for External Operations
Position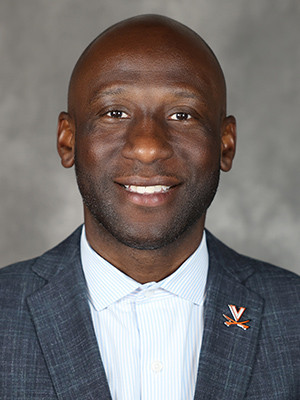 Tyler Jones joined the Virginia athletics department as the deputy athletics director for external operations in July of 2023. Jones came to UVA after spending two years at Northwestern as the executive senior associate athletics director for revenue generation and strategic initiatives.
Jones oversees various external units, facilitates growth and increases revenue by developing comprehensive strategic plans to enhance brand recognition and revenue generation opportunities.
Jones provides strategic leadership of various external units including ticket sales and operations, marketing and fan engagement, athletic communications, creative services, video services and  broadcast and event productions. He serves as primary day-to-day contact for the department's multimedia rights holder, Virginia Sports Properties and serves on the University Licensing Committee. Jones is the sport administrator for the Cavalier football program.
At Northwestern, Jones provided oversight and leadership of Northwestern Athletics' revenue-producing units of the department, including ticket sales and operations, Northwestern Sports Properties, marketing, merchandise, and trademark & licensing, in addition to providing strategic leadership for community relations, communications, broadcast operations and digital content.
As the executive senior associate athletics director at Northwestern University, Jones implemented a new contemporary philosophy to general external operations. He developed and deployed an integrated framework that leveraged data/analytics, innovative partnerships, and new technology that recognized significant leaps in revenue generation, campus/community engagement, and brand development. In 2022-23, the athletics department grew ticket revenue by 13 percent year-to-year while setting several attendance and revenue records across the department.
Jones also worked with NU apparel partner Under Armour and concessionaire Levy on strategic initiatives to drive revenue and enhance the brand of NU athletics. He was a key administrator in Northwestern's efforts to develop a NIL framework that included partnerships with Altius Sports and The Brander Group to help position Wildcats' student-athletes to maximize their Name, Image and Likeness opportunities.
Jones oversaw Northwestern's partnership with Paciolan for ticketing and marketing solutions and was instrumental in NU signing a multi-year partnership with Legends, a global ticket sales outfit focused on enhancing the fan experience while maximizing revenue generation through a streamlined data-driven sales approach.
He served as the primary sport administrator for the men's basketball and soccer programs. As the primary sport supervisor of the men's basketball program, the Wildcats had one of the best seasons in program history, finishing runner-up in the Big Ten Conference, defeating the No. 1 ranked program in the country while earning a bid to the NCAA tournament for just the second time in program history.
From 2019 to 2021, Jones worked at Cleveland State, where he served as deputy director of athletics for external operations. He oversaw the department's external units and functions including ticket sales, marketing, fan engagement, development, corporate partnerships, branding, media relations and communications, and served as the administrator for multiple sport programs.
During that time CSU increased its men's basketball attendance by 50 percent and pushed season ticket sales to their highest point in nearly a decade. He helped reestablish the department's annual giving program and led an advancement team that secured a record 2,500-plus gifts and pledges, one of the most successful fundraising years in program history.
Jones spent six years on the athletics marketing/fan development staff at Ohio State. He joined the Buckeyes' athletic department in 2013 as the assistant director for fan experience and promotions and was quickly elevated to director of fan experience and promotions in 2014. Jones was promoted to assistant athletics director for fan engagement in 2016. In that position he oversaw and provided leadership, for the fan experience, marketing and creative design units and served as a liaison for trademark licensing and the Ohio State marching band.
Jones has been heavily engaged in professional development and mentorship throughout his career and served a term on the board for the National Association of Collegiate Marketing Administrators (NACMA) from 2016 to 2020. He attended the D-1A Athletics Directors Institute in 2015 and the NCAA Leadership Institute in 2016.
Jones serves as an adjunct faculty member at Baldwin Wallace, teaching a sport marketing MBA course, where students gain an understanding of various aspects of sport marketing, including market research, promotions, advertising, public relations, and sport marketing strategy.
Prior to his time in Columbus, Jones served as the head of athletics marketing and promotions at his alma mater, Eastern Michigan, and was a marketing and sales assistant at Tennessee.
Jones was a standout on the Eastern Michigan football team from 2004-09. During his senior season, Jones was elected captain, named the team's most valuable player and tied the NCAA Division I record when he hauled in 23 receptions in a victory over Central Michigan. Following the conclusion of the football season, Jones captained the Eastern Michigan basketball team where he averaged 4.2 points and 1.9 rebounds per game.
Jones earned his undergraduate degree in marketing and business, and a master's of science degree in sport management from Eastern Michigan. He and his wife, Ashley, have a daughter, Vada Loren.