2023 Baseball Ticket Information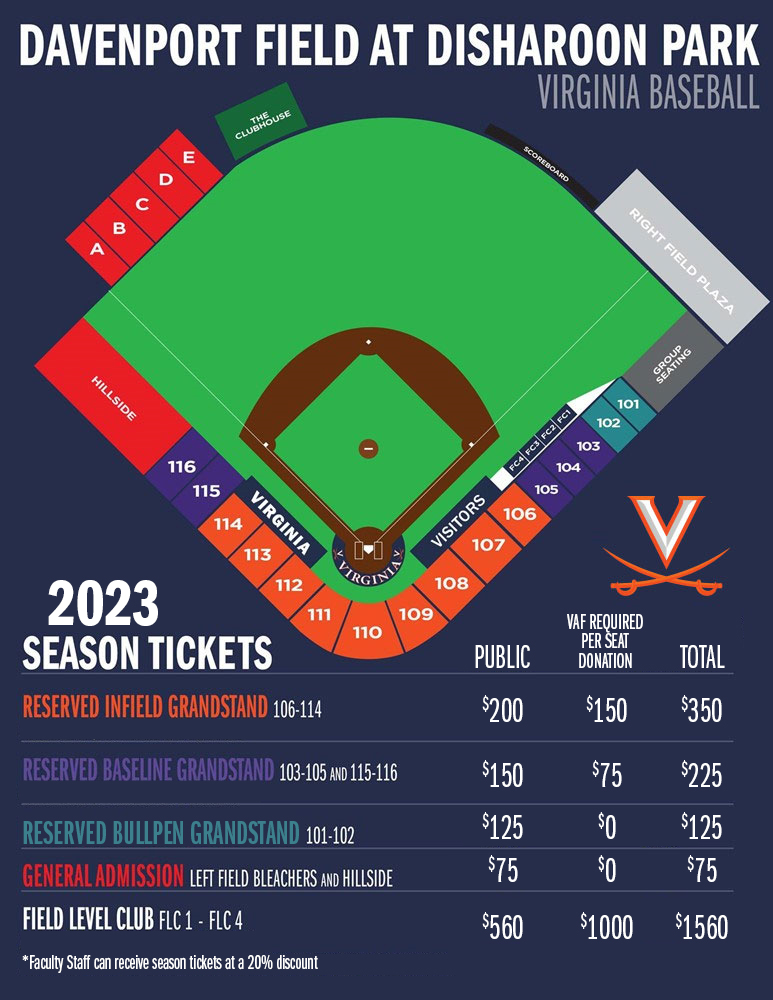 Season Tickets
Be a part of all the excitement at Disharoon Park by being a baseball season ticket member!
Returning Season Ticket Members
Current baseball season tickets members can renew their 2022 seats until Wednesday November 30th. Click here to renew. Season ticket members may elect to pay over 4 installments or pay in full as well as sign up for automatic renewals.
For season ticket members interested in purchasing additional seats or upgrading their seats in the general admission, right field grandstand, or baseline grandstand area, they may do so by calling the ticket office when renewing their seats.  For infield grandstand inquiries, season ticket members must renew their existing seats and can place a request.  Requests will be contacted following the renewal deadline in priority point order following the deadline.
---
New Season Tickets
2023 season tickets are on sale now. Click here to purchase. Fans have the opportunity to pay over 4 installments or pay in full as well as elect to sign up for automatic renewal. Fans interested in infield grandstand seats should purchase available seats and contact the ticket office to be considered for upgrade opportunities following the renewal deadline.
Faculty/Staff Discount
Full-time University of Virginia faculty and staff are eligible to purchase a maximum of 4 discounted (20% discount) season tickets.
Single Game Tickets
Tickets – Home Games
Tickets can be ordered online at UVATix.com or by phone at (434) 924-UVA1.
Single game ticket prices and on-sale dates will be announced closer to the season.
Tickets – Away Games
Virginia Athletics does not sell tickets for regular season away baseball games. Please check with the host institution for availability.
Group Tickets
Virginia baseball group tickets are the perfect way for family, friends, co-workers, church groups, companies and civic groups to enjoy a fun day at the ballpark! To qualify for group discounts, fans must purchase group tickets in advance of the game by calling or texting the Virginia Athletics Ticket Office at (434) 924-UVA1
Jim Rutrough Club Lounge
Located on the first base line, the Jim Rutrough Club Lounge and field level seating provide spectacular views of the diamond to watch Virginia Baseball. Fans will enjoy a unique game day, ballpark experience in Disharoon Park's most exclusive seating area complete with three rows of reserved seating, a field level club lounge, a full service bar, and an outside patio standing area.
Jim Rutrough Club Lounge located on the first base line.
Outdoor seating area with protective safety netting.
Exclusive access to the indoor Jim Rutrough Club Lounge under the right field grandstand.
Climate controlled club area with cash bar.
Complimentary sodas and water.
Full buffet meals and ballpark snacks for all games throughout the season.
Limited season tickets are available in the field level seating area that offer access to the indoor Jim Rutrough Club Lounge. These season tickets require a per seat donation of $1,000 annually in addition to the $560 season ticket cost. Exact seat locations are based on priority points and seat quantity. Please call the VAF at (434) 982-5555 for more information.
Parking
Regular Season Games
The Upper and Lower parking lots are located on the Disharoon Park side of Copeley Road. The Upper Lot is closest to the field and the Lower Lot is closest to Copeley Road. There are a limited number of parking spaces in these lots allocated to VAF donors, game operations staff and team personnel. VAF donors who are season ticket holders will be allocated parking passes based on their contributions to the stadium project and VAF priority points. These season parking passes cost $175.  Each year, VAF will contact those donors who qualify for this parking.
General admission parking is available and open to the public in some areas of the University Hall lot, the surface lot at John Paul Jones Arena, and the McCue Center parking lot. The University Hall lot is used for University parking during the week and for events at John Paul Jones Arena.
Postseason Games
Parking information will be available at a later date. There is a charge for postseason parking.
Postseason Tickets
NCAA Postseason Baseball
Ticket information will be available at a later date.
Inclement Weather
Occasionally, games may be affected by inclement weather. Tickets for all baseball games affected by weather will be accepted according to the Inclement Weather Policy established by the Athletics Department. Click here to read the Inclement Weather Policy.