Virginia Cavaliers Official Athletic Site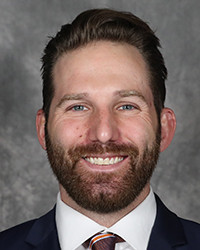 Chris Toland joined the Virginia women's basketball staff as an assistant strength and conditioning coach in April, 2022.
Toland comes to UVA after spending the 2021 season at Missouri State where he worked with the women's basketball and men's and women's golf teams.
Prior to Missouri State, Toland spent three-plus years in a similar role at Delaware, where he coached the Blue Hens' men's and women's basketball, men's and women's soccer, volleyball, golf and women's tennis teams, creating and implementing both in-season and offseason training programs. He also assisted with the Delaware football, men's lacrosse and track and field teams.
Prior to Delaware, Toland worked with a number of sports in his Olympic Sports Performance Strength and Conditioning internship at Temple.
Toland has held several similar positions in the private sector as a strength and conditioning coach, fitness coordinator and personal trainer.
He earned his bachelor's in exercise science in kinesiology from Penn State in 2011, and master's in sport and exercise physiology with a biomechanics and motor learning concentration from West Chester in 2017, and holds NCSA-CSCS, CPR/AED and USA Weightlifting – Level 1 Sport Performance Coach certifications.