Virginia Cavaliers Official Athletic Site
Keena Lynch
Director of Multimedia and Creative Content
Position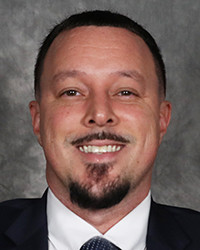 Keena Lynch joined Amaka Agugua-Hamilton's staff in April of 2022 as the Director of Multimedia and Creative Content.
Before arriving at UVA, Lynch spent four years working at Lincoln University, a NCAA Division II school in Jefferson City, Missouri, serving as the Associate Athletic Director for External Operations and the Executive Director for the Blue Tiger Athletics Club. While at Lincoln, he worked as the liaison between the organization and the athletic department, while coordinating many of Lincoln's external operations, including the areas of marketing, digital ticketing, promotions, budgeting and student well-being. He additionally was the point of contact for Corporate Sponsorship for Lincoln Athletics. He served as the designer and creative director for all twelve programs within the athletic department. He also was also a member of the USA Basketball Appeals Panel, which oversees the credentials and approval process of Amateur Athletic Union (AAU) basketball coaches. Lynch additionally served on the MIAA Community Culture Task Force.
Additionally, he has worked on the design and social media staff for the 2020 Women's College World Series, the communications and media staff for the 2019 and 2020 NCAA Men's Basketball Midwest Regionals and the 2020 NCAA Men's Basketball First and Second Round games at Creighton.
Prior to returning to the realm of collegiate athletics in 2018, Lynch coached and taught at College Station High School in Texas as an Adaptive Behavior and Graphic Design teacher. He served as the school's freshman basketball head coach and was an assistant with the varsity basketball and track & field programs. As an assistant with the track & field team, Lynch helped lead College Station to the 2017 Texas 5A District 17 title, area championship and the Region 3 runner-up, and he helped send three student-athletes to the Texas 5A State Championships.
Lynch was a member of the East Carolina men's basketball coaching staff as a video coordinator from 2013-2016. He was the point of contact for all media needs with the program and was in charge of film exchange, self-scouting and opponent scouting. Lynch created social media graphics to increase awareness of the Pirates' program as well as to enhance recruiting. Lynch additionally helped direct all basketball camps and clinics while overseeing and mentoring the team's graduate assistants and student managers.
As a graduate assistant with the men's basketball program at East Carolina from 2010-13, Lynch was a critical member of the Pirates' public relations team, producing highlight videos and custom graphics for East Carolina's social media accounts. In addition to helping coordinate East Carolina's camps, Lynch worked camps and clinics with the Nike Elite Youth Basketball League (EYBL), Five-Star Basketball and Dave Telep's Carolina Challenge.
Lynch received a Bachelor of Arts degree in Exercise and Sports Science, concentrating in Sports Administration while earning a minor in Native American studies, from the University of North Carolina at Chapel Hill in 2007. Lynch earned his Master of Arts degree in Education at East Carolina University in 2013.