Virginia Cavaliers Official Athletic Site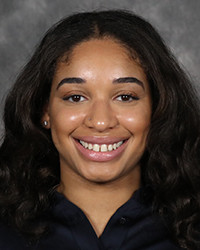 Mariah White was named UVA women's basketball's Director of Recruiting Operations in April of 2022.
White began her playing career at Cleveland State where she was named the 2021 Arthur Ashe Jr. Female Sports Scholar of the Year, selected from nearly 1,000 men's and women's nominees for best exemplifying the standards of scholarship, athleticism and humanitarianism. On the court, she was a two-time Horizon League Defensive Player of the Year and averaged 19.6 points per game her senior season with the Vikings, leading them to the 2021 WBI Championship, the first postseason title in program history. She played the 2021-22 season at MSU, earning a spot on the Missouri Valley Conference All-Newcomer Team as she played an integral part in helping the Lady Bears earn an at-large bid to the NCAA Tournament.
After receiving her bachelor's degree in liberal arts and studies at Cleveland State, she began work on a master's in educational technology at Missouri State. She has been involved with SAAC serving as chair of CSU's Diversity, Equity and Inclusion committee. She has also worked as a student-teacher and the operations supervisor at the CSU recreation center.