2023 Lacrosse Ticket Information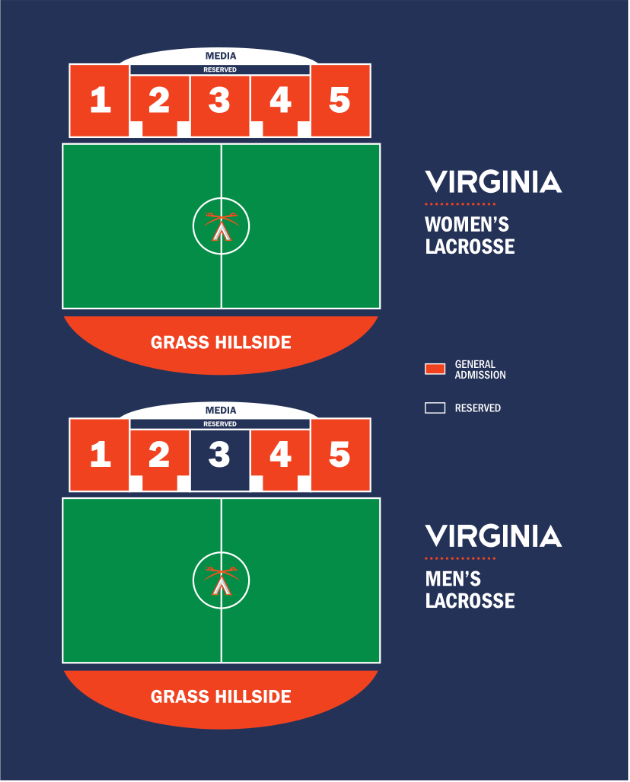 Season Tickets
Be a part of all the excitement at Klöckner Stadium by reserving your seat as a lacrosse season ticket member! Season tickets are sold separately for men's and women's lacrosse, and include all regular season home matches for each team.
New Season Tickets
2024 Season tickets will go on sale in the winter.
Reserved Seating
Men's lacrosse reserved seating areas include section 3 of the metal bleachers and the blue chairbacks at the top of sections 2, 3, and 4. Women's lacrosse reserved seating areas include the blue chairbacks at the top of sections 2, 3, and 4.
General Admission
General Admission seats are located in the metal bleachers (except for section 3 for men's lacrosse only) which make up the stadium grandstand. Fans with General Admission tickets may also sit on the grassy hillside opposite the grandstand. Seating in these areas is on a first-come, first-served basis.
Faculty/Staff Discount
Full-time University of Virginia faculty and staff are eligible to purchase a maximum of 4 discounted season tickets.
Single Game Tickets
Tickets – Home Games
2024 single game tickets will go on sale in the winter. Please check back for on-sale dates and ticket prices.
Tickets – Away Games
Virginia Athletics does not sell tickets for regular season away lacrosse matches. Please check with the host institution for availability.
Group Tickets
Virginia lacrosse group tickets are the perfect way for family, friends, co-workers, sports teams, church groups, companies and civic groups to enjoy a fun group outing! Tickets for groups of 20 or more! To qualify for group discounts, fans must purchase group tickets in advance of the game by calling the Virginia Athletics Ticket Office at (434) 924-UVA1.
Postseason Tickets
NCAA Tournament
The Virginia Men's Lacrosse Team will compete against Notre Dame on Saturday May 27th at Lincoln Financial Field in Philadelphia, PA. Tickets can be purchased through the NCAA here.