Diary Reflections from Hawaii: A Player's Perspective
Story Links
Feb. 25, 2003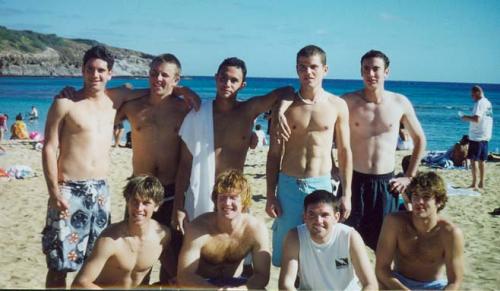 Diary of Mark Montandon:
A few months ago, the players first heard the news of a possible team trip to Hawaii to train over winter break. As the days went along the trip looked more and more promising, causing great anticipation. Finally, the plans were set, a ten day trip to Waikiki Beach in Honolulu were in the near future. Everyone was elated to go to the tropics of Hawaii. With lush green mountains to the North, crystal clear blue waters to the South, and eighty degree weather, Hawaii could not have met us more open armed. We were all ready to take advantage of our surroundings and get down to do what we came to do; play tennis and train.
That first morning was a bit difficult for us all. It started off with training, which we all needed; unfortunately. None of us were used to the eighty-five degree weather, which made the training that much more difficult. Despite our struggle to adjust to the heat, we all worked extremely hard. This desire to work hard and become better would set the tone for our next eight days in Hawaii.
The next five days or so would involve a morning practice and an afternoon practice. The team devoted the mornings to doubles and drills, while afternoons were for singles match play. After morning practice, which was usually around noon, we headed to lunch. This was typically a two block stroll to Blimpie. After a quick trip to the beach or a nap, we headed back to the courts just before four to compete in our singles matches. After these days of competitive practice, each one of us was ready to get down to business and defeat the Rainbow Warriors of Hawaii.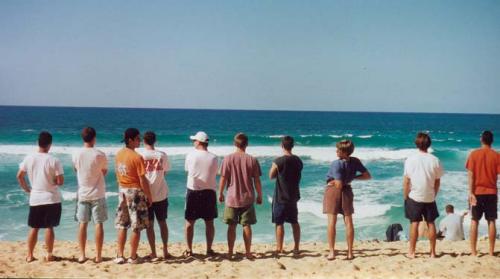 Long days on the court prepared us well for our opening match of the season versus the University of Hawaii. Each member of the team had certainly stepped up their game since the initial day of practice in Hawaii and we were ready to show it on January 10th. Two quick doubles wins gave us a quick 1-0 lead. Then it was on to singles where we captured four out of the six matches. With such a young team, it was an impressively mature start to the University of Virginia men's tennis season and we were all proud.
Tennis was definitely the main focus of our trip, but we also wanted to take time to explore the island of Oahu. Hanauma Bay was our first major excursion. This nature preserve provided an awesome afternoon of snorkeling. We saw vibrantly colored fish, swam with a sea turtle, and all of the players bonded at the same time. The next trip was to the North Shore where there are some of the biggest waves in the world. It was great to travel through Oahu, see the miles of Pineapple farms and then almost stumble upon the pristine beaches of Waimea and Pipeline. We even tried to test our swimming abilities a bit by body surfing the shore break. On the way back to Honolulu from the North Shore, the team stopped at the largest maze in the world at the Dole Plantation. We all competed to see who could get through the maze fastest. To all our dismay, Chris Gonyer took the victory.
We also participated in two of the most well known activities of Hawaii, visiting the USS Arizona Memorial at Pearl Harbor and attending a luau. After studying World War II and Pearl Harbor in school, it was interesting visiting the site first hand and receiving more of a closure on what actually happened. The night before our departure back to the University of Virginia, we attended a luau. With great food and great company, it was probably our highlight of the trip. Having Nick and Darrin dance on stage, the whole team giving kisses to the ladies who participated in the dancing lessons, and watching an entertaining show including flaming swords, the last evening could not have been better.
The opportunity to play summer tennis in the dead of the winter and ability to view a tropical paradise was heavenly for us "mainlanders." Our preparation for this season could not have been better by traveling to Hawaii and training the way we did. We all thank Coach Brian Boland and Assistant Coach Tony Bresky for giving us the opportunity of a lifetime and can not wait to use what they have given us this trip to excel this season.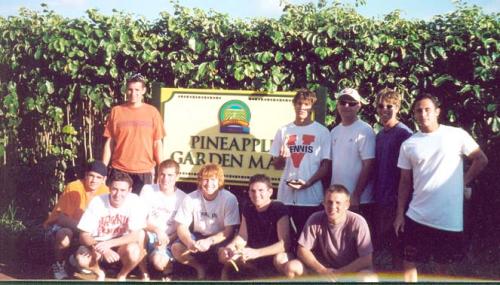 Diary of Michael Duquette :
Before leaving, I was so excited about being able to have preseason practice in a tropical paradise. The opportunities for developing our tennis games, coming together as a team, and having a lot of fun were endless. In looking back, everything we set out to accomplish at the beginning was met. The day long trip to make it out to Hawaii was very long, and the first day there was a little frustrating because we had to get our bearings and figure everything out. After finding a tennis site and figuring out places to eat, everything went very smoothly. The tennis was of great intensity, and it was great to be able to go to the beach in between sessions. Everyone understood why we were there, and if we worked hard on the court, Coach Boland and Tony would let us do some other tourist things. Those other things were awesome. We went snorkeling at Hanauma Bay, and that was my first time. We also went to check out the surf at the North Shore, made it through the "World's Largest Maze" at the Dole Plant, and visited Pearl Harbor. In doing these things, we were able to bond as a team, and this preparation for the season could not have been better. The week of practice led up to our first match of the season against University of Hawaii, and even though I injured my wrist and was disappointed about that, I felt everyone played well and competed hard. The team is very young, but this trip showed a lot to me about the drive and talent many of the young ones have. I am so excited for my fourth year because there are endless possibilities.
Diary of Stephen Rozek:
Perhaps the best part of our trip to Hawaii was the opportunity to train, compete and bond with teammates without the distractions of school. Hawaii was our chance to develop a new found bond within the team. I especially liked sharing a room with two other people and the emphasis that the coaches made on developing friendships with members of the team that we didn't know as well.Starting our season off with Hawaii also accomplished its main goal; to develop our tennis. Honestly we were a very rusty bunch of guys coming back after break. However, the ten days in Hawaii allowed us to work out the kinks in our game without any other distractions. It gave us a huge jump start over all the other schools in the country. It scares me to think what they must be playing like after seeing how rusty we were after the break. I feel like Hawaii was a big jump that our program took towards success during the dual match season. With ten days in Hawaii behind us we are very well prepared to succeed this season.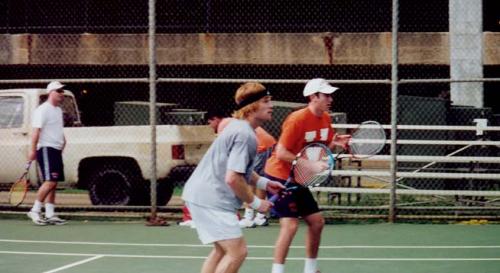 Diary of Rylan Rizza:
Hawaii was one of the greatest times I have ever had. It will be a memory that I will never forget. Being able to grow as a team and become closer friends is probably themost important thing you can do as a team. Between the beach and practice, the trip could not have gotten any better. I hope we can do it again next year.
Diary of Nick Meythaler:
Hawaii was a blast! I believe it was a very successful and beneficial trip. We as a team definitely came together and bonded. The days at the beach and snorkeling were days I'll never forget. We won our first match against U of H and made it home safely. I couldn't ask for more.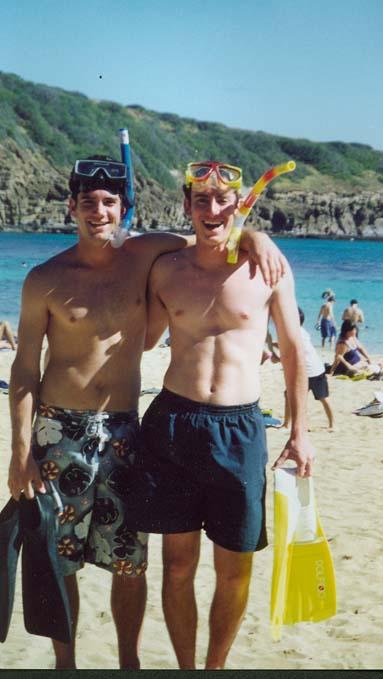 Diary of Darrin Cohen:
The team's trip to Hawaii was a fantastic opportunity not only for us to prepare for the upcoming season but to come together as a cohesive unit as we begin the duel matchformat. As a result of the trip the guys are in far superior physical condition and our match toughness is second to none. We all worked hard and pushed each other on,driven by our common bond, which is our goal to win an ACC championship. I feel Hawaii put us one step closer to this goal. As the long season approaches, I would not want to grind through it with anyone other than the great group of guys that I grew much closer to in Hawaii. Go Cavaliers!!
Diary of Dillon Walker:
I can definitely feel a closer bond between the team since the trip. We worked extremely hard as a team on our tennis games and it was visible in our match against Hawaii. I'm glad all are hard work has paid off and it is a great start to our season. The other highlights of the trip were the snorkeling trip to Hanuama Bay, seeing the huge waves of Bonzai Pipeline at the North Shore, and going to Pearl Harbor.
Diary of Stephen Nolen:
I believe that the trip to Hawaii was a complete success. We were able to get to know each other even better and bond as a team. Our victory against the University of Hawaii was just the icing on the cake. We worked very hard and had a lot of fun. The trip got me very excited about the season and I know we will surprise some people. We have a great bunch of guys that will work hard for each other and I am looking forward to finding out how good we really are.