Volleyball Preseason Blog
Story Links
Aug. 12, 2014
2014 Schedule | Tickets | Facebook | Twitter | Instagram
The 2014 Virginia volleyball team has started preseason training and our student-athletes will be providing insight each day. The Cavaliers open the season at the Marshall Thunder Invite in Huntington, W.Va., Aug. 29-30.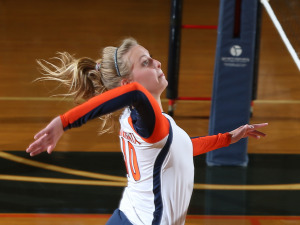 Wednesday, August 27 – Senior Morgan Blair
With our preseason officially coming to a close, it's time to refocus our energy on our first opponent: Illinois-Chicago. The Hoos play at Marshall this coming weekend and I think I speak for the whole team when I say we couldn't be more excited. Two weeks of tough preseason and a week of opponent preparation has led to this moment and we're so excited to prove ourselves on the court.
It's pretty easy to tell that we are miles ahead of where we were at this time last year. Everyone is making plays and communicating at a level that didn't emerge until well into the season last year, and that's an extremely exciting prospect. As great as that is, it won't mean anything unless we can get a few wins this weekend. It's so important to start off the season on a high note, as that will give us momentum going into the next weekend and the next weekend and the next weekend… until we eventually hit ACC play.
The coaches poll came out a few days ago which had us projected to finish sixth. Dennis spoke to the team about the vote and told us that we need to perform to our standard and finish as high as we can, regardless of where the coaches in the ACC predicted us to finish. We could be first, we could be sixth, or we could be last. It's up to us to compete and garner some wins along the way; hopefully landing us near the top of the ACC by the end of the season.
But I'm getting ahead of myself. This weekend, we'll focus on U of Illinois-Chicago, Eastern Michigan, and Marshall. Three tough teams that should make for some great volleyball! I for one, can't wait to get on the bus with my volleyball family and prove to everyone how hard we've been working over the past few weeks. Let's go get three wins, Hoos!!!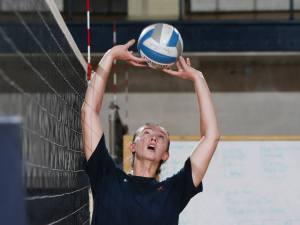 Tuesday, August 26 – Redshirt Freshman Meghan McDowell
First day of school!! Before the rest of the Wahoo population woke up, my teammates and I were already working up a sweat in Mem Gym. Waking up for morning practice is always a little tough, but getting our work in prior to the inevitable craziness and chaos that is the first day of classes was a huge relief. Our morning practices are a little shorter but jam packed with fast paced, high intensity drills. With our first tournament coming up this weekend at Marshall, many of our drills resembled game-type situations and were highly competitive. While the early starts initially seem unbearable, it's nice to be able to focus all of our energy on volleyball in the beginning of our day and then focus on our classes and studying for the rest of the day.
After practice, our new academic coordinator, Megan Dailey, met with us to discuss the program's academic expectations. The special part of playing for UVa is that, as student athletes, we set extremely high standards for ourselves not only on the court, but in the classroom as well. This gives all of us a huge sense of pride in the program and team culture we are in the process of establishing. As Coach Hohenshelt always reminds us, the goal of the program is to elevate our level of play and competitiveness in the ACC while simultaneously increasing the teams average GPA. As of last year, we are moving along the right track! Wahoowa!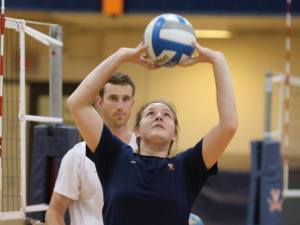 Monday, August 25 – Junior Lauren Fuller
Today marks the last day of summer for myself and my fellow Hoos! Although this is bittersweet, there are so many things to look forward to this week including traveling to Marshall in West Virginia for our first tournament of the season. We are so excited to finally kick start our season because you never really know how skills and drills in practice are going to translate over to a game situation until you are actually facing another team with different characteristics and players than our own. We have been working very hard this preseason and I personally think that things are going to go very well for us this weekend 🙂
Now that school is beginning things are going to get a little bit more stressful, however our first-years (Haley Lind and Haley Fauntleroy) seem like they are making a very smooth transition to college life and volleyball. With their easy transition and the rest of the team's experience, we will all be able to balance our academics and athletics for success in the classroom and on the court. This is a very exciting time for UVa volleyball and I personally cannot wait to get back on the court with my teammates. Go Hoos!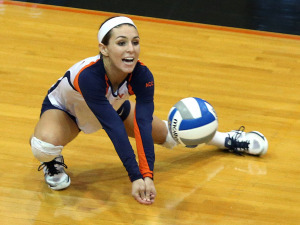 Sunday, August 24 – Senior Abbey Welborn
Sup Hoos. Yesterday we wrapped up with our last practice of preseason. We played 6-on-6 and tried a whole bunch of different lineups. Its always fun to have Coach Smith and other coaches play with us because it really picks up the intensity. It was really cool to see everything that we've been working on these past two weeks come together.
As of today, preseason is officially over! It has been a very long and beneficial two weeks of training and I can't wait to see the hard work carry over into the season. Its weird thinking that I have finished my last preseason ever but I can also say that I am stoked for our season to officially begin. We have been working really hard on defense and serve receive so it will be nice to see those improvements in our game. The one downside of preseason ending means that classes start on Tuesday. It's always hard to readjust our schedules and begin balancing academics with athletics. I can't wait to get started with the season!

Saturday, August 23 – Freshman Haley Fauntleroy
Today marks the end of preseason. Although at first the days seemed endless, the last day has somehow managed to catch up to us. Being a first year experiencing preseason, it was awesome to be able to see how the team reacted to new drills, different rotations, new positions, and good competition. By far the most value I got out of preseason was being able to connect with my teammates and learn from them. Watching them be open-minded about new positions was awesome and a lot of the girls thrived in new spots! Having teammates that are well rounded on the court has made the competition better and better with each practice. I can see the team improving each session!
What's been most beneficial to me has been to observe the technique of the upperclassmen. I have learned so much just by watching how the other middles stay behind the setters, are early to be in the air, and are aggressive getting to the block. They make me want to get better each session of each day. I'm looking forward to seeing how the team plays when game time comes!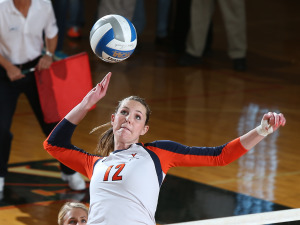 Friday, August 22 – Junior Natalie Bausback
Preseason is almost over and looking back from the first day, a lot of progress has been made in these past two weeks. Our bodies are exhausted but everyday we are pushing through the pain to get better. Because we are so tired, it is important for us to all stay mentally tough every practice and come together even more as a team in order to get through the hard days.
This morning we had a light practice. We came in at different times based on our positions. The passers worked on passing balls being served cross court and then down the line. Our passing has gotten better since the first day of preseason but it is still something we need to work on everyday we are in the gym. The hitters worked on blocking and also tooling the block when they get into a position that the ball is tight to the net. In the afternoon we went hard for three hours. We worked on a lot of defense in the beginning of practice with drills such as Coach-on-4 and the Neville Drill. With defense we always work on going for everything which is Coach Hohenshelt's #1 rule.
The second half of practice we did competition drills such as hitter vs hitter and working on siding out in every rotation. We all love when we get into the competing portion of practice because we are able to put everything together that we have been working on plus the atmosphere in the gym gets a lot louder! We had a special guest appearance today from former Penn State player Kristin Carpenter which was a huge honor. She brought a lot of insight from her years of playing and gave us advice on things to work on as a team. We have worked extremely hard this preseason and I'm excited to see all this hard work pay off in our first tournament at Marshall next weekend! Go Hoos!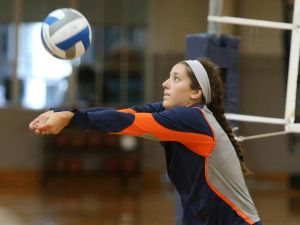 Thursday, August 21 – Sophomore Lexi Riccolo
Preseason is almost over! As we enter the home stretch of our favorite time of year, we have accomplished so much!!! We have really been focusing on passing. The last couple of days we have been working on run throughs and increasing our range in passing and defense. We are touching balls we weren't getting up a couple weeks ago which is exciting. We also are playing competitively for the entirety of a practice.
This morning we had an awesome meeting with Athletes for Hope, an organization that matches athletes and teams to a charity. We are excited to be matched with a charity and contribute to our community this year. After the meeting we had a solid three hour practice, working on passing and playing competitively. We are bettering each other and pushing ourselves. Because the season is upcoming, we have cut back our three-a-days to recover and ready ourselves for competition. The squad is really shaping up. We have successfully pushed ourselves through the hard part of preseason and we are excited and hopeful for a great season! GO HOOS! #selloutmem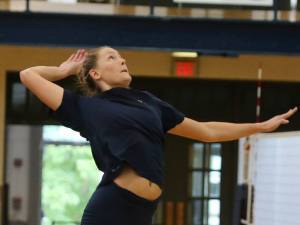 Wednesday, August 20 – Junior Kayla Sears
Hey Hoos! We are in the home stretch of preseason! The team has come a long way and we are making some good progress. This morning we had a light serve and pass session to improve our passing. These sessions are helpful because we are able to focus on our passing while also improving our serving.
After practice the team headed over to UHall for a light lift with strength and conditioning coach Bill Miller. This was our last lift of the week so we made sure we entered the weight room ready to go hard and get better.
We came back for our last practice of the night ready to work on digging and defensive movements and complete in some 6 vs. 6 drills. We were tired, but we pushed through and got a pretty good practice under our belts before our team dinner at Blue Mountain Brewery. It was nice to go out as a team with a change of scenery and some good food. We have been working hard this preseason and we are starting to see it pay off. Now it's time to focus on finishing strong and getting ready for our tournaments!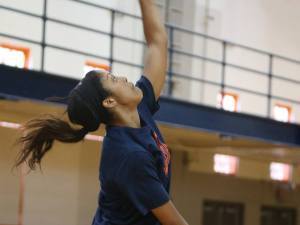 Tuesday, August 19 – Sophomore Jasmine Burton
So far preseason has been strenuous yet very beneficial. At this point, the soreness is wearing off and we are beginning to play some very good volleyball. We are learning mental toughness by pushing through the pain and taking ourselves to levels we didn't think we had. Because we finished fifth in the ACC last year, we are all pushing ourselves to work harder and get better at the little things. The Blue and Orange scrimmage really helped us to gauge where we are at as a team and the things we need to work on. We have been mostly working on digging, passing, and serving, but also on attacking. As Coach Hohenshelt always says, swing high line. Overall, preseason has really helped us to get better at all the things that we need to work on and the mutual struggle/success has brought us a lot closer as a team.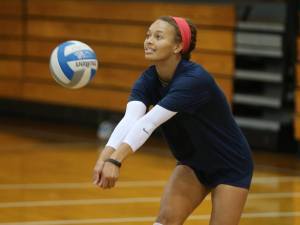 Monday, August 18 – Senior Tori Janowski
Hey Wahoo Fans, It's Tori coming to you live from the lockerroom reporting on UVa Volleyball preseason. It's Day 10 and we're feeling pretty fresh, strong, and #blessed. Dennis asked us how we're feeling on a scale of 1 to 10, 10 being Miss America, and I'd say we're a solid 7.
What does a seven look like in preseason? A seven looks like a good hour and a half pass and serve practice in the morning. Practices like this are really beneficial for everyone because we focus on only two things: serving aggressively and passing consistently above a 2.0 (easier said than done). A seven also looks like an evening of competitive volleyball. After a serve and pass practice where the coaches try and limit our jumps, we can always expect lots of 6-on-6 play in the next practice. I'm always pretty excited to get my competitive juices flowing and its always great to be able to showcase the skills we've been working on in a live game.
Today was also Part 2 of our media day. We had a photo shoot and took turns doing video interviews for future features on the team. The most nerve racking part was definitely singing the Good Ole Song on camera. I don't have the best singing voice so I hope I didn't embarrass myself too much. Be sure to check out our Twitter and Facebook for features in the coming weeks to learn more about me and the rest of Virginia Volleyball!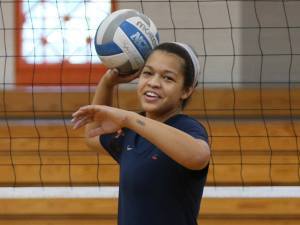 Sunday, August 17 – Sophomore Karlie Suber
This year our coaches chose to schedule preseason a little differently. In previous years, we scheduled our Orange and Blue Scrimmage for the last day of preseason. With our Scrimmage in the middle of preseason this year, we are now able to identify the areas that could use improvement earlier and work on them for our last week. After our short practice in the morning, we held a kids clinic and signed autographs. The kids clinic's give us a chance to interact with some of our biggest fans and also bring us closer together as a team by working with each other to make the kids' time enjoyable. Following the clinic we had an hour to get ready and warm up for our scrimmage.
Yesterday's scrimmage accomplished exactly what we were hoping it would. It revealed the techniques that we have successfully improved upon in the past week, while also highlighting the things that we need to go back and revise. Though not a perfect game, we definitely know what we need to work on in the gym for the next two weeks until our first game. We are all continuing to work hard in the gym and improve our weaknesses throughout the next couple weeks to ensure our opening game goes smoothly.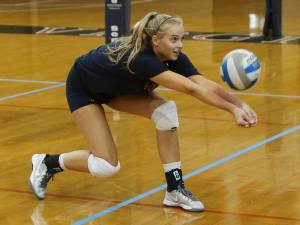 Saturday, August 16 – Senior Morgan Blair
We all woke up this morning particularly excited because it was the day of the Blue-Orange Scrimmage! The coaches had us scheduled to come in the gym to get some position training: passers and pin hitter worked on serve receive, setters set some different plays, and the middles hit off of a live serve. On days of competition, it's important to get simple reps in so we can get into a rhythm by the time game time comes around. After a quick practice, we went back to the locker room to rest up before the youth clinic.
I love working the youth clinics because it gives us a chance to interact with kids in the local community. A large part of our fan base is made up of kids from around the Charlottesville area so it's important that we show our appreciation and give back. My favorite part of the clinic is seeing all the familiar faces. We've had kids come back for 3 years, and attend multiple clinics throughout the fall. I've gotten to know a few of them and it feels so great to know that they look up to us. We signed a few autographs after the clinic and encouraged everyone to stay for our scrimmage.
The Blue-Orange scrimmage is usually held at the end of the two-week preseason. This year, however, the coaches decided to schedule it in the middle of training after only one week of practice. It's great to have a chance to compete against one another in front of some fans so we can see how much progress we've made in practice and what skills we still have to work on. While we could have performed a lot better with an extra week of training, I think the scheduling was perfect because we have a more precise sense of improvements that can be made and we still have an entire week left before preseason is over. We've all been working so hard in the gym and it's really starting to pay off. Just wait and see how much better we get in the coming weeks!
Friday, August 15 – Redshirt Freshman Alex Thorson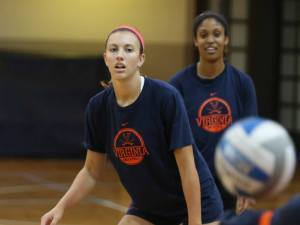 The team wrapped up the first week of preseason this morning with rehab and rest to prepare for the afternoon and night practice sessions. Soon after, we all received an unexpected text from Coach Hohenshelt letting us know that today's practice sessions were cancelled. We have all been working hard and appreciate this much needed break. We can rest, relax and recover for our big day tomorrow. We practice in the morning then have our Blue-Orange Scrimmage in the afternoon. This will be the first time the first years get to play in a UVA uniform!
The trainers have done a tremendous job of helping us take care of our bodies during the grueling preseason. They are working alongside our coaches to show us new stretches as well as giving us different ideas to stay fresh and strong. We all know that even though our bodies are fatigued it is important to keep competing and working hard to prepare for our upcoming season.
We have a busy weekend ahead and would like to see all of you there! We start with a Cavman's Crew Youth Clinic tomorrow (Saturday) from 12:30-2:00 in Memorial Gym that is free for all kids in grade 8 or below. That is followed by our Blue-Orange intrasquad scrimmage at 3:00 which is also free to the public. On Sunday the team will head to John Paul Jones for the UVA Meet the Teams event featuring the football, soccer, field hockey and volleyball teams. This event begins at 12:30 and is free as well. We hope to see you there this weekend! Go Hoos!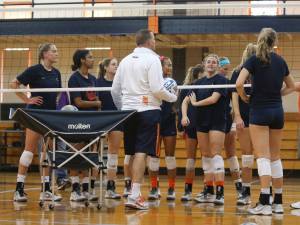 Thursday, August 14 – Junior Manon Greskovics-Fuller
Although tired from a tough three-a-day yesterday, the team returned to Memorial Gym this morning well rested and ready to work. As usual, the defensive specialists, outside hitters and our setters were upstairs with our assistant coaches working on serve receive passing and ball control. Once the whole team was upstairs, Coach Hohenshelt broke the team up based on positions for some extra position work for the majority of the two-hour practice from 10 a.m.-12 p.m. in order to prepare for some competition later in the afternoon.
After a quick turn around break, the team was back in the gym at 2:30 for a more competitive practice in order to prepare ourselves for Saturday's Blue-Orange Scrimmage. This was one of the first practices that I began realizing the toll that pre season takes on each and every one of our bodies. We are all tired, hurting, and occasionally mentally checked out, but what is pre season without a few hard days? Despite these setbacks and a few player injuries, we were able to come together as a team and compete as a team and feel proud about our 6-on-6 competitive play. Once practice was over (and with ten minutes to spare), the team carpooled to U-Hall for a quick lift with strength and conditioning coach Bill Miller.
As a team, we are all super excited for Saturday's scrimmage and overall so pumped for our upcoming pre-season matches and ACC season match-ups. We are also very excited about our Meet The Team Day at JPJ this Sunday the 17th! All are welcome, so please come out and support the team and University of Virginia's several other fall sports! Go Hoos!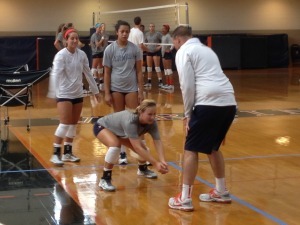 Wednesday, August 13 – Freshman Haley Lind
Today marks our fifth day of preseason and the team continues to work hard and get better each and every day. As a first year, it's so exciting being a part of such a fun and talented group of girls and I can't wait to see what the future holds for UVa volleyball this year. We are very determined to accomplish our goals as a team and have a successful season. Today in our morning session the defensive specialists came in early and worked on some ball control and defensive work while the middles and pin hitters worked with their positions. Then we moved into passing drills and focused on our technique.
In our second practice we started out by playing three-man pepper, then more passing, short serving and a serving under pressure drill. We finished with passing off a live serve and look forward to scrimmaging and competing tonight at our third practice of the day. Preseason has definitely been a grind but the results are shown in how much we are improving as a team! Can't wait for the next week and a half!
Tuesday, August 12 – Senior Sydney Shelton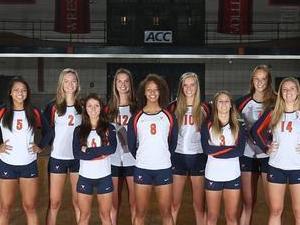 I can't believe my fourth and final preseason is underway. It's bittersweet knowing it will be my last season, but I could not be more excited to see what's in store for UVa volleyball. I know the entire team is pumped for the season ahead. Since our start on Saturday, we have been practicing three times every day. We have been spending a lot of time in the gym pushing ourselves to try to get better each day. Having finished ten practices and two lifts in four days, one can imagine how our bodies might be a little tired and banged up. We are hydrating and rehabbing like crazy so we can go hard at every practice. After the testing and intense practices on Saturday, I was in the ice bath twice on Sunday. We are continuing to give everything we have at every practice so we can push each other to get better.
This morning we hit the weight room for some lifting with strength and conditioning coach Bill Miller. With everyone clean and showered, next up was picture day. I don't want to give away too much, but I think the 2014 poster is going to be one of the best! We continued the afternoon practice with a lot of defense and sprawls (my favorite). To end day four, we did a lot of competition games with Dennis mixing up the lineups. We are trying to bring together all the individual skills we worked on throughout the day to the games in the evening. One thing that is different this year from the last couple is that we have depth in every position. It's great that we have multiple people to play each position. It makes the gym atmosphere both challenging and competitive. We still have a lot more work to do, but Virginia volleyball's persistence is going to pay off this season. Go Hoos!
Monday, August 11 – Sophomore Haley Kole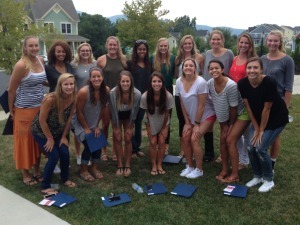 Preseason has officially begun here at UVa volleyball. In the days leading up to our kickoff dinner at Coach Hohenshelt's house, you could see the excitement on everyone's faces. We have been training all spring and summer, waiting for our chance to get back on the court and compete. Last season was a huge step for the team, both on and off the court. However, we weren't satisfied. We didn't accomplish all of the goals that we had set for ourselves last year, and those have been our driving force this offseason. This motivation drives us every day to work hard in the gym and compete, with the hope of making to the NCAA tournament. When we received our schedules and speech from Coach Hohenshelt that night at the dinner, it became real to us. It was time for us to combine all of individual hard work in the off season, and come together for our common goal.
That next morning, we were up early feeling fresh and strong for our first three-a-day. The first session included fitness testing and beep testing. With the first session complete, we were excited to finally get in to some volleyball. During the next session we worked on defense for two hours. This was mentally challenging for everyone, while we all got back into the swing of things. A little sore and tired after the first two morning sessions, we came back strong for our third. We really got a chance to compete and show our competitiveness in the third session. We played a four-man tournament and finished with a wash drill. With the first day complete, we were happy with our hard work, but realized we had a long way to go. Luckily we still have two more weeks of preseason left. Yay!