Virginia Takes Road Loss to Georgia Tech, 35-10
Story Links
Box Score Nov. 01, 2014
Box Score | Notes | USATSI Gallery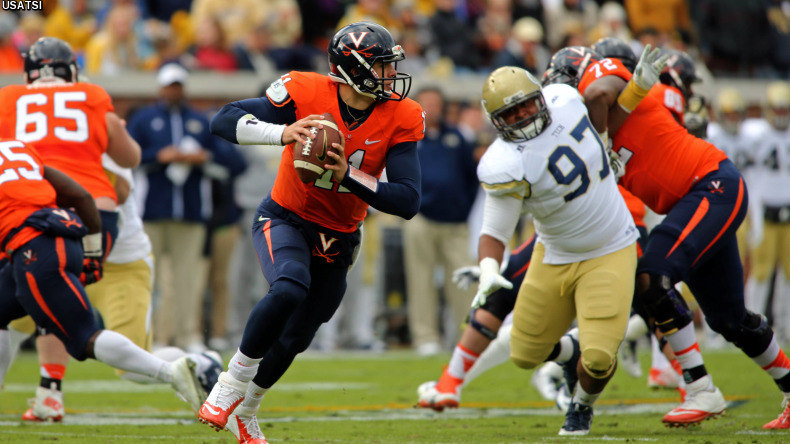 ATLANTA (AP) – Greyson Lambert threw for 230 yards as Virginia fell to Georgia Tech 35-10 on Saturday.
Lambert completed 19 of 32 passes on the day, along with one touchdown and two interceptions. Lambert was hurt by a few dropped passes, including an attempt through the hands of Keeon Johnson in the end zone, forcing the Cavaliers to settle for a field goal late in the first half.
Lambert threw a 13-yard scoring pass to Zachary Swanson late in the first quarter.
Matt Johns replaced Lambert in the fourth quarter and completed 4 of 9 passes for 32 yards.
The official temperature at kickoff was 49 degrees with the wind at 24 miles per hour. The temperatures dropped into the low 40s in the second half.
The wind was a factor throughout the game, including the way it affected punts and kickoffs. A 27-yard punt by Virginia's Alec Vozenilek allowed Georgia Tech to start its first possession at the Cavaliers' 42. Deon Hill's 14-yard run capped the short touchdown drive, giving the Yellow Jackets the lead they never gave up.
Georgia Tech's Synjyn Days went over the 100-yard mark on his 33-yard run on the Yellow Jackets' first drive of the second half. Days' 4-yard touchdown run pushed the lead to 28-10.
Virginia answered by driving to the Georgia Tech 39 before Lambert's pass was tipped by defensive end KeShun Freeman. Defensive tackle Adam Gotsis caught the deflection for an interception.
Virginia's next possession ended with Lambert's fourth-down pass from the Georgia Tech 10 was intercepted by Jamal Golden in the end zone.
Khalek Shepherd led Virginia with 15 yards rushing. Kevin Parks, who ranked third in the ACC with his average of 105.2 yards rushing per game, was held to 13 yards on five carries. The Cavaliers' previous season low for yards rushing was 114 against Louisville on Sept. 13.
Georgia Tech defensive end Patrick Gamble, who made his first start, was carted off the field with an apparent left knee injury with 6:10 remaining.