No. 2 Virginia Stifles Wake Forest, 70-34
Story Links
Feb. 25, 2015
Box Score | Notes | Photo Gallery

VIDEO: Malcolm Brogdon and Darion Atkins Postgame

WINSTON-SALEM, N.C. (AP) – No. 2 Virginia didn't have two starters. Wake Forest never had a chance.
The Cavaliers earned their seventh straight win by routing the Demon Deacons 70-34 on Wednesday night.
"We said this is a program game, meaning doing it the way we've got to do it, all hands on deck – using that cliche," coach Tony Bennett said. "We just had a complete game."
Anthony Gill scored 11 points and Darion Atkins added 10 for the short-handed Cavaliers (26-1, 14-1 Atlantic Coast Conference). But as is often the case for them, the team numbers were much more impressive than any individual stat lines.
Virginia finished with its highest-scoring game since an 89-80 double-overtime win over Miami on Jan. 3, while Wake Forest had its lowest-scoring game in the history of Joel Coliseum, which opened in 1989.
| | |
| --- | --- |
| | "We said this is a program game, meaning doing it the way we've got to do it, all hands on deck – using that cliche. We just had a complete game." |
"It is a challenge, definitely," backup guard Devon Hall said. "But we've got guys on the bench ready to go."
The ACC leaders shot 50 percent, led by 38 and held Wake Forest to 15 points in the first half and a season-worst 22 percent shooting overall.
Dinos Mitoglou had 10 points for the Demon Deacons (12-16, 4-11), who took their most lopsided loss of the year.
Coach Danny Manning used the word "beatdown" four times during his 6-minute news conference.
"You look at the stat sheet, and that's about as politically correct a description that I can give you – that it was a beatdown," Manning said.
Virginia played without two injured starters – Justin Anderson and London Perrantes – but had no trouble with rebuilding Wake Forest, which became the fifth Virginia opponent in six games to fail to reach 50 points.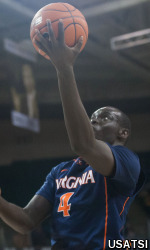 Marial Shayok
had seven points, five rebounds and four assists in his first collegiate start.
Anderson has been out since breaking his finger Feb. 7 but the Cavaliers played for the first time without Perrantes, who has a concussion and a broken nose and was replaced in the starting lineup by freshman Marial Shayok.
"That's the Wally Pipp story," Bennett said, referencing the oft-told story of Lou Gehrig breaking into the New York Yankees' lineup.
Even without them, the Cavaliers had a much easier time against the Demon Deacons than they did 1 1/2 weeks ago – when they blew a 13-point second-half lead and needed to force a turnover in the closing seconds to preserve a 61-60 victory.
"They made their adjustments," Manning said, "and we didn't adjust to those."
Virginia took control of this one with a 23-6 run midway through the first half in which seven different players contributed. Evan Nolte closed the run with a 3 from the corner that made it 31-13 with 4 1/2 minutes left.
Shayok's tip-in with about 3 seconds before the break put the Cavaliers up 20 for the first time at 36-15.
STAT SHEET
Wake Forest missed 17 of its first 18 3-pointers and finished just 4 of 22 from beyond the arc. Mitoglou, who hit six 3s in the teams' first meeting, didn't hit his first 3-pointer in this one until the Demon Deacons were down by 35 with 4 1/2 minutes left. "We just said we're going to be there sooner," Bennett said.
TIP-INS
Virginia: The Cavaliers snapped a 10-game losing streak at Joel Coliseum. They had lost 14 of 15 in this arena since 1994-95.
Wake Forest: Mike Tobey's free throw with 11:02 left put Virginia up 57-21 and gave the Demon Deacons their largest deficit of the season, surpassing the 35-point lead Arkansas took against them on Nov. 19.
UP NEXT
Virginia: Hosts Virginia Tech on Saturday night.
Wake Forest: Hosts Pittsburgh on Sunday night.