Florida State Blasts Its Way Past Virginia, 12-10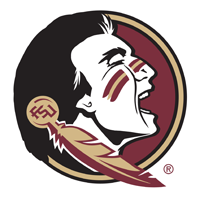 Next Game:
Florida State
3/22/2015 | 1:00 PM
March 21, 2015
CHARLOTTESVILLE, Va. – No. 11 Florida State (18-6, 6-2 ACC) powered its way to a 12-10 victory over No. 7 Virginia (14-6, 3-5 ACC) on Saturday (March 21) at Davenport Field.
The Seminoles hit four home runs, including a grand slam from John Sansone in the fifth inning and two home runs in the ninth, to down the Cavaliers and even the series at a game apiece.
Virginia scored two runs in the bottom of the first on a double to center from Pavin Smith (Fr., Jupiter, Fla.) and a single from Kenny Towns (Sr., Burke, Va.), a lead that held up until the top of the fifth when a walk, hit batter and a single set up a bases-loaded, one-out jam for starter Connor Jones (So., Chesapeake, Va.). Jones walked in a run before surrendering the homer to left field by Sansone. The Seminoles plated a sixth run on a sac fly surrendered by David Rosenberger (Bethlehem, Pa.) four batters later.
Virginia got one run back in the bottom of the fifth when Towns drew a bases-loaded walk. In the seventh inning, Towns again drew a bases-loaded walk to start a five-run rally. Matt Thaiss (So., Jackson, N.J.) hit a sac-fly to drive in the second run of the inning. Kevin Doherty (Jr., Laytonsville, Md.) walked to drive in the third run before Robbie Coman (Jr., Lake Worth, Fla.) singled to center to drive in a pair and tie the game, 8-8.
After FSU's D.J. Stewart hit a solo homer in the top of the eighth, Towns doubled down the left field line to drive in a run and tie the game in the bottom of the inning. Thaiss hit a sac fly to add a second eight-inning run and give Virginia a 10-9 lead heading into the ninth.
Virginia closer Josh Sborz (Jr., McLean, Va.) took the mound in the ninth inning, issuing a lead-off walk which was followed by a home run by Dylan Busby. The Seminoles added a third run on a two-out homer from Danny De La Calle.
Sborz took the loss, working 0.2 inning, allowing two hits that scored three earned runs, with a walk and no strikeouts. Jones, the starter, went 4.1 innings, allowing six earned runs on two hits with six walks and six strikeouts.
Dylan Silva earned the win in relief for the Seminoles, working 1.2 innings, allowing one hit, walking two and striking out two.
Virginia's seven pitchers combined to issue 12 walks, striking out seven. Florida State's six pitchers combined for nine walks and seven strikeouts.
Towns went 2-for-3 with a run scored and four driven in. Daniel Pinero (So., Toronto, Ontario) was 3-for-5 with three runs scored.
The series continues Sunday at 1 p.m. WINA 1070-AM will have the radio broadcast of the Saturday and Sunday games. Live audio will be available online at VirginiaSports.com for each game of the series as part of the Cavaliers Live subscription package. Live statistics also will be available. The audio and live stats also can be accessed through the Virginia Sports app, which is available through iTunes.