Virginia Completes Successful 2014-15 Season
Story Links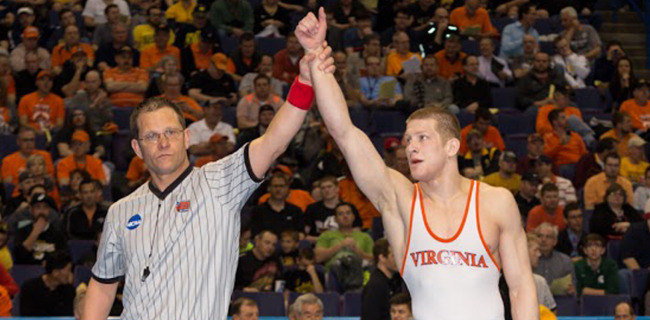 March 26, 2015
Twitter | Facebook | Instagram
CHARLOTTESVILLE, Va. – The Virginia wrestling team capped a successful 2014-15 season last Saturday (March 21) at the NCAA Championships in St. Louis as it took 19th place at college wrestling's premier event. Virginia earned its best NCAA finish since 2010 and recorded its fifth top-25 in the last six seasons.
The weekend at NCAAs completed a strong finish to the season by the Cavaliers, who won the ACC Championship in dominating fashion two weeks earlier in Pittsburgh, marking the fifth league championship in program history and the second under head coach Steve Garland.
Three Cavaliers made the Round of 12 at the Championships, with Nick Sulzer (165 pounds) advancing through to claim All-America honors for the third straight year as he became the second three-time All-American in program history. Virginia has had at least one All-American in six of the last seven seasons.
George DiCamillo (133) and Blaise Butler (174) also reached the Round of 12 before falling to seeded opponents. DiCamillo made the quarterfinals after an overtime upset of fifth-seeded Zane Richards of Illinois. DiCamillo's two defeats came to eventual NCAA champion Cody Brewer of Oklahoma and A.J. Schopp of Edinboro, who placed third.
Virginia sent seven wrestlers to the NCAA Championships, as Nick Herrmann (125), Joe Spisak (141), Andrew Atkinson (157) and Zach Nye (197) also competed in St. Louis. The Cavaliers sent at least six wrestlers to NCAAs for the seventh straight year. Spisak and Sulzer each qualified for the NCAA Championships for the fourth time, becoming the seventh and eighth UVa wrestlers to participate four times at NCAAs.
Sulzer completed his Virginia career with the second-most victories in program history with 122. Of his wins, Sulzer won 56 by major decision. Sulzer and Spisak were the lone seniors in Virginia's lineup at the end of the season: five of the seven NCAA qualifiers will return for the 2015-16 season.
Virginia won the ACC Championship on March 8, running away with title by 14.5 points over Pitt. Sulzer and DiCamillo each won ACC championships, but it was an all-around effort in capturing the team trophy. All 10 Cavaliers scored points as every UVa wrestler finished in the top four at their respective weight classes. Six UVa wrestlers also reached the finals.
It also was an eventful regular season, as the Cavaliers faced their toughest schedule in program history, wrestling nine ranked opponents, including the top two teams in the NCAA Championships. UVa wrestled eventual national champion Ohio State in a dual in Charlottesville on Nov. 24 and competed at national runner-up Iowa on Feb. 15 in the NWCA National Duals.
UVa defeated four ranked opponents during the 2014-15 dual season, including a pair of top-10 foes, Edinboro and Pitt. The Cavaliers faced four eventual conference champions during the regular season: Ohio State and Iowa (Big Ten), Edinboro (EWL) and North Dakota State (NCAA West Region/WWC).