Virginia Falls Short to Miami, 27-21
Story Links
Box Score Nov. 07, 2015
Box Score | Notes | USATSI Gallery

| Photo Gallery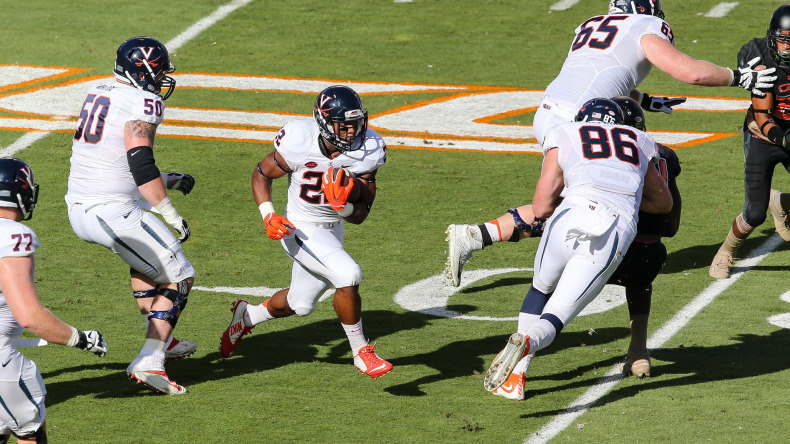 MIAMI GARDENS, Fla. (AP) Matt Johns completed 29 of 42 passes for 280 yards for Virginia (3-6, 2-3), but the Cavaliers fell short to Miami 27-21 on Saturday. Virginia lost its 14th consecutive road game and needs to win out in order to reach a bowl for the first time since 2011.
The Cavaliers had a fourth-quarter touchdown nullified by an offensive pass interference penalty, and Miami put the game away with a field goal from Michael Badgley on the ensuing drive.
Virginia's Canaan Severin had what would have been a 4-yard score washed out when Cavaliers tight end Charlie Hopkins was flagged on the play. Hopkins didn't make any effort to hide his frustration after the game, saying he was in "disbelief" when he saw the flag.
"That's a play we've had in since fall camp," Hopkins said. "It's a great play… For me to get called on a pass interference on my guy, that makes no sense."
Ian Frye kicked four field goals for the Cavaliers, including a 47-yarder that made it a six-point game with 35 seconds left. But Miami recovered the ensuing onside kick and ran out the clock.
The Cavaliers were down 14-5 in the second quarter then put together 10 unanswered points for the lead. Olamide Zaccheaus capped a six-play, 80-yard drive with a 3-yard run for score midway through the third to put the Cavaliers on top 15-14.
Miami came back with a field goal to reclaim the lead then Kaaya finding Njoku on a long catch-and-run set up the touchdown run by Walton.
David Njoku had a 5-yard touchdown catch to open the scoring and set up Mark Walton's 1-yard fourth-quarter scoring run with a 58-yard grab for Miami (6-3, 3-2 Atlantic Coast Conference), which is bowl-eligible and still in the race for the ACC's Coastal Division title.
The Cavaliers will face the Louisville Cardinals on November 14.