UVA Places Five on Tewaaraton Trophy Watch List
Story Links
Feb. 23, 2016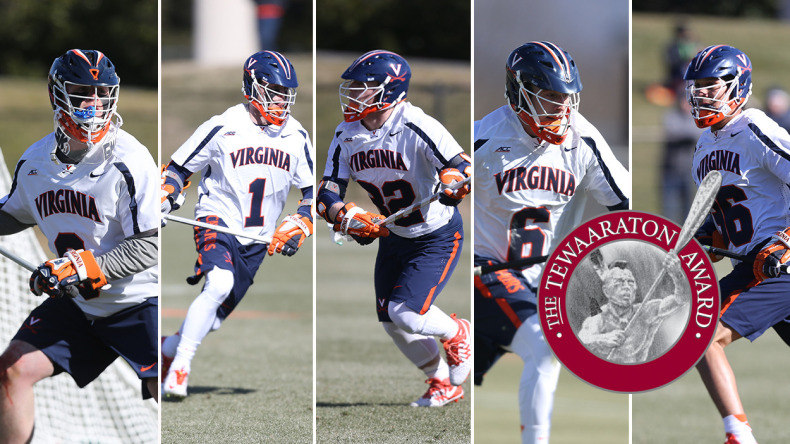 CHARLOTTESVILLE, Va. — The Tewaaraton Foundation has announced the watchlist for the heralded Tewaaraton Trophy, awarded to the top collegiate lacrosse player. Five Virginia men's lacrosse players find themselves on the list of 50, including junior goalie Matt Barrett, senior midfielder Greg Coholan, senior attackman James Pannell, junior defenseman Tanner Scales and junior midfielder Zed Williams.
Virginia's five members on the watch list are the most in the ACC and tied with Denver for the most in the nation.
The Tewaaraton Trophy annually honors the top male and top female college lacrosse player in the United States. The selection committees are made up of top collegiate coaches and are appointed annually by the Tewaaraton Foundation.
Virginia has three different former players that have won the prestigious trophy, the most in the award's history that dates back to 2001. Chris Rotelli (2003), Matt Ward (2006) and Steele Stanwick (2011) represent UVA's Tewaaraton winners, all earning the trophy in a season the Cavaliers won the NCAA title. Overall UVa has had 10 Tewaaraton Trophy finalists, which ranks No. 3 all-time among schools, and two finalists behind Syracuse (12) and one behind Duke (11).
Players not named to the initial list have several opportunities to play their way into a spot as the season progresses. Additions will be announced on March 17 and April 7. On April 28, the field will be narrowed to 25 men's and 25 women's nominees. Nominees can be players on the watch lists or players not on the watch lists, effectively allowing for a third round of additions for players who earn a spot. Five men's and five women's finalists will be announced on May 12 and will be invited to the June 2 ceremony in Washington, D.C.
The Tewaaraton Trophy is recognized as the preeminent lacrosse award, annually honoring the top male and female college lacrosse player in the United States. Endorsed by the Mohawk Nation Council of Elders and US Lacrosse, the Tewaaraton Trophy symbolizes lacrosse's centuries-old roots in Native American heritage. The Tewaaraton Foundation ensures the integrity and advances the mission of this award. Each year, the Tewaaraton Trophy celebrates one of the six tribal nations of the Iroquois Confederacy — the Mohawk, Cayuga, Oneida, Onondaga, Seneca and Tuscarora — and presents two scholarships to students of Native American descent.