UVA Game Notes | Video Highlights | Jeff White's Twitter | NCAA Tournament Bracket | Matt Riley Photo Gallery
By Jeff White (jwhite@virginia.edu)
VirginiaSports.com
 
MINNEAPOLIS – For a full week, since Mamadi Diakite's shot and the extraordinary ending to the East Region final in Louisville, Ky., the anticipation has been building for the University of Virginia men's basketball team. 
 
On Saturday night, the wait finally ends. At 6:09 p.m. Eastern, UVA (33-3) meets Auburn (30-9) at U.S. Bank Stadium in the first semifinal of this Final Four. In the second, Michigan State (32-6) takes on Texas Tech (30-6). CBS will televise both games.
 
A victory would send the Cavaliers, who are in their 10th season under head coach Tony Bennett, to the NCAA championship game for the first time in program history. In 1981 and again in '84, Virginia fell in the national semifinals.
 
Win or lose, however, this has been a magical ride for UVA, which coming into 2018-19 had never won more than 31 games in a season. The Wahoos earned a share of the ACC's regular-season title in March and then were awarded a No. 1 seed in the NCAA tournament, in which they've defeated Gardner-Webb, Oklahoma, Oregon and Purdue.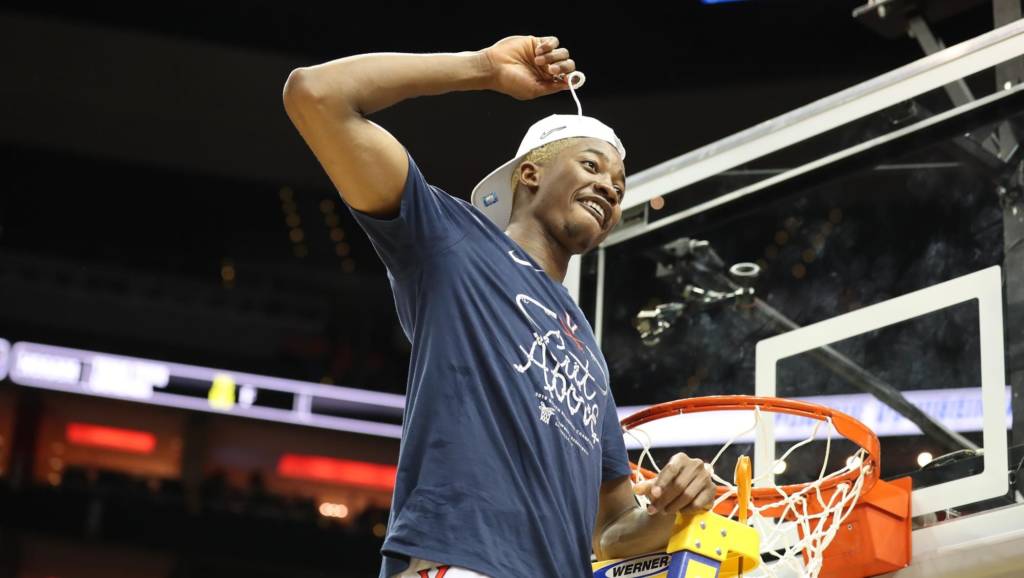 Their only losses this season: to Duke (twice in the regular season) and Florida State (in the ACC tournament).
"To see the resiliency and resolve and all that's gone into this program from coaches before me, players before me, and since I've been there, the foundation that's been laid, it's what you always hope for," Bennett said.
"You see it from a distance in other programs, and then you aspire to it and you try to build it in the way you think is best fit for where you're at, and that's what we've tried to do with all of our might."
 
Virginia's 2017-18 season ended with a historic loss to UMBC, which became the first No. 16 seed to defeat a No. 1 seed in the NCAA tournament. 
 
That loss did not break the 'Hoos. They've been united this season in their pursuit of a championship, and during one last round of pre-Final Four interviews Friday morning, they singled out memorable moments in their journey. Their answers follow:
 
* Athletic director Carla Williams: "It's funny, when I think about this season, if I have to pick a moment, I really hearken back to last season. It's hard not to. It's hard not to think about watching those guys walk off of that floor [after the UMBC game] and then the immediate 24 hours, 48 hours after that, and then seeing them throughout the summer and the fall and the season prepare for this moment."
 
* Junior guard Ty Jerome: "There were so many different moments throughout the spring and the summer. I guess the first moment that started it all was my first meeting with Coach Bennett. We sat down three days after we lost to UMBC and just talked about how we could first of all learn from the loss and just ways we could improve on it."
 
* Redshirt sophomore De'Andre Hunter: "I would say when we were doing conditioning [last summer]. I thought we were running hard, but [strength and conditioning coach Mike Curtis] didn't think that, and he basically brought up the UMBC game. He was like, 'If you keep running like this, if you keep working like this, then that's what's going to happen again.' That really stuck with me in the offseason."
 
* Redshirt senior Jack Salt: "We went whitewater rafting in West Virginia [in early August], and that was just so cool to go somewhere and not do any basketball, just go as a team and hang out. So that was kind of a bonding experience that we had over the stuff. Unfortunately, we didn't have Ty, because he was at the CP3 camp. It would have been better with him there, but that was an awesome experience, just to bond."
 
* Freshman Kihei Clark: "I probably think back to the [preseason] scrimmages and the time we went whitewater rafting. I think that really just bonded us together and we got closer as a team, and we learned a little more about each other."
 
* Freshman Francisco Caffaro: "Probably my surgery [last summer] That changed a lot for me, and that made me see a lot of other things about basketball that I didn't see before. So that actually helped me a lot."
 
* Sophomore Marco Anthony: "I'd say it was Austin [Katstra] getting a scholarship [in January], because everybody just rallied around that. It just showed the connectedness throughout the whole team. That was my best moment. It was just exciting, because he works really hard, he helps out the team a lot, so just seeing him get that and just the excitement throughout the whole team, it was fun."
 
* Junior Grant Kersey: "I think hitting 100 [points in a one-sided win over Marshall at John Paul Jones Arena] was pretty cool, just doing it for Coach Bennett. That was his first time hitting 100. We were on the bench, and me and Austin knew we were about to get in, and Ty was like, 'You guys better hit 100.' I just think for the team and for Coach, it was cool to hit 100, and for me to be a part of it, be part of history, that was awesome."
 
* Freshman Jayden Nixon: "It's kind of hard to say, because we're so consistent as a team. But I think the moments that really kept us moving forward were the times after our tough losses to Duke and our shaky game against NC State [in the regular season]. Those were the times where Coach Bennett, he didn't really lay into us, but he kind of laid out the game plans for what we were trying to accomplish for the year."
 
* Freshman Kody Stattmann: "Just winning the [ACC regular-season title] and then being able to come here and doing as well as we are here is probably the best moment so far. A year ago I would never have imagined this coming from Australia. It's such a privilege for me, and I'm just happy to be here. And just the love we get from everyone. When we come out of the bus into the hotel, there's people there all the time. And on social media, people are always congratulating you and shouting you out. That's probably the craziest thing I've experienced."
 
* Junior Braxton Key: "When Jack had 18 [points against NC State in the ACC tournament]. My 20 points against Florida State [in the regular season], I'll keep that forever, but when Jack had 18, that was huge for us. For him to battle with injuries and not seeing the court as much sometimes, and seeing the court a lot other times, it was just big for him and big for the team."
 
* Redshirt junior Mamadi Diakite: "After the ACC [tournament], I went to see Coach and I told him that I was ready to help the team win and hopefully win a national championship. That's the one that's really up there."
 
* Redshirt sophomore Jay Huff: "For me, it was halftime of the Gardner-Webb game. We were kind of like, 'All right, we gotta pull this together,' and we did. I think that was kind of a defining moment, because we realized we just gotta to handle our business, we can't get nervous, and we didn't."
 
* Redshirt freshman Francesco Badocchi: "I feel like many moments brought us closer as a team, and I feel like the whitewater rafting trip really did that. One of the other moments I think really bonded us as a team is when, instead of going to shootaround the morning of away games, Coach Bennett started having us play different games. I had to play some songs [on the piano while the rest of the team played] Name That Tune. We just played different games, and I feel like that brought us together as a team and made us forget basketball and united us a little more."
 
* Sophomore Austin Katstra: "Definitely the Purdue game. That Mamadi shot, that play was just incredible. It sent us to a Final Four, so that's something I'm going to remember for the rest of my life."