Jeff White's Twitter | Matt Riley Photo Gallery | Video Highlights | NCAA Digital Program | Box Score | NCAA Tournament Bracket
By Jeff White (jwhite@virginia.edu)
VirginiaSports.com
 
CHARLOTTESVILLE – A match that started outdoors at the Snyder Tennis Center at noon Saturday ended indoors at the Boar's Head Resort about three-and-a-half hours later.
 
Virginia, the No. 5 seed in the NCAA men's tennis tournament, won the doubles point and was leading three of the six singles matches at the Snyder Center when rain halted play at 1:07 p.m.
 
About an hour later, play resumed at the Boar's Head, where the momentum swung in the direction of 12th-seeded Stanford, which closed out two matches in a span of three minutes take a 2-1 lead. 
 
The Cavaliers didn't panic. Before the start of this third-round match, UVA head coach Andres Pedroso had reminded his players about the importance of perseverance.
 
"I said, 'Guys, no matter what the score is, we're always in it. So just never give up,' " Pedroso recalled. "And that's what these guys do. They just fight, and they always have faith."
 
Their faith was rewarded again against an opponent the Wahoos had defeated 4-2 in February during the ITA National Team Indoor Championships.
 
Senior Aswin Lizen's win at No. 6 singles steadied the Hoos, who then picked up victories at Nos. 2 and 1 from freshman Brandon Nakashima and junior Carl Soderlund, respectively, to oust the Cardinal 4-2.
 
Stanford, which has won 17 NCAA team titles, finished with a 19-7 record this season.
 
"Credit to Stanford," Pedroso said. "Every time we play them it's just a hard-fought match … It was amazing to play them here in Charlottesville in this atmosphere."
 
Virginia (24-4) advances to meet fourth-seeded Wake Forest (32-3), the defending NCAA champion, in the Elite Eight on Thursday at the USTA's national campus in Orlando, Fla. Wake defeated unseeded Oklahoma 4-1 in the third round Friday.
 
The Cavaliers are 1-2 against the Demon Deacons this season, with the win coming in February at the Boar's Head. Wake defeated Virginia 6-1 in Winston-Salem, N.C., in March. In the ACC final last month in Cary, N.C., the Deacons beat the Hoos 4-2.
 
UVA, which in 2017 won its third straight NCAA title and fourth in five seasons, lost in the tournament's second round last year. This marks the 14th time in the past 15 seasons Virginia has advanced to the NCAA quarterfinals.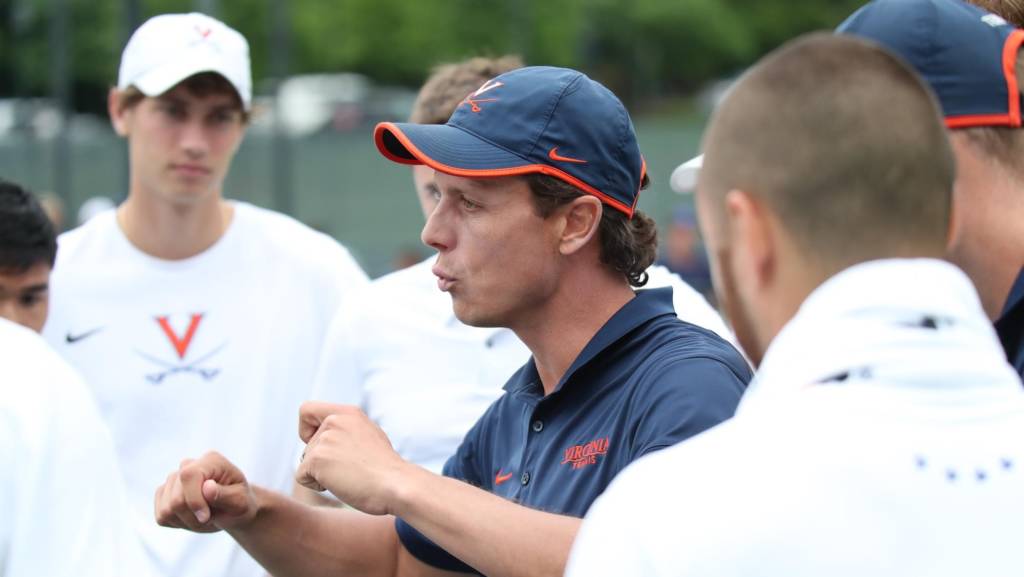 "It's great to be in the mix with the top eight teams," Pedroso said, "and we've got a great match ahead of us against Wake Forest. We've played them a lot. They know us, we know them, but it's always fun to go to the main event and battle against the best. That's why these kids chose UVA, and it's great that we give them another opportunity to be there."
 
Virginia, which improved to 31-0 in NCAA tourney matches played in Charlottesville, needed only 27 minutes to win the doubles point Saturday, with Nakashima and senior Henrik Wiersholm prevailing at No. 1 and freshman William Woodall and sophomore Gianni Ross at No. 3.
 
When singles play was stopped at the Snyder Center, Söderlund had won his first set 6-0 and was about to start his second against Axel Geller.
 
At the Boar's Head, Söderlund looked as comfortable and confident indoors as he had outdoors, taking a 5-0 lead in the second set. But Geller, instead of folding, fought back to win seven straight games and take the set.
 
"I've never played a match like this," said Söderlund, the ACC player of the year. "Yon never know what's going to happen after [a second set like] that, when you take a five-minute break. That's why you've got to try to bring the energy, try to reset every point, and that's been a big theme of our team this year. So I tried to follow that and did my best."
 
Between sets, Söderlund told reporters after the match, he gave himself a pep talk.
 
"I just told myself, You gotta come out with energy, because if you come out quiet, this guy's just going to keep shooting like he did at the end of the second," Söderlund said.
 
He pounced on Geller and quickly regained control of the match, winning the first four games of the third set. On the court next to him, Nakashima rallied to win the third set and give UVA a 3-2 lead. 
 
Among the spectators impressed with Nakashima's poise Saturday was Thai-Son Kwiatkowski, who as a UVA senior in 2017 won the NCAA singles title.
 
"The NCAAs is a different animal, and May is when boys become men," said Kwiatkowski, who's now pursuing a pro career. "Nak has an incredible demeanor, especially for a 17-year-old freshman. It's really, really impressive, and he's got a very bright future in this sport."
 
Three minutes after Nakashima's match ended, Söderlund clinched the victory for the Hoos.
 
"That's just pure maturity, professionalism, discipline, emotional intelligence," Pedroso said of Söderlund's performance. "I can't say enough about how much of a mental win that was for him, to be up 6-0, 5-0, and to lose the lead and to still find a way to come back in the third.
 
"No one would have known that he lost the second set by the way his body language was in the third."
 
Lizen said he knew Söderlund had won his first set 6-0, but "I had no idea that he was up so big in the second set, too, which was good, I guess, because otherwise I probably would have been thinking about it. It just shows insane mental strength from him to be able to come back after that and take him out in the third."
 
For Wiersholm and Lizen, the match was their final one in Charlottesville as Cavaliers.
 
"Being able to go to Orlando for the Elite Eight, it's huge," Lizen said, "and just being able to play in front of a such a packed crowd in my last match was amazing. And then having the feeling of winning makes it even better."
 
This is the Cavaliers' second season under Pedroso and assistant coach Scott Brown, and it's been "a huge growing experience for everyone who's been a part of the past couple years," Lizen said.
 
"The coaches have done an incredible job of helping us all improve, on and off the court, and trusting each other, getting closer, and keeping the Virginia tennis cultures and traditions [intact]. It's really something special, and it's good to see we're back where we're supposed to be."