Schedule of Events | NCAA Meet Information | UVA Record Book | Jeff White's Twitter |
By Jeff White (jwhite@virginia.edu)
VirginiaSports.com
CHARLOTTESVILLE –– In a track & field event traditionally dominated by tall, lean athletes such as Martin Maric, his coach at the University of Virginia, javelin thrower Ethan Dabbs stands out.
At 6-0, 250 pounds, he's built more like a shot-putter.
"I have extra bulk to work with, but that's how I've always been," Dabbs said.
Maric, who stands 6-6, was an All-American in the javelin and the discus at the University of California. He was skeptical, Maric admits, upon seeing Dabbs for the first time. But Dabbs came highly recommended by Bryan Fetzer, who directs the track & field and cross country program at UVA, and Maric became a convert once he saw Dabbs throw.
"He has a cannon in his arm," Maric said, smiling. "He has such strong arm speed, it's incredible."
Most javelin throwers are swift runners who are "built like baseball pitchers," Maric said. "Ethan is kind of wobbly. He's a big guy, and he just walks, walks, walks and then just slams it with his arm."
Dabbs, who's in his first year at UVA, already ranks as the top javelin thrower in program history. In 2012, Andy Fahringer had a throw of 75.19 meters (246 feet, 8 inches). That mark stood at Virginia until this spring, when Dabbs threw 76.04 meters (249 feet, 6 inches).
He won the ACC title last month at Lannigan Field, and he'll conclude his first college season Wednesday at the NCAA outdoor championships in Austin, Texas, where he's seeded fourth in the javelin.
"It's definitely exceeded what I imagined," said Dabbs, who's from Johnstown, Pa. "I didn't think that I'd be throwing as well as I am now, for sure. But I knew once I got into a program I'd get better."
Fetzer said: "I would be lying to you if I said I knew he was going to be as good as he has been this year. I knew he was going to be good. One of the top 10 guys in the country as a true freshman? I did not know that."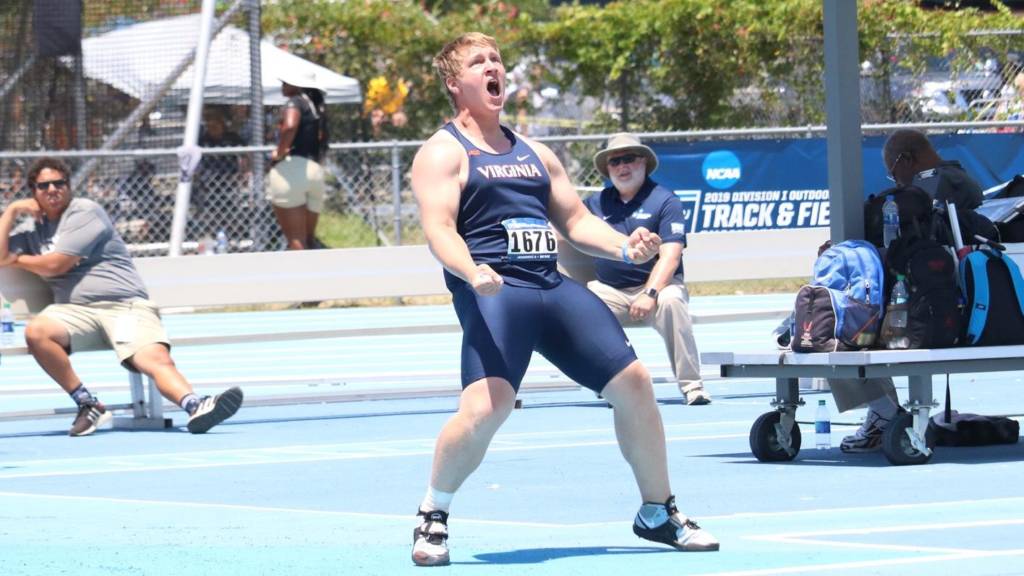 At Richland High School, Dabbs played football in the fall and focused on the javelin for only a few months each year. Even so, he threw a school-record 66 meters for Richland.
Until he arrived at UVA, Dabbs said, "I hadn't trained as a javelin thrower. I trained as a football player. So I hadn't done lifts specific to javelin, I hadn't done training specific to javelin, conditioning specific to javelin. So for the last nine months I've been training for javelin. It made me realize just how little I've been actually doing for the sport."
Mississippi State's Anderson Peters won the NCAA title as a freshman last year with a meet-record throw of 82.82 meters. Peter has thrown 86.07 meters this season, but if "he hasan off day and I have a really good day, then there's a chance," Dabbs said.
"I don't ever go into any meets with the intention of coming in second. My goal is always to win. My dad kind of drove it into me when I was younger. He was like, 'You don't show up to lose. You do the best you can.' "
When he returns from Austin, Dabbs will have surgery on his left shoulder, which he dislocated in February while lifting weights. The injury has limited his training this year, but a top-four finish at the NCAA meet is a realistic goal for Dabbs.
"That would be really, really incredible," Maric said. "We've never had a freshman do so well."
That Dabbs ended up in Charlottesville is not surprising. Fetzer is from Johnstown, too, and "his dad is a renowned football coach in our area," Dabbs said. "Every time I tell somebody that [Bryan] Fetzer is my coach, they're like, 'Is that Ernie Fetzer's son?' "
Moreover, Richland's head track coach, Chris Mangus, is one of Bryan Fetzer's cousins, and the mother of Dabbs' uncle Carmen Felus, a football coach at Stony Brook University, was Ernie Fetzer's longtime secretary.
Johnstown is a "pretty tight-knit community," Bryan Fetzer said. "You get to know families there, and they all spoke so highly of Ethan as a young man.
"He comes from a great family. His work ethic is incredible. I don't want to toot the horn of my hometown, but that's Central Pennsylvania."
Dabbs did not grow up dreaming of throwing the javelin. His goal when he entered high school was to earn a Division I scholarship in football. "Nobody could convince me otherwise," he said.
He made the varsity team as a ninth-grader, and during a game that fall he took some snaps at quarterback. Before one play, Dabbs recalled, his coach told him "to take a step back, wait about three seconds and then just throw the ball as far as you can."
Richland had a speedy receiver that season, Dabbs said, "and I overthrew him by 20 yards. I ended up throwing the ball, like, 73 yards in the air."
His arm strength notwithstanding, Dabbs was less than accurate as a passer. He faced a similar problem in a baseball, a sport he played in the summers throughout high school.
"I'd throw upper 80s, but I just couldn't control it," Dabbs said.
In the spring of his freshman year at Richland, he joined the track & field team, looking to improve his speed for football. "Our track is on the one side and then our throwing area is on the other," Dabbs said. "I was walking out to practice one day and just kind of looked over to my right and saw people throwing javelin."
His interest was piqued. Dabbs knew nothing about the event, but "I was like, 'Arm strength has to have something do it,' and I think I ended up throwing within the first two weeks of joining track my freshman year."
Under the tutelage of Richland's throws coach, Virgil Wenturine, Dabbs developed quickly. He placed eight in the state as a freshman, fourth as a sophomore, second as a junior, and first as a senior.
In football, Dabbs had switched to running back as a sophomore, "just because that was a better fit for me. I didn't really have a lot of accuracy [as a quarterback]." In August 2017, he tore the ACL in his left knee, but he rehabbed diligently and was cleared to compete in track & field last spring.
In a sense, Dabbs said, it's "good that I got [the injury] out of the way, because it probably would have happened eventually, because the force I put my leg under when I throw [the javelin] is pretty high."
At UVA, he joined a throws group whose alumni include three-time NCAA champion Filip Mihaljevic and 10-time All-American Jordan Young. Its current members include Hilmar Jonsson and Oghenakpobo Efekoro, who won ACC titles last month in the hammer throw and shot put, respectively, and will compete in Austin this week, too. Overseeing the group is Maric, a two-time Olympian in the discus for Croatia.
"Coach Maric created that," Dabbs said, "so I'm honored and humbled to be a part of it. Filip, he left a lasting impression on the rest of this program. That's the standard I'm trying to get to. It's that excellence that drives me to do better."
Outside the throws group, Dabbs tried to follow the example set by such UVA standouts as triple jumper Jordan Scott, who won the NCAA indoor title in March and will compete in Austin this week.
"They're setting the standard for what I hope to fulfill," Dabbs said. "It's humbling, but it's also something that I want to work towards."