UVA Men's Basketball on Twitter | Jeff White's Twitter | Subscribe to UVA Insider Articles | Photo Gallery | Box Score | Video Highlights
By Jeff White (jwhite@virginia.edu)
VirginiaSports.com
 
CHARLOTTESVILLE –– Since losing at home to NC State on Jan. 20, the University of Virginia men's basketball team has won three straight games and now trails only No. 5 Louisville, No. 7 Duke and No. 8 Florida State in the ACC standings. The winning streak is the Cavaliers' longest since November, and it started with an overtime victory over Wake Forest on Jan. 26.
 
Braxton Key missed 14 of 16 shots from the floor and 6 of 9 from the line that afternoon in Winston-Salem, N.C., but Tomas Woldetensae knocked down seven 3-pointers and Mamadi Diakite scored 16 points for UVA.
 
Two nights later, in a 61-56 victory over Florida State at John Paul Jones Arena, Diakite totaled 19 points and nine rebounds, and Kihei Clark (15 points) took over late.
 
Back at JPJ on Wednesday night, the Wahoos didn't get much from Woldetensae, who was 1 for 6 from the floor, but Kody Stattmann returned after missing two games with a concussion and contributed five points and four rebounds in a 51-44 win over Clemson. Jay Huff finished with 10 points, 10 rebounds and four blocked shots, Diakite had 13 points, eight boards and two blocks, and Key broke out of a prolonged shooting slump.
 
"That's this team," UVA head coach Tony Bennett said.
 
Unlike the 2018-19 Cavaliers, who won the program's first NCAA title, this team has no All-Americans. It might not have multiple All-ACC selections, and its standouts often vary from game to game. Against Clemson, Key led the way.
 
"He bailed us out," Bennett said.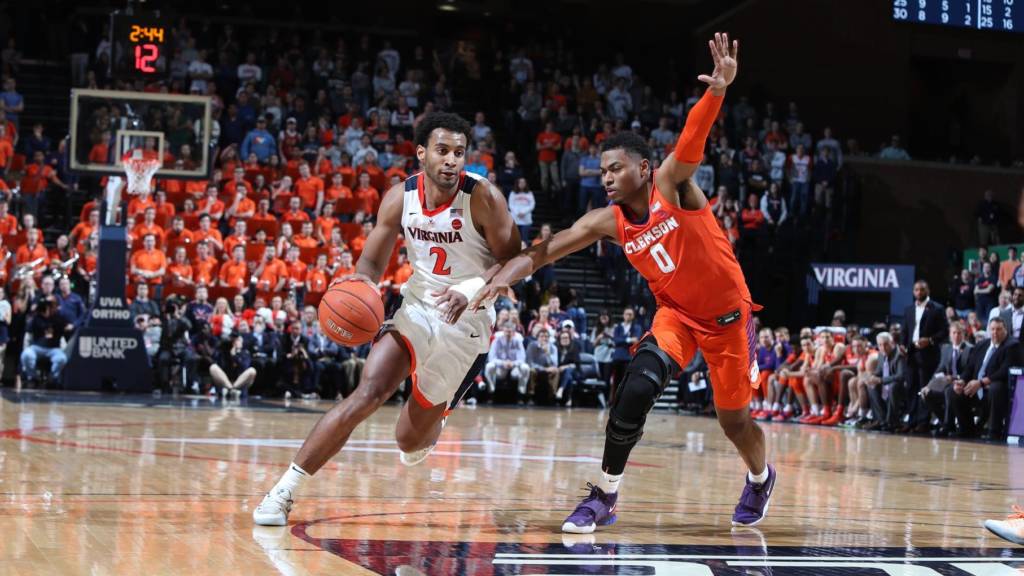 Braxton Key (2)
A 6-8 senior who's in his second season at Virginia––he began his college career at Alabama––Key came in shooting 17.8 percent from beyond the arc and hadn't made a 3-pointer since Jan. 1. He hit four, a career high, against the Tigers (11-11 overall, 5-7 ACC).
 
None was bigger than Key's third trey, which came off a pass from Clark (game-high 10 assists) and pushed Virginia's lead to 39-34 with 4:48 to play. Those were the Cavaliers' first points in four minutes. With 1:26 remaining, Key's final 3-pointer made it 45-39.
 
"He was probably the difference in the game," Clemson head coach Brad Brownell said of Key, who finished with a season-high 19 points.
 
Bennett agreed. To prevail in a close game, he said, a team needs "someone to jump up and make a shot, or make a big play, and Braxton did that twice, and we certainly needed it."
 
This has been a trying season for Key, who hurt his left wrist on Nov. 24 against Arizona State, an injury that required surgery and sidelined him for three games. When he returned, he played at first with a cast on his left hand.
 
"I was basically trying to shoot with one hand," said Key, who now wears protective tape on his left wrist. "I was forcing a lot of 3s, also."
 
After edging Wake Forest on Jan. 26, the Cavaliers bused back to Charlottesville. They arrived at JPJ around 6:30 p.m., and Key headed straight to the court, where he put up shot after shot, with help from his girlfriend.
 
"She was rebounding for me," Key recalled, "and she was like, 'How much longer?' and I was like, 'Until I can make enough.' "
 
The Tigers opened the game in a man-to-man defense but switched to a matchup zone after the Cavaliers (15-6, 7-4) built a 14-2 lead. Virginia turned the ball over only eight times, matching its season low, but struggled at times to break down the zone. Key (4 for 6) and Stattmann (1 for 1) shot well from 3-point range, but their teammates were a combined 2 for 13 from beyond the arc.
 
"We'll keep working on it, because I'm sure we'll see some more [zone]," Bennett said.
 
At the other end, the Hoos had fewer problems. Clemson shot only 32.7 percent from the floor against Virginia's Pack Line defense.
 
"Virginia's just an outstanding defensive team," Browndell said. "They make it really hard on you. It's hard to score."
 
Aamir Simms, who's from nearby Fluvanna County and, like Diakite, graduated from Blue Ridge School, led the Tigers with 16 points and added two assists, two blocked shots and two steals.
 
"This is a game he's obviously been looking forward to," Brownell said. "I'm really pleased that he played well tonight in front of a lot of [friends and relatives]. We have no chance tonight if he doesn't play the way he plays."
 
The 6-8 Simms, a capable 3-point shooter, was a difficult matchup for the Cavaliers, but Bennett liked what he saw defensively from his big men, especially Huff, a 7-1 redshirt junior. This is the first season in which Huff has had a large role for the Hoos––he played 35-plus minutes Wednesday night––and he's steadily improved as a defender and a rebounder.
 
"I think we're really working hard with Jay to be disciplined, just in staying down … and not biting on shot fakes," Bennett said. 
 
If Huff needed motivation Wednesday night, associate head coach Jason Williford provided it. Williford promised "a swift kick in the butt if I was going to jump today on shot fakes," Huff said, smiling. "That's more or less what he was threatening. But I told him I wasn't going to jump, so I guess I can tell him I didn't, which is fun."
 
Huff and the 6-9 Diakite combined for six blocked shots against Clemson, and between them they have 62 this season. "Their length is real," Bennett said, "and they're both bouncy."
 
That rim protection allows the Cavaliers to recover from defensive breakdowns.
 
"Someone gets beat off the dribble, and all of a sudden a big can read it, and it makes the guards think twice," Bennett said. "Maybe they miss, or they get it blocked.
 
"It's like you can run bad offense and bang a fallaway [3-pointer], and it looks good. And you can run bad defense, and someone beats you down the lane, and someone blocks it, and it's a stop. It's a score when you make it, and it's a stop when you block it. And I think that's covered up a couple of errors and mistakes."
 
SOUND BITES: The victory was Virginia's 10th straight in this series. Among the postgame comments:
 
• Bennett on UVA's approach: "Just be hard to score against. Don't give anything. And that mindset was enough against Florida State, with just enough offensive plays, and it was enough tonight against Clemson, with just enough offensive plays."
 
• Bennett: "I feel like we're moving in the right direction defensively."
 
• Brownell on UVA's shot-blocking prowess: "Jay Huff is huge, and he's mobile."
 
• Brownell on Key: "I think he's just an older player that saw that his team needed him to play well. So he took it upon himself to make big shots, and that's what good older players do. He's been around a lot of winning here, and he's seen other guys do it, and I'm sure he feels like that's probably part of his job here."
 
• Key: "I'm not worried about stats or what my percentages are or anything like that. I know I can shoot the ball, and I know I'm capable. Shooting with a cast is very difficult. Now with it off it's a lot easier."
• Huff on the latest in a series of close games for the Hoos: "We just like to make it entertaining."
 
• Huff: "This is definitely a big win for us, and I think that if we continue this trajectory, we have a really good chance at finishing the year strong."
 
LOOKING AHEAD: Four of the Cavaliers' next six games are on the road, starting Saturday in Louisville, Ky. At 4 p.m., in a game ESPN will televise, UVA (15-6, 7-4) meets ACC leader Louisville (20-3, 11-1) at the KFC Yum! Center.
 
The Hoos have won nine straight over the Cardinals and lead the series 15-4. The KFC Yum! Center has been good to UVA, which defeated Oregon and Purdue there to win the NCAA tournament's South Regional last season.
 
Virginia's next home game is Tuesday against Notre Dame (14-8, 5-6). One of the ESPN networks will televise the 9 p.m. game, for which a limited number of tickets remain available.