Postgame Notes | Photo Gallery | Subscribe to UVA Insider Articles | Box Score | Video Highlights | UVA Men's Hoops on Twitter | Jeff White's Twitter
By Jeff White (jwhite@virginia.edu)
VirginiaSports.com
 
CHARLOTTESVILLE –– Its postseason résumé continues to improve, but the University of Virginia men's basketball team has more work to do if it is to reach the NCAA tournament for the seventh straight year.
 
The Cavaliers are well aware of that, yet they remain unfazed by external pressure. As the end of the regular season approaches, UVA is peaking.
 
"It's that time of the year," said head coach Tony Bennett, who guided Virginia to its first NCAA title last season.
 
Boston College can attest to the Cavaliers' growth. Wednesday night at John Paul Jones Arena, UVA won for the sixth time in seven games, defeating BC 78-65 before an appreciative crowd of 13,819. 
 
When the teams met on Jan. 7, the Eagles knocked off the Wahoos 60-53 at Conte Forum in Chestnut Hill, Mass. In that game, junior-college transfer Tomas Woldetensae went scoreless for Virginia. In the rematch, the 6-5 guard hit four 3-pointers, giving him 28 treys in his past seven games.
 
"You want to be playing your best basketball heading into March," BC head coach Jim Christian said, "and I think they're playing their best basketball heading into March."
 
With five regular-season games left, Virginia (18-7, 10-5) stands fourth in the ACC, behind the conference's three locks for the NCAA tournament: Florida State, Duke and Louisville. In fifth place is NC State (17-9, 8-7), which routed No. 6 Duke late Wednesday night.
 
"I like what I've seen so far," Bennett said of his team's progress, "and we get to test it out again real soon on Saturday [against Pittsburgh]."
 
From the start this season, the Hoos have played stifling man-to-man defense, their trademark during Bennett's 11 years as their head coach. Not until recently, however, has UVA's offense operated efficiently. 
 
The Cavaliers' scoring output Wednesday was a season high, and for the first time in 2019-20 they had five double-figure scorers: 6-8 senior Braxton Key (17 points), 5-9 sophomore Kihei Clark (17), Woldetensae (14), 7-1 redshirt junior Jay Huff (14) and 6-9 fifth-year senior Mamadi Diakite (10).
 
"When they're in a good rhythm offensively, it's hard," Christian said.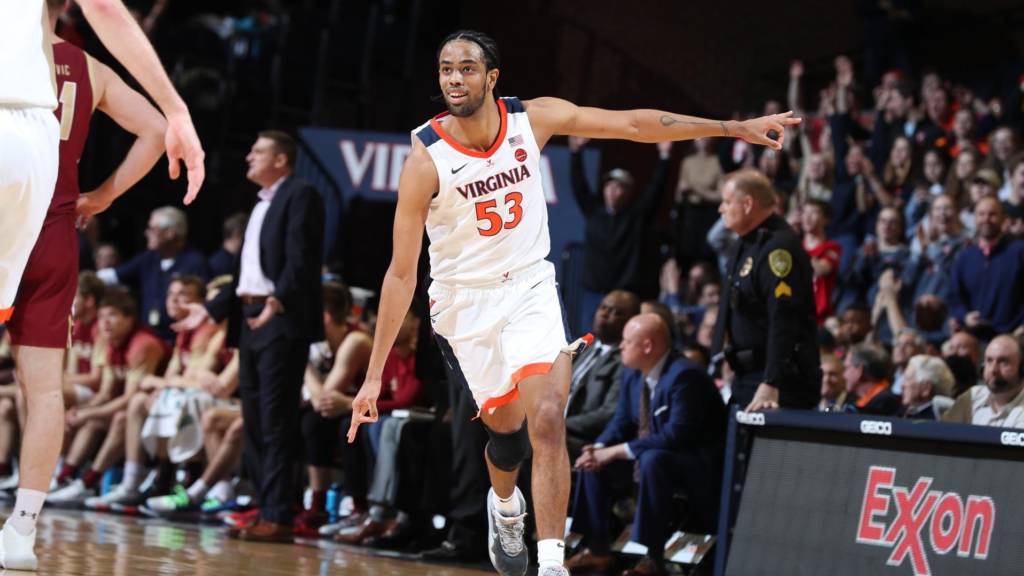 Tomas Woldetensae
The Hoos made 10 of 17 shots from 3-point range, a season-high 58.8 percent. Woldetensae was 4 for 8, Huff was 3 for 5, Clark was 1 for 1, and 6-7 sophomore Kody Stattmann was 2 for 3. The two 3-pointers were a career high for Stattmann.
 
"It's a great feeling when shots are going in," said Huff, who matched his career high with three treys, the last of which sent Virginia into halftime with a 12-point lead.
 
Asked about his team's offense, Bennett said the Cavaliers are "a little smoother with it, a little more efficient, but when you make some 3s, it certainly makes a big difference, as we know."
 
Like poor shooting, sloppy ballhandling has hindered the Hoos at times this season, but they had only nine turnovers Wednesday night. Virginia was credited with assists on 17 of its 26 field goals.
 
"We continue to emphasize what we think is going to be key for us to reach our goals," Bennett said, "and one of those things is sureness with the ball without losing your ability to run your offense to score, but being mindful, strong and tough … So we're certainly working at it [in practice] and guys are being more attentive with the ball, and it's making a difference."
 
BC (13-14, 7-9) was coming off a home win over NC State. Graduate student Derryck Thornton, a 6-3 guard, scored 22 points for the Eagles in that game, but back spasms sidelined him Wednesday night.
 
"We needed him tonight," Christian said. "We needed energy, and he provides a lot of energy for our team."
 
The Eagles led only once at JPJ. After 6-11 senior Nik Popovic (22 points) scored on a stickback to put BC up 16-15, Woldetensae answered with his first trey, and the Cavaliers rarely faltered thereafter.
 
"Since ACC play has started, he's trending in the right direction with his shooting," Bennett said of Woldetensae, who has raised his 3-point percentage to 39.3. "He shoots it, and he's fearless with his shot, and I think he's figuring out a little more where they're coming from."
 
The victory was the Cavaliers' seventh in their past eight meetings with Boston College, whose head coach left JPJ impressed.
 
"I know this: I wouldn't want to play them in the NCAA tournament," Christian said.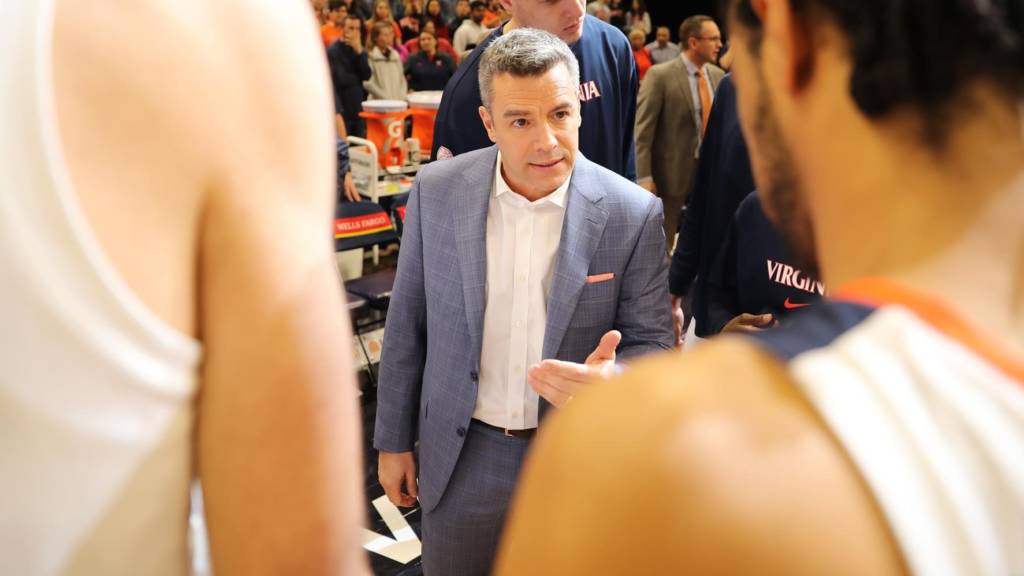 Tony Bennett
JACK OF ALL TRADES: In addition to his 17 points, Key contributed six rebounds, three assists and a career-best four blocked shots. He also showed off a seldom-seen side to his game, capably running the offense when Clark was out of the game.
 
"Braxton really did a good job, made some nice passes, got to the rim," Bennett said. "Some of his decisions and sound play made a big difference when Kihei was not in the game because of foul trouble."
 
Asked how he felt at point guard, Key smiled. "Very comfortable. I think I'm going to talk with Coach about moving Kihei off the ball moving forward. I think that might be our new offense."
 
BRAVO: With 11.6 seconds left, Bennett put Stattmann in for Clark, who received a well-earned ovation from the crowd as he walked to the Cavaliers' bench. He committed a couple of ill-advised fouls Wednesday, but otherwise Clark sparkled, finishing with a game-high eight assists and only two turnovers.
 
"The one thing Clark does a great job of, that probably goes a little unnoticed, is he can really deliver the ball at the right time," Christian said.
 
Huff agreed. Clark "does have a way of getting the ball to you on time where you need it, when you need it, which is huge, because it helps you be in better rhythm," Huff said. "You know you're going to have time to get it off."
 
Clark nearly collected another assist early in the first half, but his lob pass to Huff dropped through the hoop for a 3-pointer.
 
"I went up to catch it," Huff said, "and I almost thought, 'Wait, did I dunk that?' It's kind of cool. We'll take it."
 
SOUND BITES: This marks the eighth straight season that UVA has posted at least 10 conference victories, a program record. Among the postgame comments Wednesday night:
 
• Bennett: "I thought we had a decent balance again, just like we did [Saturday night at North Carolina], but you never assume anything offensively. That was the message to the guys [after the BC game]. I said, 'This is some really good offense, but whatever you do, don't get too comfortable.' I thought defensively in the second half we were not at our best. This game our offense kind of carried us, but we talked about not getting too comfortable."
 
• Bennett on his players' approach as postseason nears: "They've done a nice job. We've identified our goal, and then we said, 'All right, Let's take action towards that goal.' "
 
• Huff on Woldetensae's torrid shooting: "It's a pretty easy assist if you throw it to him. It's pretty nice. Same with Kody. We've been telling him, 'Shoot the ball, shoot the ball,' and he hit a couple big ones tonight."
 
• Woldetensae: "As I always say, it's just about practice, [getting up] extra shots after practice. Those extra shots actually give you the boost, the confidence to come into games and be ready."
 
• Christian: "When Huff's hitting 3s, that's a different weapon for them."
            
LOOKING AHEAD: Three of Virginia's five remaining regular-season games are on the road, starting Saturday against Pitt at the Petersen Events Center. In a game ESPN2 will televise, the Cavaliers (18-7, 10-5) play the Panthers (15-12, 6-10) at noon.
 
UVA has won four straight over Pitt and leads the series 15-4.
 
Virginia, which visits Virginia Tech next Wednesday, is back home on Saturday, Feb. 29, against sixth-ranked Duke. The 6 p.m. game, which ESPN will televise, is officially a sellout, but tickets might be available at StubHub, the Cavaliers' official fan-to-fan ticket marketplace.