Photo Gallery | Box Score | Video Highlights | UVA Men's Hoops on Twitter | Jeff White on Twitter | Subscribe to UVA Insider Articles
By Jeff White (jwhite@virginia.edu)
VirginiaSports.com
 
CHARLOTTESVILLE –– The Virginia Cavaliers were never in danger of relegation this season, no matter what ardent soccer fan Mamadi Diakite might have said, with a sly grin, during his postgame press conference Saturday night at John Paul Jones Arena.
 
This is college basketball, after all, not the Premier League. Still, it's true the Cavaliers once appeared headed not for a seventh straight appearance in the NCAA tournament, but for the NIT.
 
No longer. The ACC's hottest team won again Saturday, thanks in large part to a career game from 7-1 redshirt junior Jay Huff, and this victory carried special significance.
 
"We knew what this game meant," senior forward Braxon Key said.
 
Like most contests involving Tony Bennett's team of late, this one wasn't decided until the final seconds, but UVA edged No. 7 Duke 52-50 before an ESPN audience and a sellout crowd at John Paul Jones Arena.
 
"A month ago we were supposed to be done, or in relegation," said Diakite, a 6-9 fifth-year senior who contributed 14 points, five rebounds, one blocked shot and one steal. "That's what people were saying. We didn't care about that. We put our heads down and focused on what we could control, and now we're here."
 
The reigning champion Wahoos (21-7 overall, 13-5 ACC) stretched their winning streak to six games and moved into a tie with the Blue Devils (23-6, 13-5) for third place in the conference.
 
After Huff's 10th and final blocked shot––this one against Duke center Vernon Carey––he corralled the rebound and was fouled with 3.7 seconds left. Huff made 1 of 2 free throws, Duke guard Tre Jones' desperation 3-pointer bounced off the rim after a Blue Devil timeout, and the celebration continued at JPJ.
 
"I thought that both teams played winning basketball," Duke head coach Mike Krzyzewski said. "I thought that they were deserving of winning and we were too. That's why it was such a [good] game. Points were hard to come by. Both teams played outstanding defense, and the difference-maker for them was Huff. He's had a lot of good games, don't get me wrong, but he had his best game today, especially in rim protection."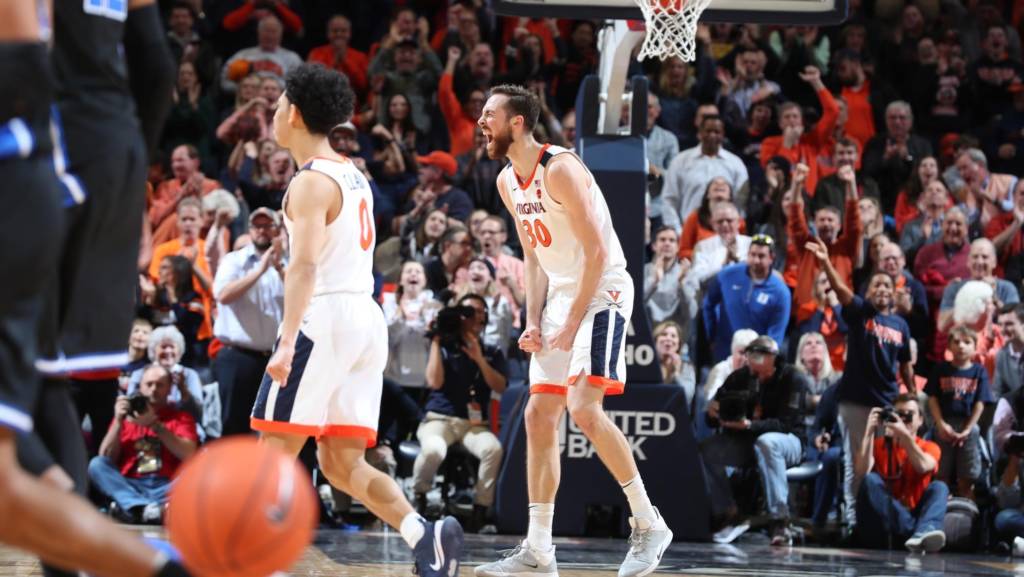 Huff, who's from Durham, N.C., grew up rooting for the Blue Devils and attending games at Cameron Indoor Stadium. That added yet another storyline to his magnificent performance Saturday. In a little more than 29 minutes, he totaled 15 points, nine rebounds, 10 blocks, two steals and no turnovers.
 
"I'm really happy for Jay," Bennett said. "We needed everything he brought. What timing and length, and we needed it all."
 
Huff was 7 for 9 from the floor and 1 for 2 from the line. Four of his field goals were dunks, and each slam brought the Hoos' fans to their feet.
 
"I'd be a liar if I said I didn't get a little bit more amped up for Duke games in my past years and this year obviously," Huff said. "But at the same time, we have to focus on the rest of the season, trying to win out. We want to give ourselves a good chance both in the ACC and NCAA tournament."
 
His 10 blocks were a school record in an ACC game. Ralph Sampson, the Hall of Famer who was seated courtside Saturday night, across from the Cavaliers' bench, holds the program record for blocks in a game (12 vs. Army on Dec. 22, 1979).
 
"I want him to play like that [more] often," Diakite said, smiling, when asked about Huff's tour de force.
 
Huff became the first player in the past 20 seasons to record 10 blocks against an opponent ranked in The Association Press' top 10.
 
"It was fun, and it was really exciting," Huff said. "Some of it was timing, I think, and some of it was just being at the right place. But, yeah, it was really cool."
 
Huff and Diakite led a defense that held the Blue Devils to their lowest scoring output in this series since Jan. 31, 1981. Duke came in averaging 83.2 points per game but shot only 30.5 percent from the floor against UVA's Pack Line defense.
 
This marked only the second time in the past 10 seasons that Duke has scored fewer than 51 points in a game. Virginia twice forced the Blue Devils into shot-clock violations, further stoking the crowd.
 
Krzyzewski said he wasn't shocked that the game was in the 50s, because the Hoos "can control tempo. You're not going to have a high scoring game against them. They didn't have a high scoring game against us, either. Both teams played outstanding defense … That's the hard-fought type of game that they play all the time. So the experience of playing in that level of game helps them."
 
There were seven lead changes in the final 6:11, the last coming on a layup by the 6-9 Diakite, off a perfectly executed post move, that made it 51-50 with 39.6 seconds left.
 
"I knew that the team needed that bucket and it was a critical moment, and so I just did what I had to do," Diakite said.
 
At the other end, after Jones missed a jumper, Huff grabbed the rebound. The Devils tied him up, forcing a jump ball, but the possession arrowed pointed in Virginia's direction. Duke then fouled Key, who missed the front end of a one-and-one, but the Cavaliers' defense rescued them again.
 
Carey, a 6-10, 270-pound freshman who finished with 17 points, 10 rebounds and three blocks, was open momentarily in the lane. He appeared poised to make the go-ahead basket, but Huff swooped in for one final block.
 
"His length is for real," Bennett said, "and it was a complete game for Jay."
 
Joining Huff and Diakite in double figures was Key, who had 14 points, eight rebounds, two assists and two steals, as well a career-high six turnovers. Duke denied UVA point guard Kihei Clark the ball whenever possible, which meant teammates such as Key were responsible for more ball-handling than usual.
 
"Some teams have done that before, Florida State in particular," Bennett said, "and I thought it rattled us at times." 
 
Krzyzewski said: "I thought it helped us. I thought our game plan defensively was good. It forced a lot of their guys to be ball-handlers. We weren't thinking that we were going to be able to take it away from anybody, but it meant that they couldn't run their offense with as much time on the clock, and it put the ball in not the decision-maker's hands."
 
Clark still finished with seven points, three steals and a game-high five assists.
 
"At the end of the day it just comes down to making plays," Clark said. "I thought guys made big plays down the stretch."
 
That's been a recurring theme for the Cavaliers since a five-game stretch in January during which they lost four times, once in overtime.
 
Asked what sparked UVA's turnaround, Huff said, "I don't know if I can pinpoint it necessarily, but I think we started realizing that we were in some really close games with some really good teams. We had some team meetings and stuff and we realized it doesn't have to be a down year. People said that, but it doesn't have to be."
 
In the ACC standings, Virginia is only a game behind Florida State (24-5, 14-4) and Louisville (23-6, 14-4), which are tied for the conference lead.
Key said: "We're on a race to first place, and that's the goal at the end of the day. We have to control what we can control, and that's just playing how we play."
 
FACES IN THE CROWD: Former UVA players who returned for the game included Sampson, Jack Salt, Jerome Meyinsse and Will Sherrill. Also in attendance was a future Cavalier, Jabri Abdur-Rahim, who'll join the program in 2020-21. 
 
Salt, one of the leaders on the Virginia team that last year won the program's first NCAA title, received a standing ovation Saturday night. So did former UVA football star Juan Thornhill, now a member of the Super Bowl champion Kansas City Chiefs. Thornhill was honored at the first TV timeout.
 
SOUND BITES: For the Cavaliers, the victory was their first over Duke since they won at Cameron Indoor Stadium on Jan. 27, 2018. Among the postgame comments Saturday night:
 
• Bennett on seeing former UVA coach Terry Holland and his wife, Ann, courtside Saturday night: "I don't even know if he saw me, but I looked at him, it was kind of late, it was a timeout, and I just looked at him and I smiled, and I thought of all he's done for this program. It was a sweet moment."
 
• Bennett on Diakite's post defense: "He had that look in his eyes. And so when Mamadi is guarding like that and Jay is protecting the rim, that's a formidable two-man back line."
 
• Bennett: "Duke is so good defensively. I don't know if we could have found any more points than those 52. They make it so hard with their pressure. I'm so impressed with how hard they work defensively."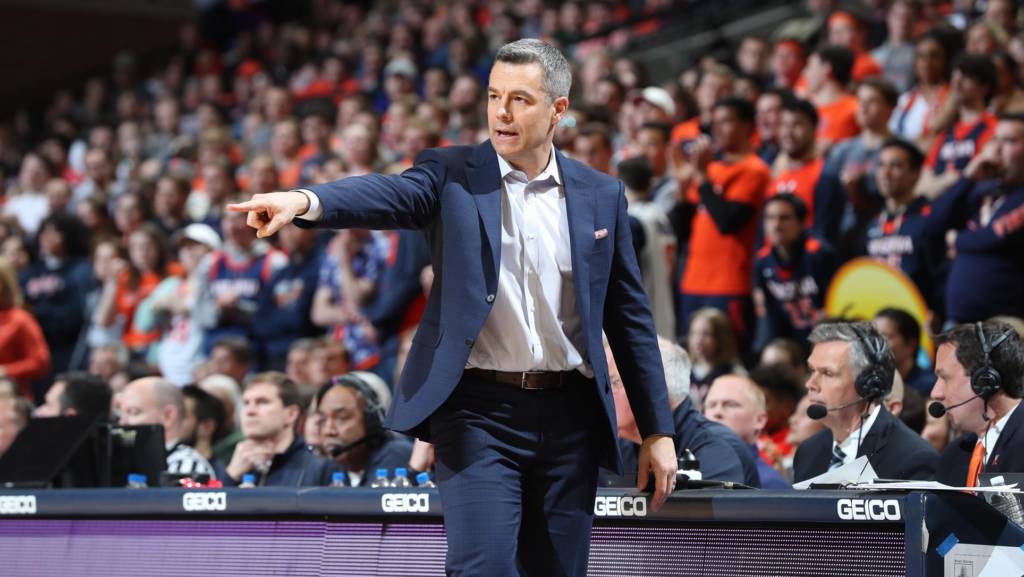 • Clark on Huff's rim protection: "We try to slide our feet best as possible, but if we do get beat we just put our hands up and let Jay clean it up up top. We try not to get any dumb fouls because Jay can prevent it. Jay does a great job of blocking shots, so when you have a force behind you like that you can kind of get into the ball a little bit and try to pressure it a little bit. He brings a big presence on the defensive end."
 
• Krzyzewski: "It was going to be a really good, tough win for one team and a tough loss for the other, and they got the tough win."
 
• Diakite on the fans' support: "It was fun. Every time they can do that, that can help us a lot."
 
• Huff, with a smile, on the possibility that a statistical oversight might have cost him a 10th rebound and thus a triple-double: "That would be tragic."
 
• Krzyzewski on Carey, who played only 27 minutes because of foul trouble: "Any time you don't have Vernon on the court, just like if you don't have Tre on the court, we're not as good a team, because those two guys are the differentiators of us being good or very good. I thought he played really hard today. He competed like crazy. He's just got to learn to do that all the time."
            
LOOKING AHEAD: In the final week of the regular season, UVA will play twice: Wednesday against Miami in Coral Gables, Fla., and Saturday against No. 11 Louisville at JPJ.
 
In a game ACC Network will air, the Cavaliers meet the Hurricanes at 9 p.m. ESPN will televise the regular-season finale, which has a 4 p.m. tipoff. A Senior Day ceremony will precede the Louisville game.
 
UVA has won five of its past seven games with Miami, which leads the series 12-10.