Jeff White on Twitter | Subscribe to UVA Insider Articles | Postgame Notes | Photo Gallery | Box Score | Video Highlights | UVA Men's Hoops on Twitter
By Jeff White (jwhite@virginia.edu)
VirginiaSports.com
 
CHARLOTTESVILLE –– Jay Huff is in his fourth year at the University of Virginia, where Mamadi Diakite is in his fifth year. Braxton Key has been in college for four years, the first two at Alabama and the past two at UVA.
 
And then there's Kihei Clark, the indomitable point guard of the Virginia men's basketball team.
 
"He's only a second-year, which is kind of crazy to think about," Huff, a redshirt junior, told reporters Saturday night at John Paul Jones Arena, where he and Clark were fielding questions in the press room after No. 22 UVA closed the regular season with a 57-54 win over No. 10 Louisville.
 
"Kids these days," Huff said, shaking his head.
 
This kid is alright, and has been since the day he enrolled at UVA in 2018. As a freshman, the 5-9 Clark helped the Cavaliers win the program's first NCAA title. As a sophomore, with Kyle Guy, Ty Jerome and De'Andre Hunter gone, Clark has shouldered an enormous load, with no complaint and few stumbles.
 
"He's a gamer," Louisville head coach Chris Mack said. "I mean, look at all the plays he's made down the stretch."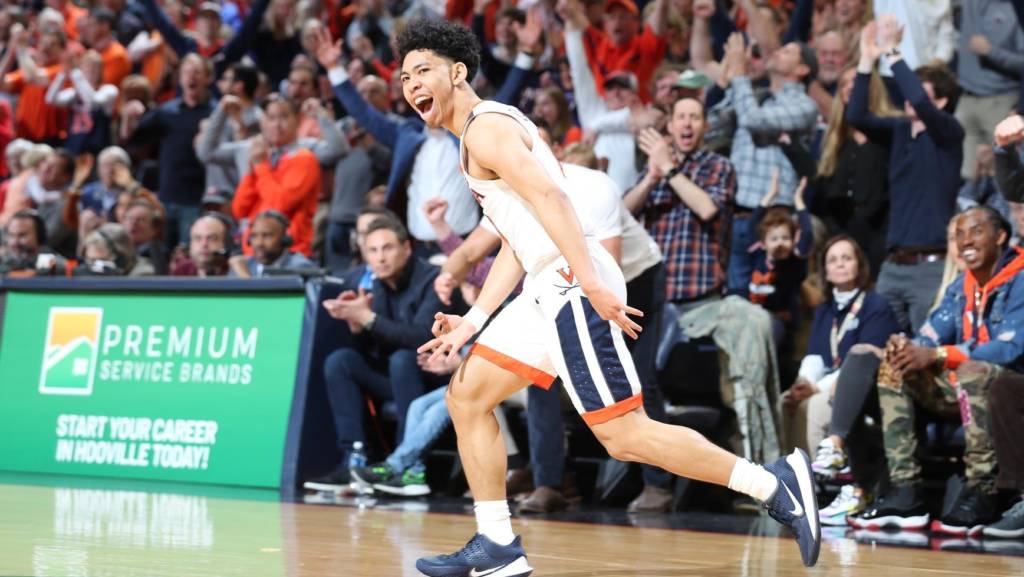 Kihei Clark
 
On Feb. 15, Clark passed to Tomas Woldetensae for the game-winning 3-pointer in UVA's 64-62 victory over North Carolina in Chapel Hill.
 
Eleven days later, Clark hit a 3-pointer in the final seconds to lift Virginia to a 56-53 win over Virginia Tech in Blacksburg.
Last season, of course, Clark had the greatest assist in program history, passing to Diakite for the last-second shot that forced overtime against Purdue in the Elite Eight.
 
"Kihei, he's done it and he continues to do it," UVA head coach Tony Bennett said.
 
Clark is "still young," Diakite said. "People don't understand that. He's a second-year, and yet they want to hold him to a higher standard, like a redshirt senior. But that's a good thing, I guess. That's a good pressure. The better you get, the more pressure you have, and you keep taking challenges."
 
The spotlight shined on Diakite, Key and Grant Kersey, as well as student-managers David Gent and Cameron Lange, during the pregame Senior Day ceremony Saturday. In the end, though, it was Clark who delivered the game's pivotal play. 
 
With 30 seconds left, he buried a trey to put the Wahoos up 55-51. The field goal was Virginia's first in nearly five minutes. Clark finished with 18 points, five rebounds, five assists and two steals in 37 minutes, 42 seconds.
 
"He made the big shot, and we needed every ounce of it, so I just can't say enough about what he's got going on inside here," Bennett said, pointing to his heart. "It was a great way to finish off the regular season for him and of course the others. That was a clutch shot."
 
With 3.8 seconds remaining, Diakite capped his final appearance at JPJ with two free throws to make it 57-51. The Cardinals closed out the scoring with a last-second 3-pointer, but that didn't dampen the enthusiasm of the exuberant sellout crowd.
 
"That was a good one," Bennett said of the atmosphere. "Boy, you could feel it, you could hear it. One time it was so loud that we missed a call that gave them a bucket, but I'll take that."
 
The victory was the eighth straight for Virginia (23-7, 15-5), which finished tied for second in the ACC with Louisville (24-7, 15-5) and No. 12 Duke (25-6, 15-5). Had Boston College upset Florida State on Saturday, four teams would have shared the ACC's regular-season title.
 
The Seminoles (26-5, 16-4) defeated BC in Tallahassee, Fla., to capture the regular-season crown, but the Cavaliers won the tiebreaker for the No. 2 seed in the ACC tournament, which starts Tuesday in Greensboro, N.C.
 
UVA has a double bye and will play No. 7 seed Notre Dame or No. 10 seed Boston College in the 7 p.m. quarterfinal Thursday at the Greensboro Coliseum.
 
"I'm thankful that they got to end that way [at JPJ]," Bennett said of his seniors, "but there's much more left."
 
This was the second time UVA and Louisville have clashed in less than a month. In the first, the Cardinals overcame a remarkable shooting exhibition by Woldetensae, who hit seven 3-pointers, and won 80-73 at the KFC Yum! Center.
 
In the rematch, Woldetensae made only one trey, but it gave the Hoos their largest lead, at 43-29, with 13:17 to play. For once, it seemed, UVA might have a victory in hand before the final minute. Also, that proved to be wishful thinking.
 
"Did you think it was going to end any other way?" Bennett said with a smile at his postgame press conference.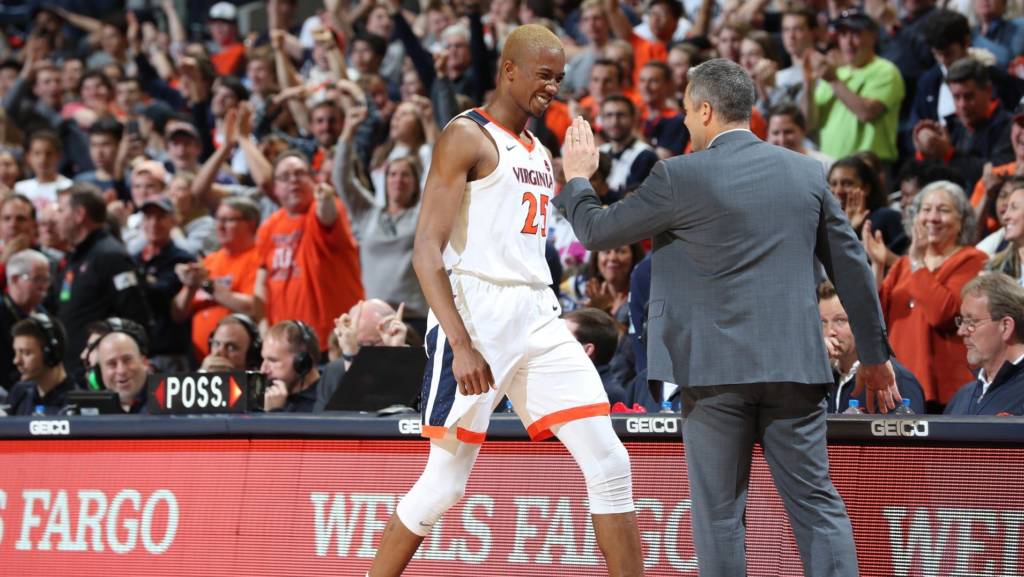 Mamadi Diakite (left) and Tony Bennett
The ACC's hottest team, UVA has prevailed by more than three points only once during this winning streak, in a 78-65 victory over Boston College at JPJ. The other seven wins have been by a combined 16 points.
 
"We were really close when we were losing, and we're still really close when we're winning," Bennett said. "We've just improved a little bit … I just think guys have just moved the needle a little bit, and it's been enough. We know what our lifeline is, trying to be as good as we can defensively, and we had good stretches of offense today."
 
The 7-1 Huff finished with 11 points, five rebounds and two blocked shots. The 6-8 Key contributed six points, seven boards and four assists. The 6-9 Diakite, a fifth-year senior, made his JPJ finale a memorable one, totaling 17 points, eight rebounds and two blocks.
 
"You could just see he did not want to be denied," Bennett said.
 
Diakite, a native of Guinea who graduated from the nearby Blue Ridge School, said he tried to approach the game as he would have any other.
 
"I knew our job wasn't done yet, and we had to come in against a big-caliber team and get it done," Diakite said. "I remember the last time we played them, we didn't execute really well, and I thought, and Coach also thought, we were lukewarm on defense at the beginning of the game. That cost us towards the end."
 
The Cavaliers' Pack Line defense had fewer breakdowns Saturday. For the game, Louisville shot only 37.3 percent from the floor.
 
"There were a couple lapses, but overall it was a well-played defensive game for us," Bennett said.
 
This is his 11th season at UVA, where his record is 277-96. The Cavaliers' record on Senior Day at JPJ under Bennett is 9-2.
 
Bennett said he thanked his departing seniors before and after practice Friday "for what they've meant to this program … And I said to them, 'As much as I'd love it if BC could [upset Florida State] and you could get a share of the ACC title, that doesn't take away what just transpired in terms of the effort you put out there, how you play and what you've done this year, and for your careers here."
 
Diakite said: "I don't think that was our best basketball game yet, but it was a really good one. We needed this. But we're going to keep evolving no matter what. The job is not done. We're going to turn the page and focus on resting our bodies and getting ready for the ACC tournament."
 
LITTLE BIG MAN: Clark was 2 for 3 from 3-point range Saturday. His second trey was the shot everyone who watched the game will remember, but also impressive was his field goal with 1:39 to play in the first half.
 
Clark, who's listed at 5-9, 163 pounds, backed down Louisville guard Ryan McMahon in the lane and then hit a fadeaway jumper over the 6-0, 185-pound fifth-year senior. 
 
"That made me smile," Bennett said. "I just looked at the bench and I was like, 'Wow.' That was impressive, and every basket was valuable. He kept his composure in there and then he created some space. We'll see if he's going to put out a teaching video on post moves or not, but that was pretty nice."
 
Clark, smiling, said: "I guess it's in my repertoire now."
 
Virginia was coming off a road win over the Miami Hurricanes. Clark sealed the victory for the Cavaliers with two late free throws in Coral Gables, but his decision-making wasn't always sound.
 
"I challenged him after the Miami game, and he responded the right way," Bennett said.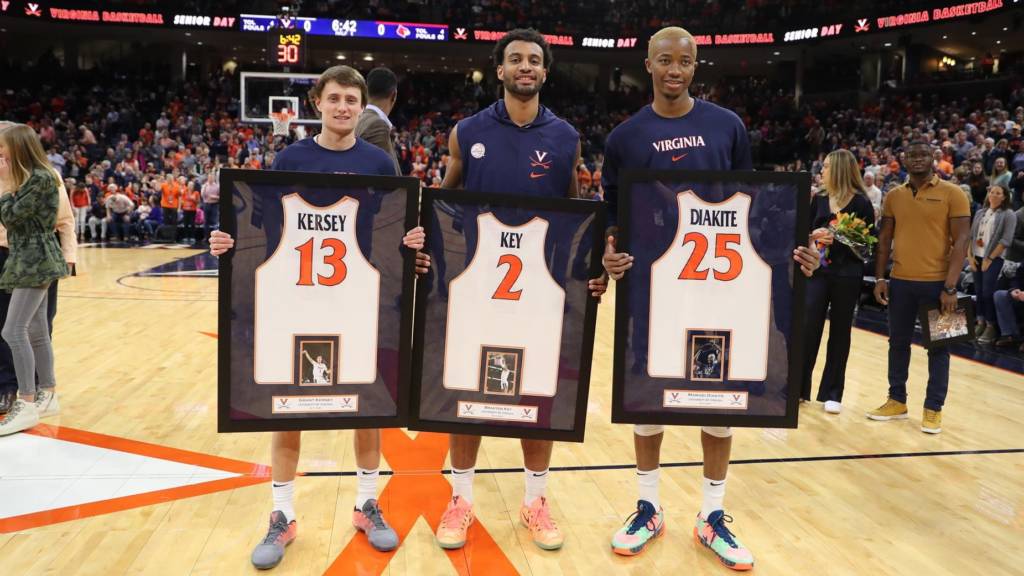 UVA seniors Grant Kersey, Braxton Key and Mamadi Diakite
 
SOUND BITES: The Cavaliers have won 10 of their past 11 games with the Cardinals and lead the series 16-5. Among the postgame comments Saturday night:
 
• Clark on his second 3-pointer: "We kind of just ran our play and took what they gave us. [Louisville guard David] Johnson was kind of worried about the drive, and he kind of backed off, and I had enough space to get off my shot and just shot it with confidence, and luckily it went in."
 
• Clark on his offensive mentality: "I'm trying to stay aggressive, and I know my role has progressed this year, and scoring a little more is part of my job."
 
• Huff on the Cavaliers' seniors: "That's the best sendoff we can give them, especially with a team like Louisville. We wanted to win for them to honor them and what they've done for the program."
 
• Bennett on Huff's development: "I like his maturation. He's been patient, like Braxton. He believes in his game and he works at it, and when you have success, you hopefully keep coming."
 
• Diakite, 23, who was in his first year when All-America guard Malcolm Brogdon was in his fifth year in the Cavaliers' program: "I'm old. I gotta get out."
 
• Huff on the pressure-packed final minutes of a close game: "We get down to that point, and it doesn't seem to faze us that much."
 
• Mack on the Cavaliers: "They've gotten so much better throughout the course of the season. They're playing their best basketball of the year."
 
* Mack on Clark: "I've seen it ever since he was in AAU in California. He's a floor general. He makes his mistakes, but he doesn't bow his head or he doesn't put his head down. He continues to play. He's got some moxie, that's for sure."