Subscribe to UVA Insider Articles | Jeff White on Twitter | Academic Affairs for UVA Athletics
By Jeff White (jwhite@virginia.edu)
VirginiaSports.com
 
CHARLOTTESVILLE –– In the final semester of Jay Aiello's fourth year at the University of Virginia, his courses this spring included International Finance and Macroeconomics. Taught by UVA professor Eric van Wincoop, the class met in Monroe Hall for the first six weeks of the semester.
 
Then came the COVID-19 pandemic. Starting March 19, UVA switched to online classes, and daily life changed dramatically for Aiello and his fellow students.
In van Wincoop's class, that "was definitely challenging, just trying to learn the material from him lecturing online to us, rather than actually being there in person," said Aiello, who'll graduate this month with a bachelor's degree in economics. "Instead of being there in person in a lecture hall, with no distractions, I'm in my apartment or wherever I am, trying to focus, with distractions left and right."
 
Aiello, an All-America wrestler, is one of the approximately 700 student-athletes who make up the 27 varsity teams at UVA, where final exams end this week. The Cavaliers' teams stopped practicing and competing in March, but the semester continued, and that posed new challenges for the athletics department's academic affairs unit.
 
No longer would student-athletes be able to meet face to face with their academic coordinators, tutors or mentors. Like their fellow UVA students, they would be relying heavily on Zoom meetings to exchange information, and most would be home with their families.
 
After a March 11 meeting at which UVA athletics director Carla Williams discussed the changes that were coming, "I immediately started working with my teams to figure out how we could transition every single service that we had to an online format," recalled Heather Downs, the department's director of academics.
 
"We jumped in with both feet really quickly," said T.J. Grams, academic coordinator for men's basketball, men's golf and, for part of the semester, baseball.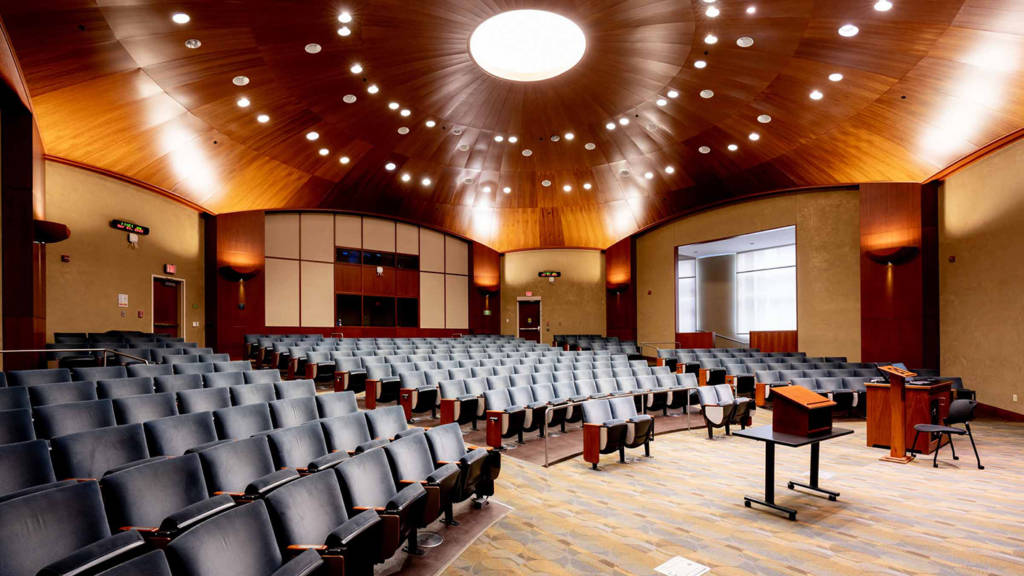 UVA classrooms were empty for the final weeks of the semester
Deputy athletics director Ted White said the department benefited from having spent the previous year revamping its academic support program.
 
"We had already put in place a support system for each student that included individualized tutoring and individualized academic mentoring, and individual meetings with their academic coordinator," White said. "So in one respect, we were able to get up and running really quickly and seamlessly, because we were able to just take those individualized appointments and turn them into Zoom appointments. They were already layered into [student-athletes'] class schedules and their practice schedules, so if a class stayed at the same time, their tutoring stayed at the same time. Everything just went online."
 
Department officials, White said, knew there would be a transition period in which they would "have to figure out which students are struggling for which resources, whether it's online access or the right laptop or connectivity, whatever it is. We kind of re-assembled the communication structure around academics, so that academic coordinators, who were normally in communication with tutors and mentors and students and faculty, would then send daily updates to the head coaches and the sport administrators on which students were struggling with which issues."
 
White said department leaders "made a conscious decision that we would really kind of narrow our focus to academics and allow student-athletes to focus almost solely on their academics through the rest of the semester. "
 
Challenges arose for students, faculty and the academic support staff during the transition to online learning, "but I'm really pleased to say that I think we did it without any gaps," Downs said. "And in some cases I think that our responsiveness was even better than in a normal semester. So if a student was having difficulty or if we got a report from a professor that a student wasn't showing up to a Zoom discussion or something like that, our responsiveness was so quick. We looped in the coaches immediately. In many instances we looped in parents, and so there were no gaps."
 
Student-athletes from outside the United States are not uncommon at UVA, and those who returned home this spring have encountered additional logistical hurdles. For example, three football players––Wayne Taulapapa, Samson Reed and Aaron Faumui––are home in Hawaii, which is six hours behind the East Coast. 
 
Pietro Bovari (men's golf) is home in Italy, which is six hours ahead of the East Coast. Kody Stattmann (men's basketball) is back in his native Australia, which is 14 hours ahead of the East Coast. 
 
Grams said he communicates with Bovari and Stattmann by Zoom, email, text message and WhatsApp. He's been meeting with Stattmann every Thursday at 9 p.m. Eastern, which is 11 a.m. Friday in Australia.
 
Another men's basketball player, Kihei Clark, is home in Los Angeles, which is three hours behind the East Coast.
 
"Kihei had a 9 a.m. [Eastern] Spanish class on Monday, Wednesday and Friday, and attendance is required," Grams said. "We worked with that teacher to have Kihei sit in with the noon Eastern section of the class. That's a great example of a teacher working with a student to be flexible."
 
Downs said UVA's coaches have been extremely supportive of the academic staff during this unprecedented period.
 
"I think that there was a strong emphasis from above, from Ted and from Carla, that we really have to make sure that there are no academic casualties in this and that all the priorities needed to be placed on the students' academic progress," Downs said. "While the rest of us worked out the details in the background, the students needed to focus on their academics.
 
"The other thing that I think really helped in our success was we prioritized meeting with every single student-athlete every single week. Our higher-need students met with their mentors every single day, but we didn't let anybody go without meeting. So even our fourth-years, even our higher-performing students, even our post-eligibility students, we were meeting with them and their academic coordinators every single week."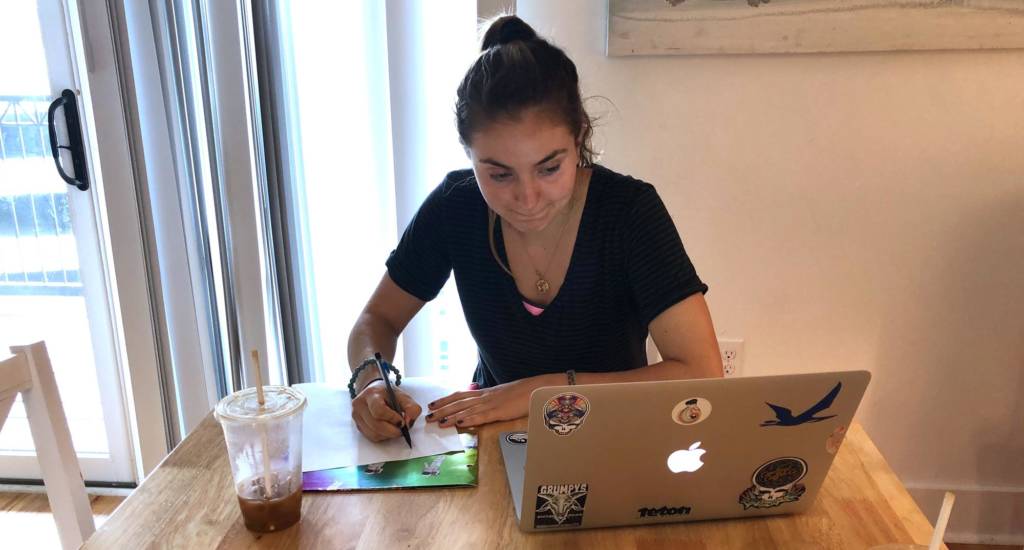 Women's lacrosse player Gwin Sinnott
 
Gwin Sinnott, a third-year student in UVA's School of Nursing, is a defender on the women's lacrosse team, whose academic coordinator is Katherine Lawrence.
 
"She's been awesome," Sinnott said. "Normally, if we were still at school I wouldn't meet with the academic advisors unless I needed to for some reason, but after we moved online, we started having weekly Zoom meetings with them, just in groups of maybe 10 to 12 girls from our team. We could ask any questions we had for the week or about any of the [changes at UVA]. So that was really helpful."
 
In a normal spring, Sinnott and her fellow third-year nursing students would have spent two days a week at the UVA Medical Center, shadowing and interacting with nurses.
 
Those clinicals provide "opportunities to learn something new or see something that you've never seen before, so we definitely missed out on that," Sinnott said. "But the nursing school did such a good job of being able to accommodate us in other ways. We did online simulations to kind of practice and talk through different scenarios, even though we weren't necessarily interacting with actual patients. We definitely missed that in-person experience that you normally get in clinical, but we made do."
 
Sinnott said she's tried to follow a schedule similar to the one she had on Grounds, with workouts taking the place of her team's afternoon practices. Aiello, one of three Cavaliers recognized this week by the National Wrestling Coaches Association for their academic prowess, is still living in Charlottesville. His routine didn't change much, either, after the switch to online classes.
 
"Pretty much my mornings all stay the same," Aiello said. "Wake up, have a little bit of quiet time, get my breakfast, coffee, go work out and come back [for classes]."
 
He'd work out again in the afternoon, and "then if I had anything to do, I'd get back to schoolwork that night," said Aiello, who's enrolling in the Professional Learner program in UVA's Curry School of Education and Human Development for 2020-21.
 
Like Aiello, Sinnott missed being in the classroom with other students.
 
"This pandemic has definitely made me realize how much I learn when I'm actually in close," she said. "I feel like when I'm online it's so much harder to focus and concentrate. And then for nursing classes, we do so much team work and group projects, so that was definitely much harder to do online. Nursing's a pretty small group of students, so I miss that community and just being in the nursing building and seeing my nursing friends and be able to walk to the next class with my friends."
 
The University has three sessions of summer school. The first and second start May 18 and June 15, respectively, and will be online. Returning football and basketball players will be enrolled in the second session. The third session starts July 13, and a decision has yet to be made on whether those classes will be online or on Grounds.
 
"I think we're equally prepared to do both at this point," Downs said.
 
White said: "We feel really good about the online nature of our support. Using Zoom for tutoring, mentoring and for the academic meetings, we've moved programming for summer online. Now that the semester is over, we're going to do some things virtually in community engagement and career preparation."
 
As a semester unlike any other winds down at UVA, the academic support unit deserves "a ton of credit" for its response to changes brought on by the pandemic, White said. "Obviously, the students do too, but the staff did a really good job of staying connected and making sure the students knew they were supported, especially when they were challenged by something."
 
Grams agreed. "I can't imagine another staff nationally being more engaged with the student population than ours."