Subscribe to UVA Insider Articles | Jeff White on Twitter
By Jeff White (jwhite@virginia.edu)
VirginiaSports.com
 
CHARLOTTESVILLE –– Pandemic or not, the grass keeps growing at Disharoon Park, Klöckner Stadium, Palmer Park, Scott Stadium, Lannigan Field and other athletics facilities at the University of Virginia. And so Jesse Pritchard and his crew continue to report to work on Grounds.
 
"We can't telecommute," said Pritchard, UVA Athletics' sports turf manager since 2005. "We can't work from home. We're taking care of a living, breathing organism that can die, and we've got a lot of money tied up in these assets, which are our fields for our student-athletes. So my staff and I have been in making sure that we maintain all of this stuff so it's ready [when college sports resume]."
 
Pritchard, Phillip Bathalon, Chris Pugh and Luke Rodgers have been working three days a week since late March. (John Titus is a part-time member of the grounds crew.)
 
"We take the best days of the week," Pritchard said. "On Saturday or Sunday, the guys and I have a conference call, and we'll discuss which days we want to work to use our time as efficiently as we can. That may be Wednesday-Thursday-Friday. It may be Monday-Tuesday-Wednesday. It just depends on the weather."
 
Pritchard and his staff are taking appropriate measures to stay safe during the COVID-19 pandemic.
 
"Everybody's got an individual cart, everybody's got an individual mower, everybody's got an individual weed eater," Pritchard said. "We are working on the same days, but we're not all sitting around the lunch-room table eating lunch together. So we're taking precautions. We're spraying things down with bleach water at the end of every shift."
 
College sports were effectively shut down on March 12. Four days later, the grounds crew "sprayed a chemical on all of our athletic fields to kill the rye grass out," Pritchard said. "We knew we weren't going to be playing at that point."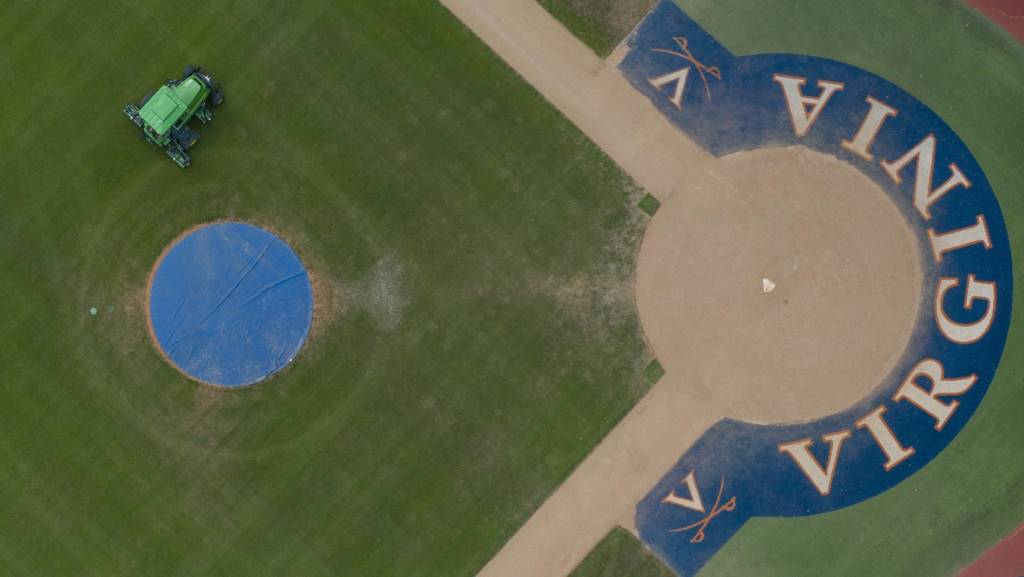 This is about the time each spring when the grounds crew starts transitioning from rye grass to Bermuda grass, Pritchard said. But with no practices or games since the middle of March, the timetable is different this year.
 
"Basically our fields have sat fairly dormant for the last eight, nine weeks," Pritchard said, "because that rye grass has slowly died out, and the Bermuda grass hasn't really come out yet, because it's been a very cool April and May."
 
With temperatures expected to rise into the 80s this weekend, the grounds crew is putting fertilizer down this week, Pritchard said. "And then starting next week, we'll start working full time and doing all the cultural practices––aerification, top-dressing, verticutting––on all the fields­­­ to really get them back into shape for when the students arrive back on Grounds."
 
On the site on which University Hall stood, two natural grass practice fields are being installed. They're scheduled to be completed this summer.
 
The grounds crew is responsible not only for the grass inside the venues, but the landscaping in the common areas around the facilities, Pritchard said. It stores its equipment at Disharoon Park and Scott Stadium and soon will have a space at Palmer Park, too.
Pritchard has a bachelor's degree in ornamental horticulture and landscape design from the University of Tennessee, with an emphasis on turf management. When he started that program, Pritchard said in a VirginiaSports.com podcast last September, "I didn't know if I was going to do golf courses, I didn't know if I was going to do sports fields. But I painted that end zone in Neyland Stadium for the first time, and I just looked up and saw 108,000 people on game day, and that was it. I was doing sports."
 
For Pritchard and his crew, their responsibilities this spring haven't changed much, but the environment in which they work is different.
 
"What's really weird is to drive in here on a Saturday at 1 o'clock, when we should have a lacrosse game, a track meet, a spring football game, and a baseball game all going on at the same time, and it's crickets" Pritchard said. "That's really the biggest change for us. Our work is very event-driven, so without the events, we're maintaining, but we would normally be working 60 hours a week, 65 hours a week, throughout March and April and the first part of May."
 
He laughed. "It's been interesting. I now know what it's like to have a weekend in the spring to do things with my kids."
 
With UVA Athletics' grass fields experiencing little wear and tear for the past two months, the grounds crew will "have much less to repair over the summer," Pritchard said.
 
"Having a two-grass system like we do, with Bermuda grass and then winter rye grass, they compete with each other. So normally I'd be fertilizing the heck out of the rye grass right now, making it super green and beautiful. But what that does is, it steals light, water, nutrients from the Bermuda grass. So until I kill the rye grass out in late May or early June on all the fields, the Bermuda grass really struggles.
 
"Now, with us having the ability to spray that rye grass out and kill it super early before it matured, our Bermuda grass is much healthier than normal."
 
UVA's football team was scheduled to start spring practice in late March and would have practiced periodically at Scott Stadium. With no practices, the field is "going to be in better shape for the summer," Pritchard said. "Ordinarily we'd be installing 6,000, 7,000, 10,000 square feet of sod this time of year, and we may need to sod 10 square feet, and that's it.
 
"In that way, it makes the job a little easier. But my job is to provide a field for student-athletes to play on, so I'd like for the fields to be used and appreciated, rather than just sit there vacant."