CHARLOTTESVILLE, Va. – A runner-up finish at the NCAA College Cup by men's soccer and football's Orange Bowl berth highlighted Virginia's 2019-20 athletics' season that was cut short due to the coronavirus pandemic.
In addition, UVA won two Atlantic Coast Championships and field hockey advanced to the NCAA Semifinals for the first time since 2010 (fifth overall).
The Cavaliers made their 13th appearance at the NCAA Men's College Cup, extended the nation's longest active NCAA Tournament streak to 39 consecutive years and made its 41st overall appearance (fourth most in college soccer).
Football claimed its first ACC Coastal Division title, participated in its first New Year's Six bowl game (Orange Bowl) and won nine or more games for the eighth time in school history. The Cavaliers regained the Commonwealth Cup by defeating Virginia Tech.
UVA captured two ACC championships and its 83 conference titles since the spring of 2002 are the most of any ACC school during that time. In 2019-20, UVA won ACC championships in men's soccer (16th overall) and women's swimming (16th championship in program history and 11th title since 2008).
Men's Basketball won 23 or more games for the eighth consecutive season and finished the season on an eight-game winning streak. Men's cross country won the NCAA Southeast Regional title and advanced to the NCAA Championships for the seventh time in eight years. Women's soccer advanced to its 26th consecutive NCAA Tournament and 32nd overall (2nd longest in the nation in both categories).
Individually, Paige Madden (Mobile, Ala.) was named ACC Swimmer of the Year, while women's tennis player Natasha Subhash (Fairfax, Va.) was named ITA National Rookie of the Year and Chris Newell (Newtown Square, Pa.) was named the Collegiate Baseball Newspaper National co-Freshman of the Year. Wrestler Jay Aiello (Chantilly, Va.) claimed the ACC title at 197 pounds and six wrestlers were selected to the NCAA Championships. Bryce Perkins (Queen Creek, Ariz.) repeated as the winner of the Dudley Award presented to the state's top FBS player and Jocelyn Willoughby (East Orange, N.J.) was a first round draft pick in the 2020 WNBA Draft.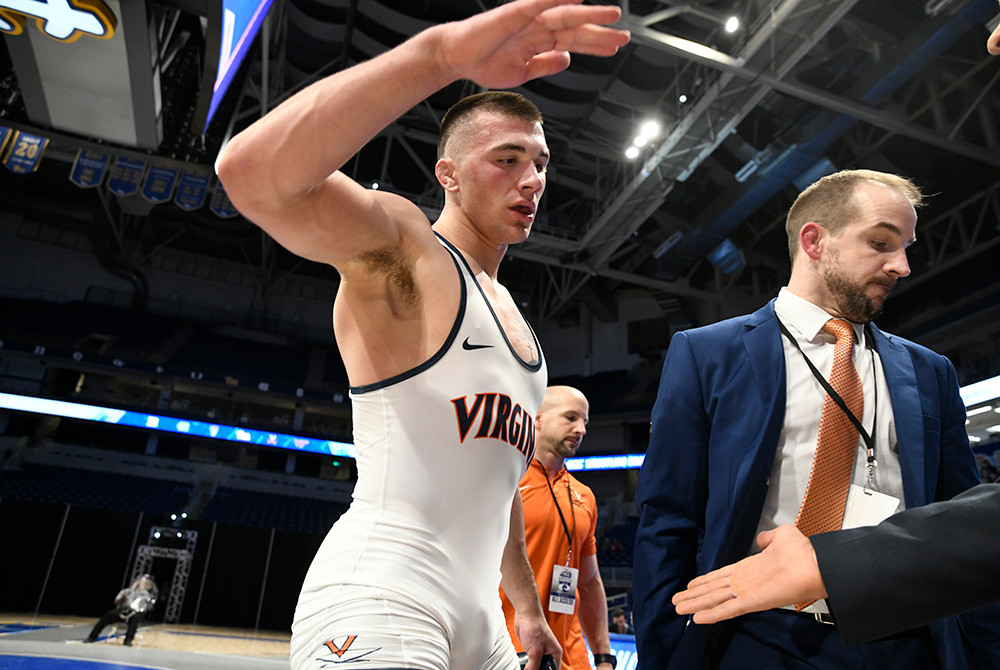 The Cavalier softball program celebrated the opening of Palmer Park; the state-of-the-art facility is the first UVA athletics competition site named for a former female student-athlete. On July 1, Birdwood Golf Course, redesigned by Davis Love, reopened to the public.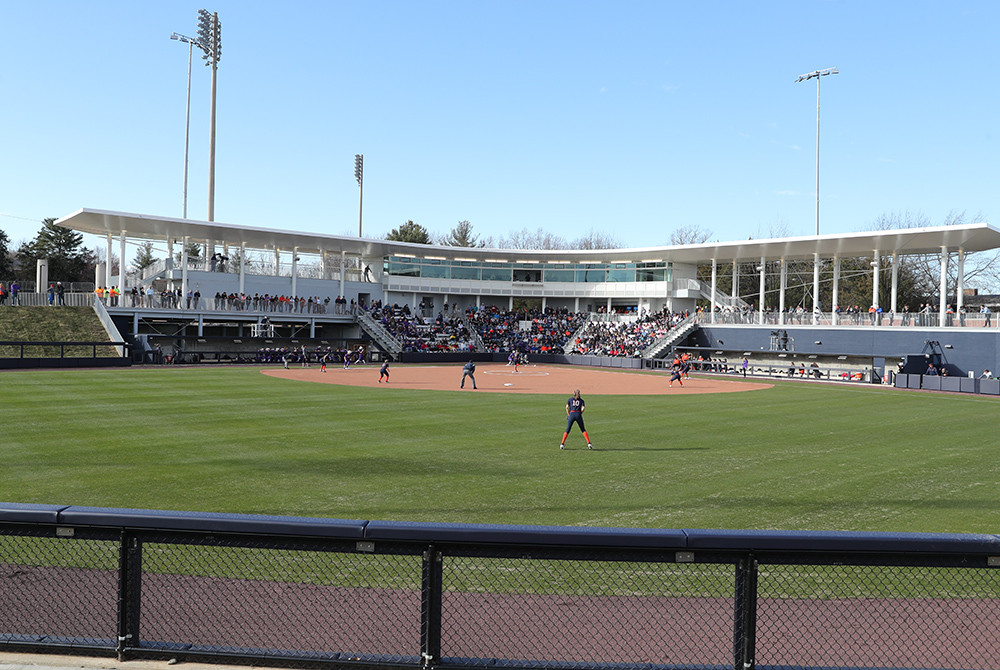 Academically, Joe Bell (men's soccer), Jordan Mack (football), Rachel Robinson (field hockey), Madden and Willoughby earned ACC Scholar-Athlete of the Year honors. Sammy Mueller (women's lacrosse), Carl Soderlund (men's tennis), Ted Schubert (men's swimming), Meghan McCool (women's soccer), Madden and Willoughby earned CoSIDA Academic All-America accolades. The athletics department achieved its highest Graduation Success Rate (94 percent) as a record total of 497 UVA student-athletes were named to the ACC Honor Roll for registering a grade point average of 3.0 or better for the full academic year.
Additional Virginia's 2019-20 athletics highlights:
• Virginia's intercollegiate athletics teams won 68.3 percent of their contests in 2019-20. UVA's teams compiled an overall record of 218-110-4.
• Men's squash won the Mid-Atlantic Squash Conference Championship
• Men's squash (No. 5) and women's squash (No. 9) recorded its highest postseason finishes
• Tony Bennett was named USBWA District 3 Coach of the Year
• Todd DeSorbo (women's swimming) earned ACC Coach of the Year honors
• Vin Lananna was named the USTFCCCA Southeast Region Men's Coach of the Year
• Bronco Mendenhall was named Bobby Ross Coach of the Year by the Touchdown Club of Richmond
• Carla Williams was named Women Leaders in College Sports 2019 Administrator of the Year for all NCAA Division I FBS athletics programs
• Baseball, softball, men's and women's lacrosse, men's and women's golf, men's and women's tennis, outdoor men's and women's track and field and rowing seasons and/or postseasons were canceled due to the coronavirus
• Quarterback Bryce Perkins repeated as the Dudley Award Winner, presented to the Commonwealth's top FBS-level player.
Academics:
• Four UVA sports programs (men's golf, women's golf, women's lacrosse, women's swimming & diving) were recognized by the NCAA with Public Recognition for academic excellence after scoring in the top 10 percent of their sport's Academic Progress Rates
• Joe Bell was named the United Soccer Coaches Scholar Player of the Year
• Jordan Mack (football), Zoe Morse (women's soccer) and Carl Söderlund (men's tennis) received Weaver-James-Corrigan postgraduate scholarships from the ACC
• Jocelyn Willoughby (women's basketball) and Ted Schubert (men's swimming) received postgraduate scholarships from the NCAA
• UVA had 77 student-athletes named to ACC All-Academic teams
EDITOR'S NOTE: During this time of non-competition, UVA athletics will be posting frequently on VirginiaSports.com to keep you up to date with the happenings, experiences and thoughts of our student-athletes, coaches, staff and alumni. We encourage Wahoo fans to share these links on your social media accounts for others to enjoy. We also suggest you follow the University's website – news.virginia.edu – for more stories and information. #GoHoos