By Jeff White (jwhite@virginia.edu)
VirginiaSports.comhttps://virginiasports.com/staff/carla-williams/

CHARLOTTESVILLE –– This is an unprecedented time for college athletics, as Carla Williams knows well. She's steering the University of Virginia athletics department as it navigates the COVID-19 pandemic that shut down college sports in March.
Williams has been working closely with University president Jim Ryan and many others at the state and local levels to determine when and if UVA teams will be able to compete in 2020-21. Head football coach Bronco Mendenhall's players returned to Grounds last weekend, and the student-athletes from Virginia's other fall teams are scheduled to return later this month.
In a Zoom conversation with VirginiaSports.com, Williams addressed numerous topics, including the pandemic's effect on her department and the status of the Master Plan. The interview follows:
The pandemic has changed life as we know it in the United States. What have the past four months been like for you personally and professionally?
Williams: "Personally, it's been a roller coaster because of all the uncertainty. When you have children and there's what feels like a national emergency, you want to put your hands on them, you want to see them. We were able to do that, and we're so thankful that all three of our children are healthy and safe. So that part of it was scary, because the environment just changes so often and there's so much uncertainty. I just decided I couldn't worry about it every minute of the day. I still worry about it, but not every minute of the day. So we talk a lot by phone with our [two] daughters. Our son is great. He's doing fine and is healthy and working out a little bit, getting ready for high school football. And my husband's been as busy as me on Zoom calls and meetings and what not. We're thankful that we're healthy and don't have any issue right now, and hopefully we won't have any.
"Professionally, none of us athletic directors or commissioners or administrators or coaches have ever experienced anything like this. But when you have had challenges and adversity in your career, those times have really helped me. I've moved around, having been at Georgia twice and Vanderbilt and Florida State, and when you do that you experience a lot of different things, a lot of different challenges, challenges that are unique to certain places, and you meet new coaches and student-athletes and you have an opportunity to experience different things and learn from different people. I feel prepared for this challenge. Even with all of the uncertainty and all of the unknowns, I'm very fortunate, because we've got great coaches, and we've got a great staff, and everyone's pulled together and kind of risen to the challenge. That part has been fun, just watching people grow and mature. And then for me, just being able to be forced to think differently and to think about different things, to think about the unusual, that's been exciting, too."
In addition to the pandemic, the U.S. has been grappling with social unrest in recent months. This is a unique time in the nation's history. How you have processed all this?
Williams: "People will sometimes say to me, 'There's so much going on. It's so much. There's too much going on at one time.' I really don't look at it that way. I look at everything that's happening­­––the pandemic, the social-justice movement, us trying to figure out how to return to sports, the [COVID-19] numbers going in the wrong direction––and I believe that things happen for a reason. They're all happening at the same time for a reason.
"We were separated physically from our student-athletes, and we were forced to use Zoom, we were forced to use technology to connect, and we were doing that. And then everything else happened in our community, in our country, related to social justice, and it gave us another opportunity to have even more meaningful connections to our student-athletes. This situation was primed for there to be a disconnect between coaches, staff, administrators, student-athletes, but ironically because of everything that's happened [recently], we're actually closer, I believe. There's been more interaction and more connection, more substantive conversations, which I think has been really helpful."
There's been extensive collaboration among ACC schools, administrators and coaches as they try to deal with the challenges brought on by the pandemic. How do you think that's gone?
Williams: "I think it's been great. We've been meeting twice a week as athletic directors for the conference, and then we've got several subcommittees. In actuality, I'm probably meeting daily with another athletic director in the conference. I love people-watching, and I love to see how people respond to adversity. It's been a lot of fun watching leaders step up to the plate and respond during times of adversity. It's been challenging for all of us, because we're trying to do what's best for the conference, and we're also trying to do what's best for our individual schools and our student-athletes, and then we're also obviously mindful of what the NCAA's role is in all of this. I love to learn, and it's been a learning process for me just to be able to watch and give input and be a part of figuring out what to do during a pandemic with college athletics."
Members of the football team returned to Grounds last Sunday. How much have you leaned on the UVA Health System in determining a schedule for the return of student-athletes?
Williams: "The UVA Health System has been phenomenal. Our doctors have been amazing, and we have been meeting basically daily for several months, planning to return and trying to get a protocol in place and trying to determine when we should return. And I could just go on and on. Doctor [John] MacKnight, Kelli Pugh, Ethan Saliba, Mitch Rosner, Pat Lampkin, J.J. Davis, Liz Magill. There have been so many people from the University [involved], and it's been a total team effort, because it had to be. When you're dealing with a public health issue and the University is closed, returning to athletics during something like that has to be a total team effort [involving] a lot of people from the University, from the UVA Health System, from the Virginia Department of Health. We've been working with so many different people in the Commonwealth to be able to start to return to sports. And I can't say enough about our sports medicine staff and the work that they've done to plan, to put policies in place and protocols in place. And then to see those executed, starting on Monday, was amazing."
How have UVA student-athletes been involved in establishing some of these protocols and guidelines? What are their thoughts on competing in 2020-21?
Williams: "The ACC asked us to nominate reps from men's basketball, women's basketball, football and the Olympic sports, so that the conference could [hear from] all of those student-athletes from those different teams to get their feedback about returning. The conference did a really good job of pulling the student-athletes together and getting their feedback and then sharing that feedback with us. I met with our fall student-athletes beforehand, so they had a good understanding of what we were thinking as an institution.
"So that was really good, and we've been meeting with the student-athletes on a regular basis. I've met with several of our student-athlete groups, and [UVA athletics administrators] Ted White and Jess Wilk meet with them on a regular basis to keep them informed. They are excited to come back, they are excited to be with their teammates and coaches and doing something that's familiar to them, but they also are asking the right questions about their safety and testing, which is really encouraging. We want our student-athletes to be inquisitive about their own health and well-being, and they have been. The football players are excited to be back on Grounds. The coaches are excited to have them back. I was there on Monday when they were doing the testing, and you could just feel the buzz and excitement in the air. There's a nervousness, too, because there are just so many unknowns. Everybody feels good about football and what needs to happen with football, but there are unknowns related to the virus that cause consternation."
How much communication have you had with the parents of UVA student-athletes? What's the response from them been?
Williams: "Communicating with the student-athletes and their parents is really important during times like this when there's a public health crisis. Bronco and I met with the football team [one] night, and then the next night we met with their parents over Zoom, to talk through everything and give the parents an opportunity to ask questions. Bronco and I are both big believers in transparency, and the parents told us they were very thankful for the information, the openness, the transparency.
"When you're a parent and there's a public health issue that could impact your child, you want information, even though you know there are things that you can't control. You want to know what the plan is. We just felt like it was very important to make sure the parents were informed. We've had a meeting with student-athletes and parents for every fall sport. We've made sure that the parents had every opportunity to ask questions so that they could be as informed as we are, because things have been changing so quickly."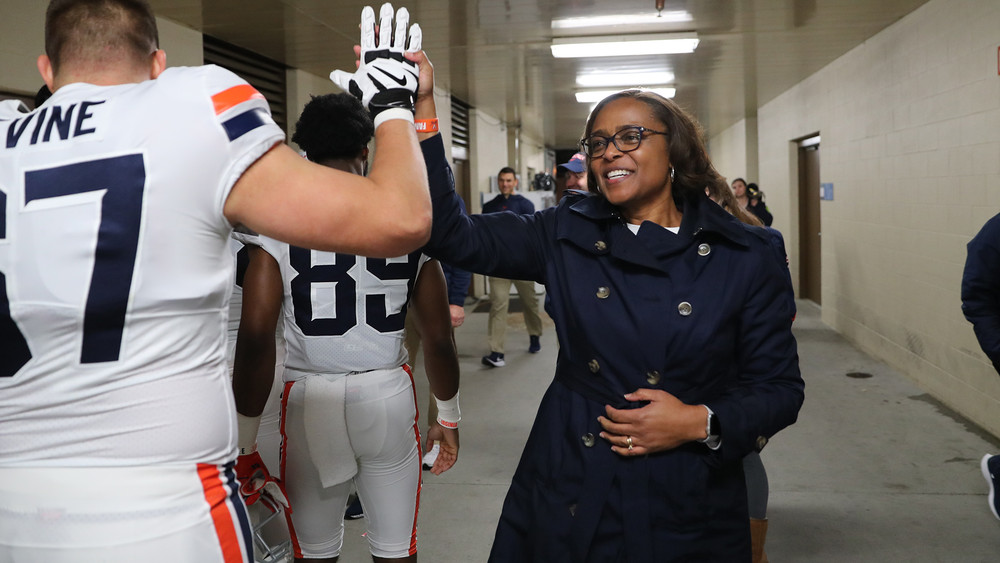 The athletics department is releasing testing numbers for COVID-19, which is something a lot of schools aren't doing at this time. What went into your decision to be transparent with the testing results, and what was Coach Mendenhall's input?
Williams: "Bronco and I talk almost every day, and both of us felt like it was really important be transparent. We just think it's in the best interest of public health to have information. We just want the best possible opportunity to compete, and if we're going to give it a try, we want to be able to give it our best effort. Having information is better than not having information. So we felt like it was important for the overall success of college athletics, even if we aren't getting all of the information in our industry, for us to be transparent and to release the numbers, so that health professionals would know and folks in college athletics that are making policy decisions would know as well."
The ACC announced this week that fall sports would not start before September 1 and that the schedules for fall teams in Olympic sports would not include scrimmages or exhibitions. What are your thoughts on this approach?
Williams: "It's the right move. We're just not ready to compete in August. We are being very cautious about the health and safety of our student-athletes, which is why football did not return [at UVA] until July 5. It is absolutely the right thing to do, and I think we know more every day. I'm certain that over the next week to 10 days we'll know a whole lot more. There's no need to rush into competition in August. A lot of those teams aren't even back on their campuses yet."
What has been the pandemic's financial impact on the athletics department? What measures have you put in place to help offset lost revenue?
Williams: "There's still no final word on what's going to happen with football, so we're anticipating anywhere from a 15- to 30-percent shortfall, and that's if we have an uninterrupted football and basketball season. In anticipation of that, knowing we were on the heels of not having March Madness, we've implemented several cost-containment measures. We cut our budget by 10 percent. Every head coach and employee making above $100,000 opted in to take a voluntary pay cut, and there were several employees below that threshold that volunteered to take a pay cut. This is why I love this place. It's just remarkable. You just don't see stuff like that. I'm very thankful for the team effort and the team approach that everyone has taken. We've been very, very careful with the budget, because of the uncertainty. We'll know more over the next few weeks, because if we're not able to play the fall sports, or fall sports somehow get pushed to spring, then, as you can see around the country, a lot of schools have had to take some drastic measures. As someone who loves college athletes, it's sad for me, because I love the opportunities that college athletics provides for student-athletes. Seeing what's happening is really, really tough."
The department has launched the 4TheHoos program, through which fans can support UVA's athletics programs with contributions that help with operational expenses. What's the reaction been to this initiative?
Williams: "We've gotten a lot of positive feedback, because I think everyone realizes this is a really tough situation for athletic departments, for universities, and so we've tried to be as creative as possible to give fans the opportunity to do what they normally do in supporting our teams and buying tickets. We want to make sure that we communicate to our fans that even if we aren't able to play, we want to give you these options where you can still help our programs. Ticket revenue is obviously a big part of our operating budget. Without that, we know there's going to be a significant shortfall. I've had a lot of great feedback from our supporters and season ticket holders that want to do something to help us."
What's the status of the Master Plan, and will it have to be modified because of the pandemic?
Williams: "The support [from donors] has been tremendous, because it allowed us to do Phase 1, which will be complete here in August. That's the two natural-grass practice fields and lights. That'll be really huge for the [football] team as they go into fall camp in August, to have that in place. We prioritized that, because that's what our team needed, and the support allowed us to do that.
"The timing is really perfect, because as we are designing the buildings [for Phases 2 and 3], we're doing that knowing that our economy has taken a hit because of the pandemic. We are taking a really close look at the scope of Phase 2 and Phase 3. Those are the facilities: the football operations center and the Olympic sports operations center. We are recalibrating the scope for Phase 2 and 3, the rest of the Master Plan. We should have those designs finished by the fall. I'm looking forward to being able to share those with our donors, so they can see what that looks like moving forward, and hopefully we'll be able to get it done, because we have adjusted the scope in consideration for our environment right now."
UVA came out of the fall in sixth place in the Directors' Cup competition. Were you pleased with the way things were trending competitively before the pandemic shut things down?
Williams: "Absolutely. That's why it was so crushing, because I believe in my heart that women's swimming and diving was going to win a national championship. I believe [wrestler] Jack Mueller was going to win a national championship. You know how hard those kids work, so when they didn't get to go, having to see them and tell them and talk to the coaches about it was really, really tough. Track was at their NCAA [indoor championships site] practicing, and we had to bring them back home. We had done well at ACCs indoor, and I knew we were going to do well at NCAAs, too.
"I know we were going to have a great winter championship season. Men's basketball was hitting the right stride going into postseason, and there was a lot of excitement for the [NCAA] tournament and for the ACC tournament. We were peaking when you want to peak. I think that was going to be a special postseason for men's basketball too.
"Then in the spring, it would have been fun to see what men's lacrosse could have done. Women's lacrosse was looking forward to a special year. And talking to [head baseball coach] Brian O'Connor about this season for baseball, he was really excited about where we were headed. I think we were primed to have a great finish to our winter sports and primed to have a great spring season, but it didn't happen."
You're no longer the only African-American woman who's AD at a Power 5 school. What are your thoughts on Vanderbilt's hire of your friend and former colleague Candice Storey Lee?
Williams: "I recruited Candice when I was [an assistant basketball] coach at Georgia. That's how long I've known Candice. She was a great high school player. Just super smart. Great personality. She chose Vanderbilt, and then when I ended up going to Vanderbilt [as an administrator], she was still there finishing up her career and going to graduate school and working in the athletic department. So I've known Candice for 20 years as a colleague …  She's just doing a phenomenal job. I'm very happy for her, very proud of her, and she's worked really hard to earn the opportunity that she has."
Any closing thoughts?
Williams: "President Ryan is awesome. I love working with him. I love learning from him, being a part of his direct reports and senior management team for the University. Having the opportunity to see him in action, and knowing how much he loves and cares about athletics, is very encouraging, especially during times like this, when there are so many challenges across the country: not just in athletic departments, but for universities in general. When I talk about my excitement for watching leaders during times of adversity, he's one of them."