Fans First Ticket Program | 4TheHoos Initiative | UVA Athletics Master Plan | Jeff White on Twitter | UVA Athletics on Twitter | Subscribe to Jeff White's Articles
By Jeff White (jwhite@virginia.edu)
VirginiaSports.com
CHARLOTTESVILLE –– Students are back on Grounds at the University of Virginia, and athletics competition will begin this week. Amid all this activity, the COVID-19 pandemic continues, and University leaders, including Carla Williams, are dealing with unprecedented challenges.
Williams, who was hired as UVA's director of athletics in the fall of 2017, oversees a department with 27 varsity teams. In a recent Zoom conversation, she addressed a variety of topics, including the status of the department's Master Plan. The interview follows.
Football returned to Grounds in early July, and other teams came back in the weeks that followed. What are your thoughts on how the summer went for the student-athletes who were training in town? Were they as committed to following the athletic department's COVID-19 protocols as you hoped?
Williams: "The teams that were here this summer, starting with football arriving July 5, were phenomenal. The student-athletes bought in and followed the safety protocols. The coaches did an exceptional job of making sure the expectations were clear, and our numbers show the student-athletes, the staff and the coaches did an amazing job this summer. But the summer is over."
During the summer, the department's testing for COVID-19 produced only a handful of positive results. Now that more of the student body is back in Charlottesville and your teams are no longer as isolated, what challenges does that present for the department?
Williams: "It's a new set of challenges that we anticipated, and so we spent the summer trying to create a regimen of the safety protocols for the student-athletes, so it will be more of a normal part of their day, not something that they'd even have to think about. Wearing masks, social distancing, hand washing, we wanted to create an environment to where that became normal for them, so when they had to re-enter the regular environment with other students, it would be a habit for them. That was our goal. We hope that is happening, because we understand there are many challenges whenever you introduce more people into the environment."
Three of the Power 5 conferences––the ACC, the SEC, and the Big 12––are planning to play football in the fall. What would it mean for the department, and for the ACC, to be able to get in a full season?
Williams: "Things are so dynamic that I can't even think that far ahead. We are prepared to pivot and prepared to change and adjust as the environment dictates. We certainly hope we have an uninterrupted fall season. Given the numbers nationally and the projections nationally, we know the chances of having an uninterrupted football season are growing smaller. So our hope is to be able to compete in an environment that is safe for our student-athletes as long as we can to give them an opportunity to participate, and we are fully prepared to alter it."
Bronco Mendenhall has said he's conflicted about whether the team should be playing, but because the players want to be coached by the staff, he is committed to that effort. Are you torn, too?
Williams: "Absolutely. Regardless of which question you ask, none of them are easy. And so the struggle has been, how do we manage safety for young people who want to compete? We have erred on the side of caution and been very conservative with our safety protocols to give us the best chance to compete safely. This is a new chapter, and there are variables that we cannot control that have been introduced into the equation. And so we have to be prepared to change because of those variables that are out of our control."
The NCAA recently announced that student-athletes who compete in the fall will retain that year of eligibility. What are your thoughts on that action?
Williams: "I think that during times like these, with so much uncertainty, it's important to try to make decisions that are student-athlete friendly, but decisions that don't compromise the entire system. Yes, I think the ability for student-athletes to rest assured that they will not lose this year of eligibility is important, because there's so much uncertainty about whether or not we can actually play. Given the circumstances I think it was the right call and I support it, and we'll just have to see how things shake out at the end of the year."
What are your thoughts on fall teams possibly competing for ACC titles during a traditional season and then resuming in the spring to compete for NCAA championships?
Williams: "I like the idea of having flexibility, and in the absence of certainty we need flexibility. And so these new exceptions give us that. We don't know where we'll end up, but at least we have flexibility."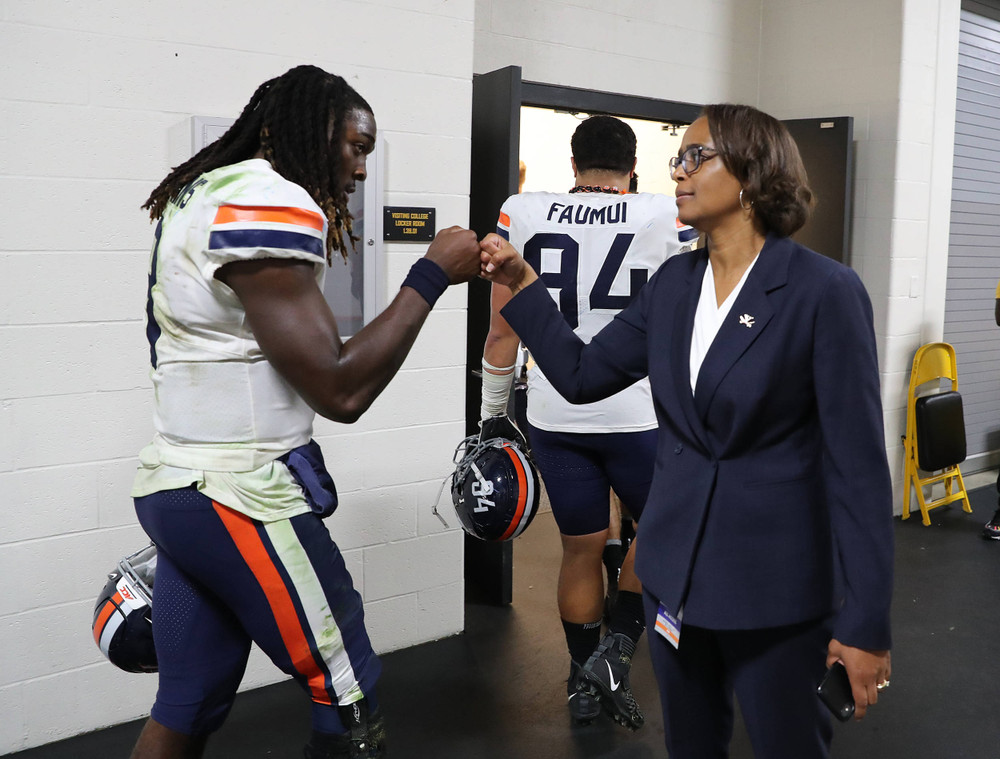 There has been a lot of discussion about creating bubbles for college basketball teams to compete in. Obviously, these would not be the same as the NBA's set-up in Orlando. Do you think this could be a viable option for college basketball?
Williams: "Thus far, it looks like the NBA and the WNBA have done a phenomenal job of being able to compete in a bubble. I don't know if you can play basketball without having that type of bubble, and we don't have it in collegiate sports. We'd have to create that, and that is unique. There is a professional bubble, and there is a collegiate bubble, and the WNBA and the NBA have shown us that their professional bubbles work, but there are elements of that, obviously, that wouldn't work for college students. And so we're just starting to have conversations now, as a conference, about how to create something that might allow basketball to play."
What message do you have for the fans who will not be able to attend games in person this fall if the state's attendance guidelines remain in place?
Williams: "We're doing our best to try to keep everyone as safe as possible, and part of that is following the state guidelines. Our fans are the best and it will be difficult not having that incredible atmosphere in our venues. If we aren't able to have more than the 1,000-fan maximum, then it becomes critically important for our fans to continue to support our sports programs. The anticipated loss of ticket revenue is what led us to create the Fans First Ticket program and 4TheHoos. We've never seen anything like this and we need help maintaining what has become one of the nation's elite programs.
A number of Power 5 schools have projected a large revenue loss for the fall. If UVA's teams can compete this fall but attendance stays at very low levels, what will the economic impact be for the department?
Williams: "It is significant right now and we anticipate it will become even more pronounced. The impact is evident and we are seeing the results in athletic departments around the country at every level."
How much feedback have you received from parents of student-athletes as their children have returned to Grounds? How do you go about keeping them up to date on new developments?
Williams: "Our sports medicine staff, administrators and coaches had meetings with each team to talk through the safety protocols before they arrived on Grounds, and the parents were invited to participate in those calls. We've worked really hard to be open and transparent with our parents and student-athletes.
Phase 1 of the Master Plan––the two natural-grass practice fields and lights–––was completed before the start of the football team's training camp last month, and it's really changed that area for the better. What impact do you think this facility upgrade could have for Coach Mendenhall's program?
Williams: "The Master Plan is transformational for our entire department. Having natural grass to practice on every day reduces the occurrence of injuries and allows our student-athletes to practice on the surface they're going to play on. It also sends a message to our student-athletes that we care about their health, safety and well-being. That's why Phase I was a priority."
You mentioned when we spoke in early July that, because of the pandemic, the department might be adjusting the scope of Phases 2 and 3 of the Master Plan, which are the football operations center and the Olympic sports operations center. Any updates on those projects?
Williams: "We are going through schematic design right now, which will include a reduction in scope for the Master Plan. Even with the reduction, the project will still be transformational for Virginia Athletics, because it will impact all 27 sports."
The football team has launched the Take Back the Grounds and GroundsKeepers initiatives, and other UVA student-athletes are also working to promote social justice and racial equality. What are your thoughts on the way student-athletes are taking on leadership roles outside their sports?
Williams: "Part of the mission of the University is to create citizen-leaders, and one of the things that's really important to us is to help develop scholar-athletes who are leaders. We want to support them in their efforts however we can. We have programming in place, and we are connecting them with content experts in whatever areas they are passionate about, to help best develop their leadership skills. It's really important to the University to develop leaders, and we want to make sure our student-athletes are fully prepared and educated to the best of our abilities to do that really well."
Anything you'd like to add?
Williams: "I want to thank our donors and supporters. We've had a challenging six months, but we've been able to complete Phase I of the Master Plan, and it was a much-needed ray of hope in the middle of a pandemic for our student-athletes and our coaches, and that's thanks to our donors. We have also been leaders in the fight against our most formidable opponent. This summer's low positivity rate within Athletics is a testament to our coaches, student-athletes and staff. Our supporters give us a chance to stay in the fight."