2020-21 Prospectus | UVA Men's Basketball on Twitter |  Jeff White on Twitter
By Jeff White (jwhite@virginia.edu)
VirginiaSports.com
CHARLOTTESVILLE –– Long before he enrolled at the University of Virginia in June 2016, Ty Jerome began following his future basketball program from afar. After he committed to the Cavaliers in September 2014, Jerome saw on social media that several of head coach Tony Bennett's players were working with a local basketball trainer, and he was intrigued.
And so in June 2015, at the end of his junior year at Iona Prep in New York, Jerome sent a direct message to Damin Altizer and introduced himself. He'd be coming down to Charlottesville for a weekend visit, Jerome told Altizer, and wondered if they could work out together.
"When I first messaged him, I didn't even know he was a UVA guy," recalled Jerome, who now plays for the NBA's Phoenix Suns.
Jerome later learned that Altizer was a UVA alumnus with ties to the basketball program. After a stellar career at Bath County High School, Altizer had enrolled at UVA in 2005. A year later, John Paul Jones Arena opened, and Altizer joined then-head coach Dave Leitao's program as a walk-on.
"For better or worse, it wasn't a positive experience," Altizer said, and he left the team after the 2006-07 season. But he never lost his passion for hoops, and he's now the head boys coach at St. Anne's-Belfield School in Charlottesville.
He's also the founder and CEO of DR1VEN Training in Charlottesville and works with such former UVA standouts as Jerome, Devon Hall, De'Andre Hunter, London Perrantes and Justin Anderson when they come back to town.
"I love how he sees the game," Jerome said. "I love how he specializes each workout for the player's needs. He understood my game. He understood what I wanted to get better at. We would communicate about it. We would watch film together. It was a bigger than just a workout, and we became really close."
Hall has had a similar experience.
"Damin is so honed in on wanting to get guys better," said Hall, who played in 11 games for the NBA's Oklahoma Thunder in 2019-20 and recently signed with the Brose Bamberg club in Germany.
"He's so meticulous. I've sat down with him in JPJ's film room and watched film of NBA guys with him. When we get into working out, he'll say, 'What do you want to get better at? What do you want to focus on?' And then you do that stuff at game speed, so when you get into the game it's like, 'All right, I've done this a million times. This is going to be easy.' He's always giving you some form of challenge or adversity during your workout, to where it's not going to be that hard when you get into the game."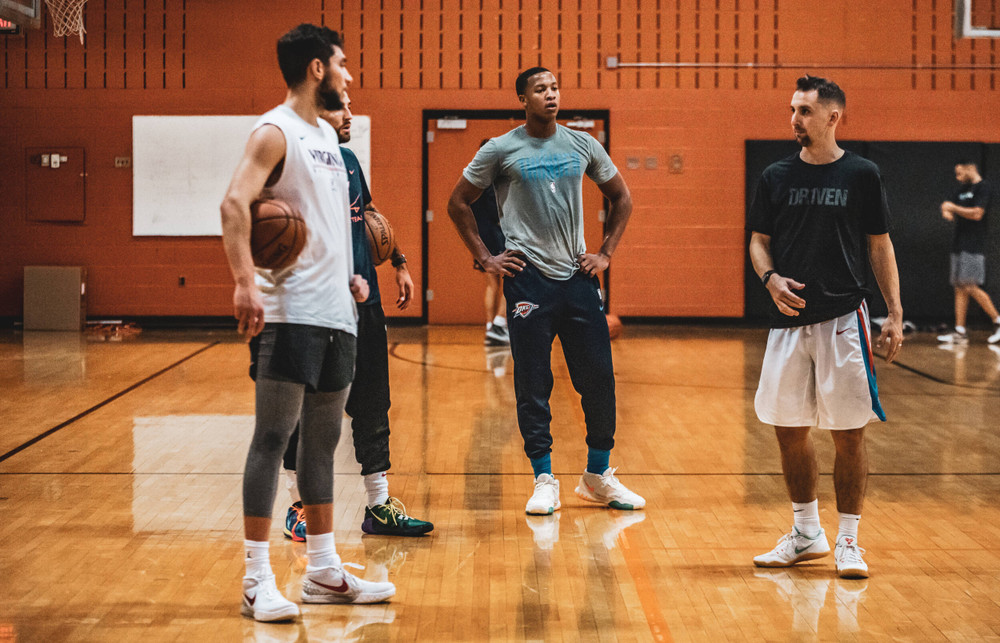 Altizer and his wife, Kelly, live in Crozet with their two children, Kate and Christopher. Kelly, a former basketball star at Auburn High School in Southwest Virginia, has a bachelor's degree from UVA and works in the University's Institute for Engagement & Negotiation.
Damin Altizer graduated from UVA in 2009 with a bachelor's degree in environmental science, after which he took an engineering job with MeadWestvaco (now WestRock). He was living with his parents in Bath County and commuting to work in Covington. Several parents in his hometown knew he'd walked on at Virginia and asked Altizer if he'd be interested in helping their children improve their basketball skills.
"I said, 'Sure,' " Altizer recalled, "and then more kids just started coming. I found I really, really enjoyed it, so I went to some different coaching clinics. If I was going to do it, I wanted to be better at it and learn as much as I could."
His mentors included Ganon Baker, the ambidextrous former Hampton High School star who went on to play at UNC Wilmington. Baker is now a highly successful basketball trainer.
"I'd worked with him when I was in high school at a camp, so I immediately reached out to him," Altizer said, "and he said, 'I do a coaching clinic every summer if you want to come.' So I started trying to learn that side of it and volunteered at one of his camps that he was doing in Raleigh."
By then, Kelly was in graduate school at Duke, and in 2011, when Baker offered Altizer a position at the Hoops City U training facility in the Raleigh-Durham area, he accepted. That meant leaving his job at MeadWestvaco.
"My parents weren't thrilled about that," Altizer said, smiling.
Their concerns proved to be unfounded. In North Carolina, Altizer said, "I met a lot of people. Basically, a lot of the connections that enabled me to do [training] full time later on came from being there for a year."
Not long after they were married in 2012, Damin and Kelly moved to the Charlottesville area. Neither of them had a job at the time, but this was where they wanted to live, and they were determined to make it work.
"We've been very fortunate that it has worked," Altizer said, "so that we could still be here."
He didn't start working full time as a trainer immediately. Altizer taught math for two years at the Miller School, where he was also an assistant coach on the boys basketball team, while "trying to establish the training thing," he said.
In July 2012, he founded DR1VEN, which has flourished. Altizer and his staff, including Marcus Dixon, who's also an assistant coach at STAB, work with players in a wide range of ages. Some play collegiately or professionally, and others are in elementary school, middle school or high school.
During the COVID-19 pandemic, DR1VEN workouts have been based at Charlottesville High School.
"Right now there are, like, 75 families who are trying to get in each week," said Altizer, who began focusing full time on basketball in 2015. "Obviously, we can't see all of them every week, but it's fun."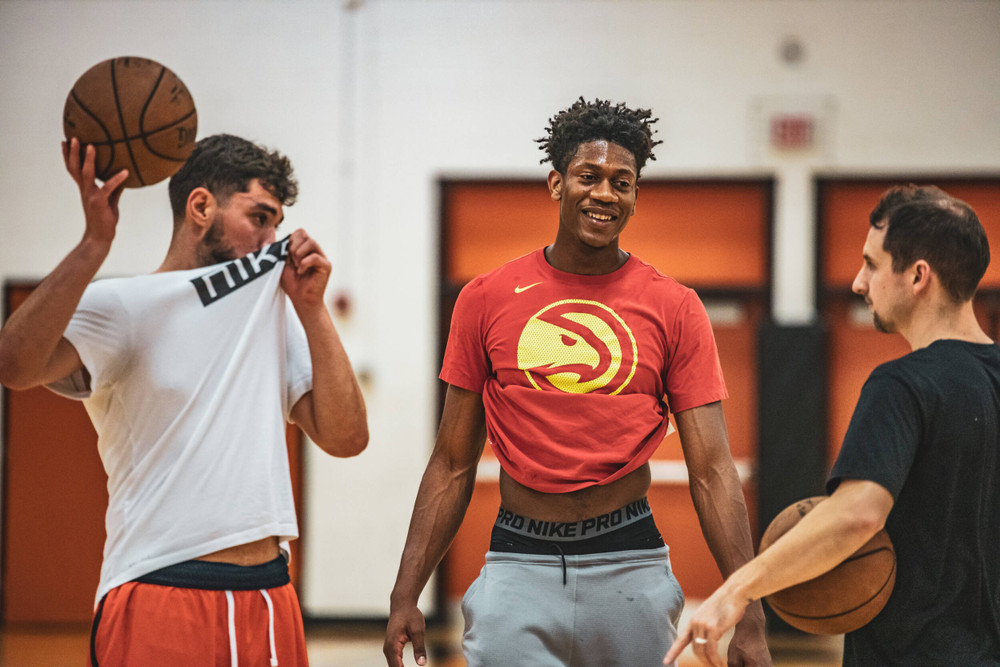 For Bennett's first six years at UVA, Ritchie McKay was his associate head coach. McKay asked Altizer to train his son Gabriel at JPJ, and during one of those workouts, Altizer said, Anderson came through the gym and liked what he saw. Thus began Altizer's work with Bennett's players.
"I was right after Justin," said Hall, who'd also heard from a former AAU teammate, Travis Hester, about Altizer's training methods.
Gabriel McKay now plays at Trevecca Nazarene University in Nashville, Tennessee. His father, who returned to Liberty University in the spring 2015 for a second stint as head coach, speaks highly of Altizer.
"I think Damin has an ability to see how to simulate what happens in games," Ritchie McKay said. "I don't think he's into the tricks of the trade like many trainers are these days. I think he does two things really well, and this is coming from a coach whose son is used to coaching and working with a trainer. He puts people in spots where they have to go at game pace, with detail and accountability, and he's relational. I just think being able to build guys in a small-group setting is an art that, if authentic, can translate into real growth and improvement."
When he was an undergraduate at UVA, Jerome said, his workouts with Altizer helped him hone the skills he needed to thrive in Bennett's system.
"That's part of what makes Damin who he is," Jerome said. "He's not prideful. He understands I had to work on things that Coach Bennett would allow me to do when I was in college. So that's what we spent most of our time working on. Also, Coach Bennett was humble enough to know that I was working out with Damin, and he would make sure to communicate with me: 'How are those workouts going? What are you working on with him?' "
For Altizer, training fellow Wahoos has "been cool. These guys could be anywhere, and for them to come back to work out and stay for weeks and months on end, whatever, is cool. We're very intentional about the work. When they come back, it's not like they run through drills for an hour, get a good sweat, and go home. They want to work on very specific things and be very intentional about all their work, which makes them better, I think."
Altizer spent three years as an assistant at STAB before taking over as head coach in March 2018. "It kind of fell onto my plate," he said, "and it's been fun."
If the right opportunity to coach in college presented itself, Altizer said, he'd be interested. "But I really enjoy what I'm doing. I get to, for the most part, control my own time and schedule, and the past several years, I've gotten to travel to some amazing places to run camps," including China and Germany. (He was scheduled to run a camp in Australia this summer, but the pandemic intervened.)
Altizer also likes his proximity to the University and his former college program. Like many others, he marvels at what Bennett has accomplished in Charlottesville.
In 11 seasons under Bennett, UVA is 277-96, with seven trips to the NCAA tournament. (Had the 2019-20 season not been shut down in March, the Cavaliers would have made another appearance in the NCAAs.) Virginia captured the NCAA title in 2019 and enters this season as the favorite to win the ACC championship.
"I remember back to when TB first came," said Altizer, who coaches Bennett's son, Eli, at STAB. "There were quite a few boos at JPJ those first years with the long possessions and low-scoring games. But he just stayed so true to his pillars and the culture. People said, 'You can't win playing low-scoring games,' but he did. People said, 'Fans aren't going to come watch,' but JPJ is sold out game after game after game. College GameDay has been here. It's just been incredible to watch."
To receive Jeff White's articles by email, click here and subscribe.